Potato Chips Production Line
PC100、PC300、PC500
Potato Crisps Production Line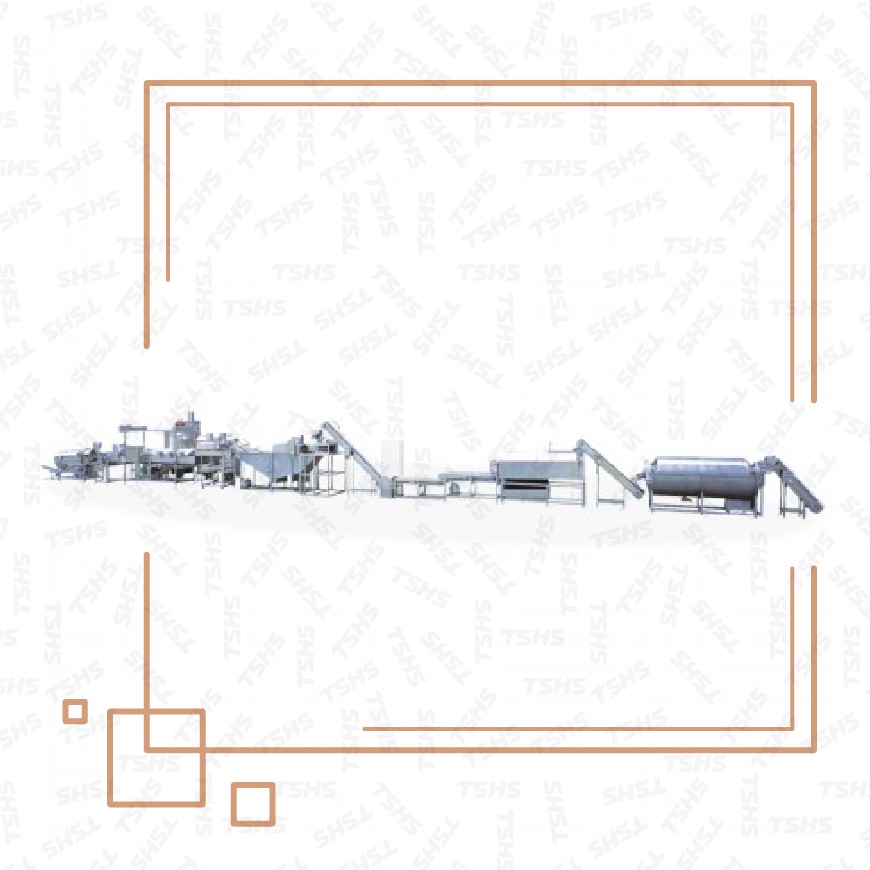 In 1850s, a New York chef revenged the picky customer for complaining his thick French fries, he sliced paper thin potato and deep-fried. However, this crunchy and salty flavor "thin french fries" won favorable comment among the customer, this was origin of potato chip.

There are different versions of potato chip in different country, potato chip in US, potato crisp in British, shǔ piàn in Hong Kong, tǔ dòu piàn in northern of China; and yáng yù piàn in Taiwan.

There is no longer single flavor of potato chip, a new potato chip chocolate flavor comes up in the market, it brings new idea to the market.

More and more people applied potato chip to daily life, it become a dish and increase different taste and texture of the food as well.
In 1920s, peeler machine was invented, it brought about popular of potato chip. In 1960s, Herman Lay started a business now part of Frito-Lay company, Frito-Lay was the first US brand of potato chip successfully marketization.

Therefore, potato chips are popular around the world. It only need to cut potato and sliced, deep-fried with good quality fried machine, then put salt or barbecue flavor, this is potato chip that everyone likes.
Capacity
Finished product about 100kg/hr, 300kg/hr, 500kr/hr.
Minimum Factory Layout: about 800m2, minimum length 40m
Water Required: 300 L/hr
Electric Required: 25 KW
Gas Required: about 23 kg/hr (If diesel, about 28 kg/hr)
Edible Oil Required: about 35 L/hr
Air Compressor: 2HP
Labor Required: 6 persons
Raw Material: 400 kg, density 1.15 Fresh Potato, sugar contain less than 1%
※The information listed in this catalogue is subject to change for machine developing purpose without prior notice.
Flow Chart
Feeding → Washing → Peeling → Examine → Slice → Starch Washing → Dripping → Continuous Fryer → Dripping → QC Examine → Seasoning → Cooling → Packing
Features
Potato is a common agricultural product, potato variety that can be processed to a potato chip mainly include Kennebec、Atlantic、Chipeta、Gemchip、Shepody and Snowden. Their common features are low-carbohydrate, after deep-fried color is golden not burned black. The key process of the potato chip is slicing and technology of frying. Potato chip slice evenly with lower oil contain and continuous fryer of TSHS can provide enough heat which every chip is in constant temperature during the production, producer can control product quality and labor- saving.
Automatic production line.
It's easy to operate and maintenance.
Different capacity for your choice.
Labor and energy saving.
Affordable price and best quality.
Equipment Information Of Related Product
Feeding conveyor
Peeling machine
Slicing
Starch washing
Dripping conveyor
Continuous fryer
Conveyor
De-oil conveyor
Dry flavor sprinkler
Cooling conveyor
LAYOUT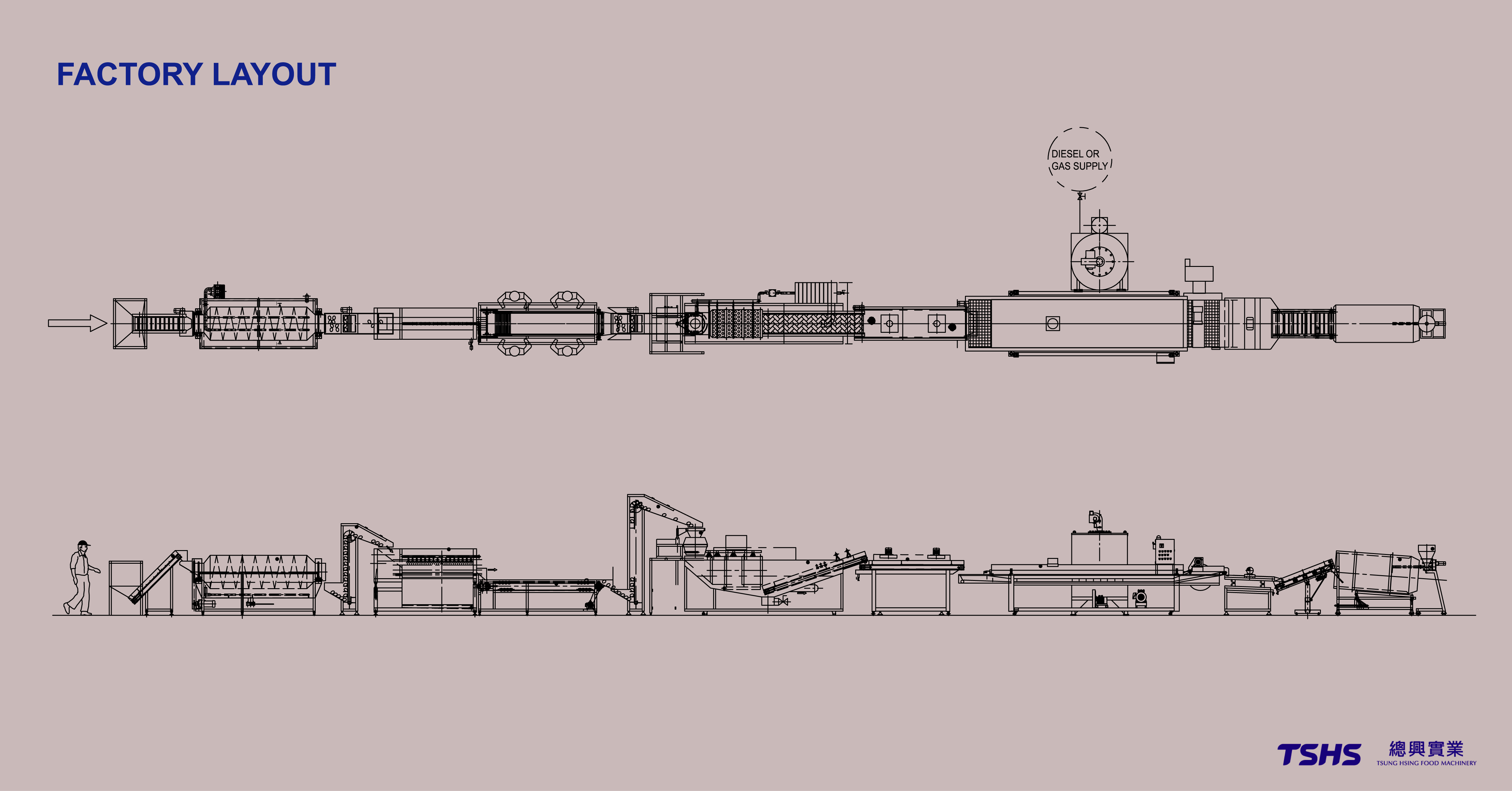 Finished Product Gallery

Related Products

---

Product catalog Download

---
Press Release
Exhibition ◆ ALLPACK Indonesia 2018

Date:2018-10-17 (Wed.) ~ 2018-10-20 (Sat.)
Venue:JAKARTA INTERNATIONAL EXPO
Booth:B1 B024

Read More

Exhibition ◆ ANUTEC International FoodTec India 2018

Date:2018-09-27 (Thu.) ~ 2018-09-28 (Fri.) 09:00 am ~ 05:00 pm , 2018-09-29 (Sat.) 09:00 am ~ 04:00 pm
Venue:Bombay Convention & Exhibition Centre (BCEC)
Booth:Hall1 E52

Read More

Anti-Fraud

We received our customer's reflection recently. There are some scammer counterfeit account information by mail in the name of TsungHsing company.
We remind our customer that our remittance...

Read More