Grain Puff Production Line
GP90、GP180、GPF60、GPF120
Puffcorn Production Line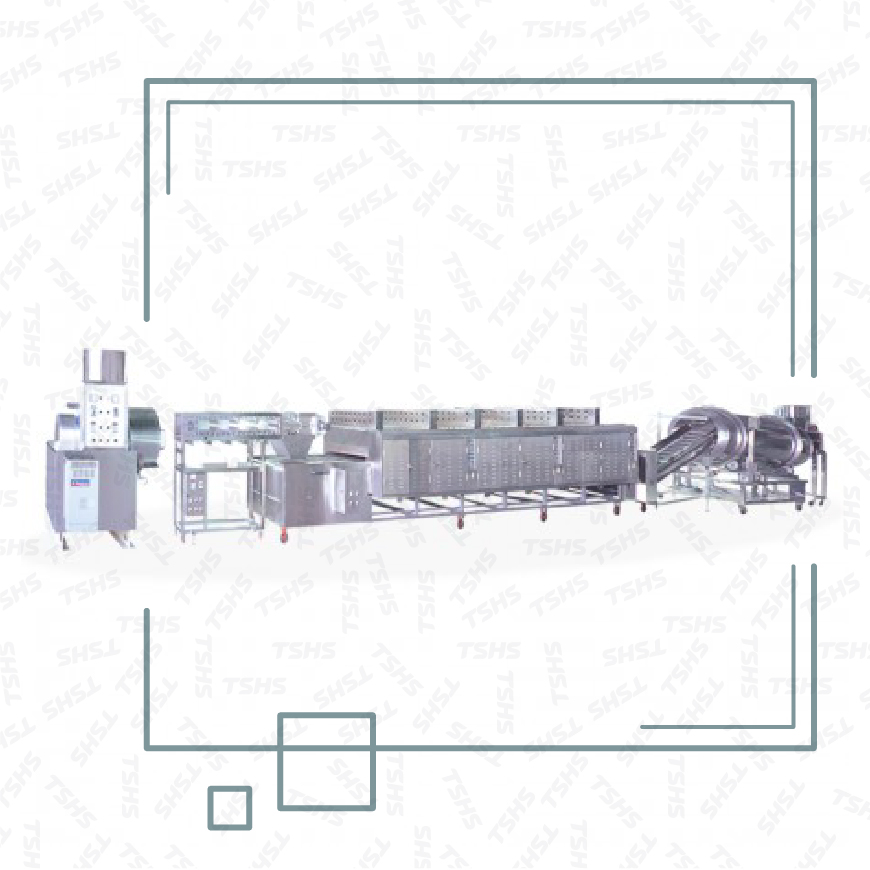 The puff snack foods are mainly made of grains like corn and rice, processed instantly into required shape, then baked and flavor added to be tasty snacks. It is produced under an integrated production line that all processes are functioned by machine for health and hygienic purpose. Besides, whole production cycle just takes 5-10 minutes to complete.
Most process of grain puff is mixed type. Steam the raw material, mash it, extend it, dry it, inflate it and so on. The quality of inflated snack depends on the moisture content before inflating and the uniformity of moisture distribution. After inflating, the interspace of food tissue is big. Inside and outside surface area are big which is easy to absorb water and consume oil because of oil oxidation, so should pay attention to packing.
Capacity
With filling: 60 kg/hr, 120 kg/hr
Without filling: 90 kg/hr, 180 kg/hr
Custom-made capacity is available.
Features
Able to make Filled Puff Food to increase product value.
Variety of different shape product by replacing mold easily.
Flexible production according to need.
Best Quality at affordable price. Quicker ROI (Return On Investment)
Integrate Production Line. Hygienic and labor cost saving.
Professional Infra-red Oven make your puff snack more tasty!!
Special seasoning powder delivery system, to ensure no less of seasoning powder and factory cleaning.
Equipment Information Of Related Product
Humidifier
Filler
Cereal Burst Machine
Cutting Machine
Squeeze Cutting Machine
Infra-Red Tunnel Oven
Oil Sprayer
Rotary Seasoning Drum
Seasoning Feeder
Shatter Machine
Crusher
V Type Flavor Liquid Mixer
Choco Bowl Mixer
Horizontal Packing Machine
Vertical Packing Machine
Three-Layer Dryer
Accessories
Flat Die
Round Die
Screw
Cylinder

LAYOUT

Finished Product Gallery

Videos

Grain Puff Production Line

Related Products

---

Product catalog Download

---
Press Release
Exhibition ◆ ALLPACK Indonesia 2018

Date:2018-10-17 (Wed.) ~ 2018-10-20 (Sat.)
Venue:JAKARTA INTERNATIONAL EXPO
Booth:B1 B024

Read More

Exhibition ◆ ANUTEC International FoodTec India 2018

Date:2018-09-27 (Thu.) ~ 2018-09-28 (Fri.) 09:00 am ~ 05:00 pm , 2018-09-29 (Sat.) 09:00 am ~ 04:00 pm
Venue:Bombay Convention & Exhibition Centre (BCEC)
Booth:Hall1 E52

Read More

Anti-Fraud

We received our customer's reflection recently. There are some scammer counterfeit account information by mail in the name of TsungHsing company.
We remind our customer that our remittance...

Read More