FRYIN-201 Special Price
FRYIN-201 small continuous fryer
Only need two meters of space you could solve the problem such as capacity, quality, hygiene and safety, labor requirements, etc. The FYRIN-201 continuous fryer is the best choice for small food factories.

The whole machine of FRYIN-201 is made of 304 stainless steel, which is standards compliant Food Sanitation Law. And equipped the Cleaning In Place(CIP) system to clean the machine by automatic that can save the manpower and labor cost effectively. The continuous fryer machine adopt the constant temperature design to stabilize the frying temperature during production and ensure product quality. Besides, the customer can adjust the frying temperature and frying time according to product needed.
---
》FRYIN-201 Deep Fryer Has Discount During The Expo《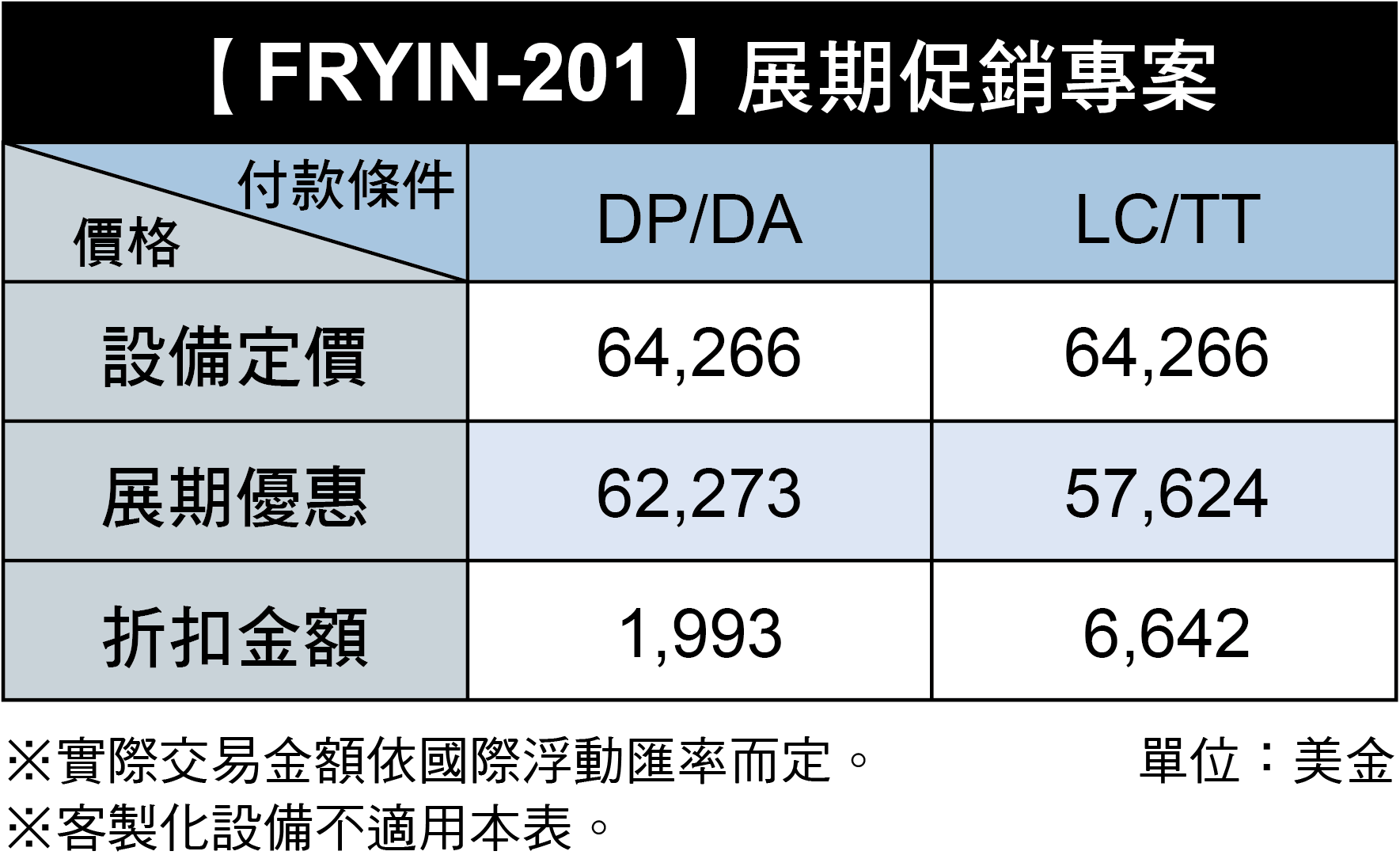 ---
〃5 in 1 Package〃
---
〃Advantage Of Product Service〃
● Provide Multiple Payments Terms
Tsung Hsing provides the LC/TT payment terms to protect consumer rights and also has a friendly purchased project for small or medium size enterprises (SMEs). We are providing the installment payment terms to reduce the enterprise pressure of purchasing equipment.
Internal Furnace Design
● The continuous fryer with inner-furnace design has two high and three save features. The two high are high heat energy recovery rate and high heat exchange rate. The three savings are space saving, oil capacity saving and energy saving.
---
〃TSHS Exhibition Plan〃
2023

Exhibitions We Will Be Attending

Country

Expo Name

Expo Date

Thailand

Food Pack Asia

2/8-2/11

Thailand

Thaifex

5/23-5/27

Japan

FOOMA

6/6-6/9

Indenesia

- Jakarta

ALLPACK INDONESIA

10/11-10/14
Want to know more special price information of FRYIN-201 continuous fryer, please make an appointment.。