Noodle Snacks Production Line
Fried Noodle Snack Production Line, Snacks Noodle, ขนมขาไก่, 麺スナック, نودل سناك, Nuts Roaster
TsungHsing Food Machinery is a noodle snacks production line machine manufacturer and supplier. Noodle snakes (also known as snack noodles、 ขนมขาไก่、麺スナック、نودل سناك) are the bulk of the snack food market in Asia. Using the simple raw material - flour, which is easy to obtain around the world, mixed with water and other raw material to stir into dough, then stretched into crust, cut with a knife, and after frying and seasoning, it can produce the snack foods which are suitable for all ages and delicious. For casual food, the most common are fried noodle snack and crispy noodles. Among the long-term products in the Taiwan market, the most famous one are the "everyone says GOOD GOOD EAT" series products of Wei Lih Food company; In Japan is the Baby Star Crispy Noodle Snack of OYATSU company (ベビースターラーメン); in Malaysia is the New Star company's brand Snek ku is also quite popular; in the Thai market, the fried noodel snakes were made into the shape of chicken legs, let the word chicken leg (ขนมขาไก่) become a synonym for fried noodle snakes in Thailand.
TsungHsing Food Machinery provides an automated, high-quality noodle snake production line is safe and hygienic, and can be produced easily and quickly.
Capacity
In case of different products, please contact our business department and our staffs will be serving you.
Features
Raw materials are easy to obtain.
Popular taste.
Stable quality.
Large output (300~500kg).
Easy to produce with high additional value.
Automate production lines and save manpower.
Consistent operation, safe and hygienic.
Changeable shape by replaceable blade.
Easy to clean and maintain.
Flow Chart
Raw Material Mixing → Rolling → Stamping → Strip/ Piece Cutting → Fryer → Seasoning → Cooling.
(According to the needs of customers.)(This is the basic configuration, please contact us for other special processes.)

Product Features
After the flour, water and other formulas are stirred into dough, they are cut into the preliminary shape of the fried noodle snack by compounding, rolling, stamping and strip/ piece cutting, and then fried the product to a crispy taste, and seasoned, and the product is cooled before proceeding. Packaging to maintain product yield, stability and quality.
Peripherals / Accessories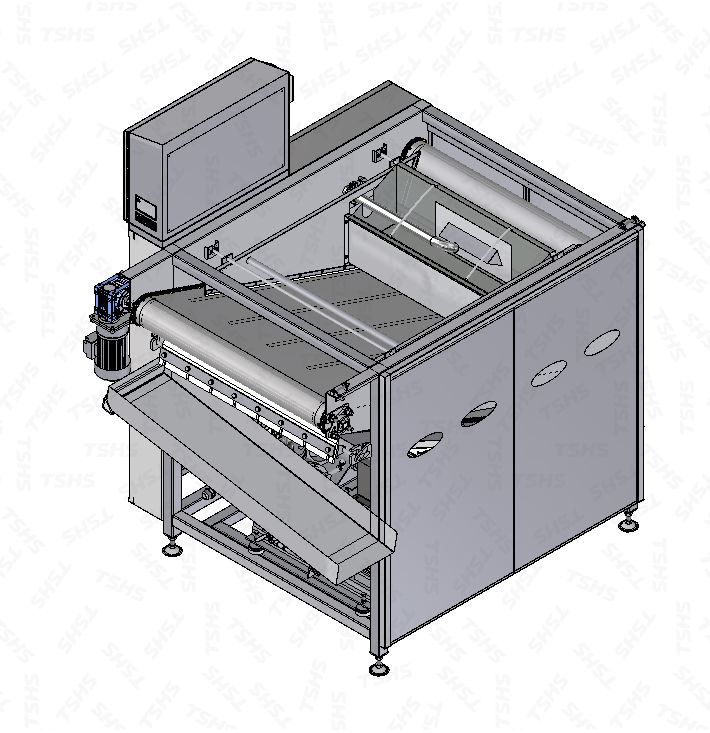 Fine Filter
Specifications: Length 1750 ⅹ Width 1410 ⅹ Height 1760 mm.
Conveyor Width: 970 mm.
Horsepower Requirements: 1/4 HP.
Filter effect can be achieved 80Mesh, to ensure the quality of the filter.
LAYOUT

Applications
Noodle Snack Production Line
Snack Noodle Production Line
Radish Cake Production Line
Winter Bamboo Shoot Cake Production Line
Related Products

Videos

Noodle Snack Production Line

Fried biscuit production line

Finished Product Gallery

Product catalog Download
FRYIN-201 Small-size Continuous Fryer
Enter the continuous production market at an affordable price. The "small volume, space-saving" FRYIN-201 fryer. Suitable for small food industry, central kitchens, restaurants, food stores, schools, etc.

Download
Have Further Requirement, Contact Us
Email: machine@tsunghsing.com.tw
More Details
Over 50 Years of Noodle Snacks Production Line Supply | TSHS
Based in Taiwan, since 1965, TSUNG HSING FOOD MACHINERY CO., LTD. is a Noodle Snacks Production Line supplier in snack foods industry.
500 food processing production lines sold in 65 countries, TSHS is a food machine expert with over 54 years of experiences. CE certified, reasonably priced food processing machinery are industrial fryers, oil heating systems, seasoning tumblers, liquid mixer machines, liquid sprayer machines, etc.
TSHS has been offering customers high-quality food processing machines for green peas, nuts, potato chips, grain puffs and corn puffs, with total snack foods solutions. They represent trust, specialty, high-quality and safety specialization, which is where their name TSHS came from.