Canada -Fried Dumpling Automatic production Line
The first time we met Kevin was in PackExpo 2015, our agent Brain brought him to our booth. Kevin is the Immigration descendant from Sri-lanka who managed for the caterer、family restaurant, expertise for India food. They are quite famous in the local area. Samosa as a famous homemade snack, we fulfill the ingredient in the triangle dough bag, then fold the wrinkle and made the shape. Normally, we fried or baked in golden color to eat.
Kevin's cook way was the traditional bowl frying, limited the capacity. Under this circumstance, the samosa product quality was not uniform due to the different cooking condition, such as frying time, frying temperature. In the meanwhile, the raise of the worker wage in CANADA was also a big headache for Kevin. Therefore, Kevin determined to make the production automation, tried to figured out the machine. During discussion in PackExpo 2015, Kevin decided to deal with TSHS in site. After the contract confirmed, TSHS assisted Kevin to comply the sanitation, safety and maintenance domestic regulation which included the machine operation, maintenance, cleaning way. Kevin was so satisfied with the whole process and service package, and said it was lucky for him to cooperate with TSHS. TSHS let him felt comforting.
After the project, Kevin told us his competitors also tried to do the same way to automation, and asked him for the solution. If you are in same condition, come to TSHS.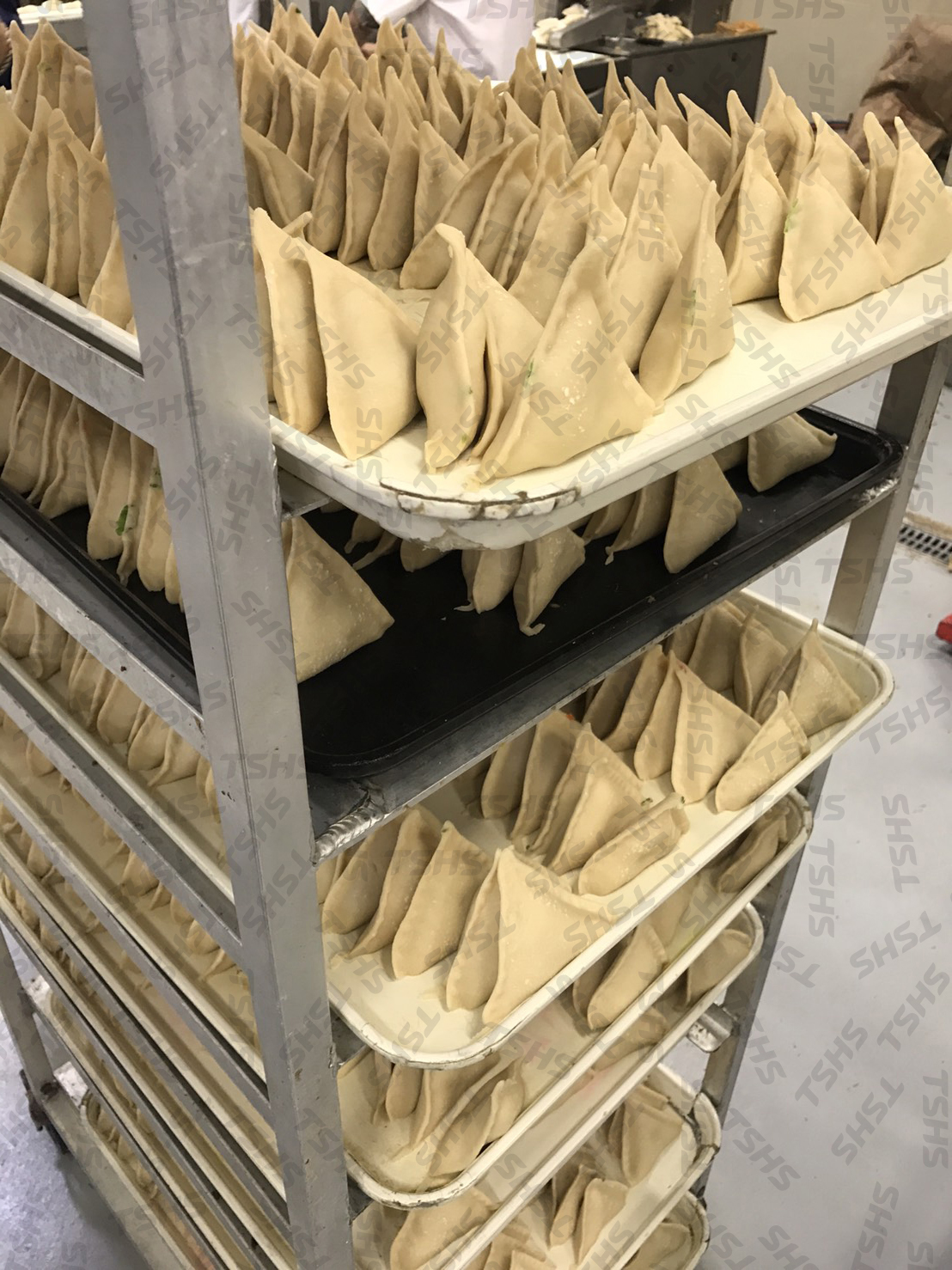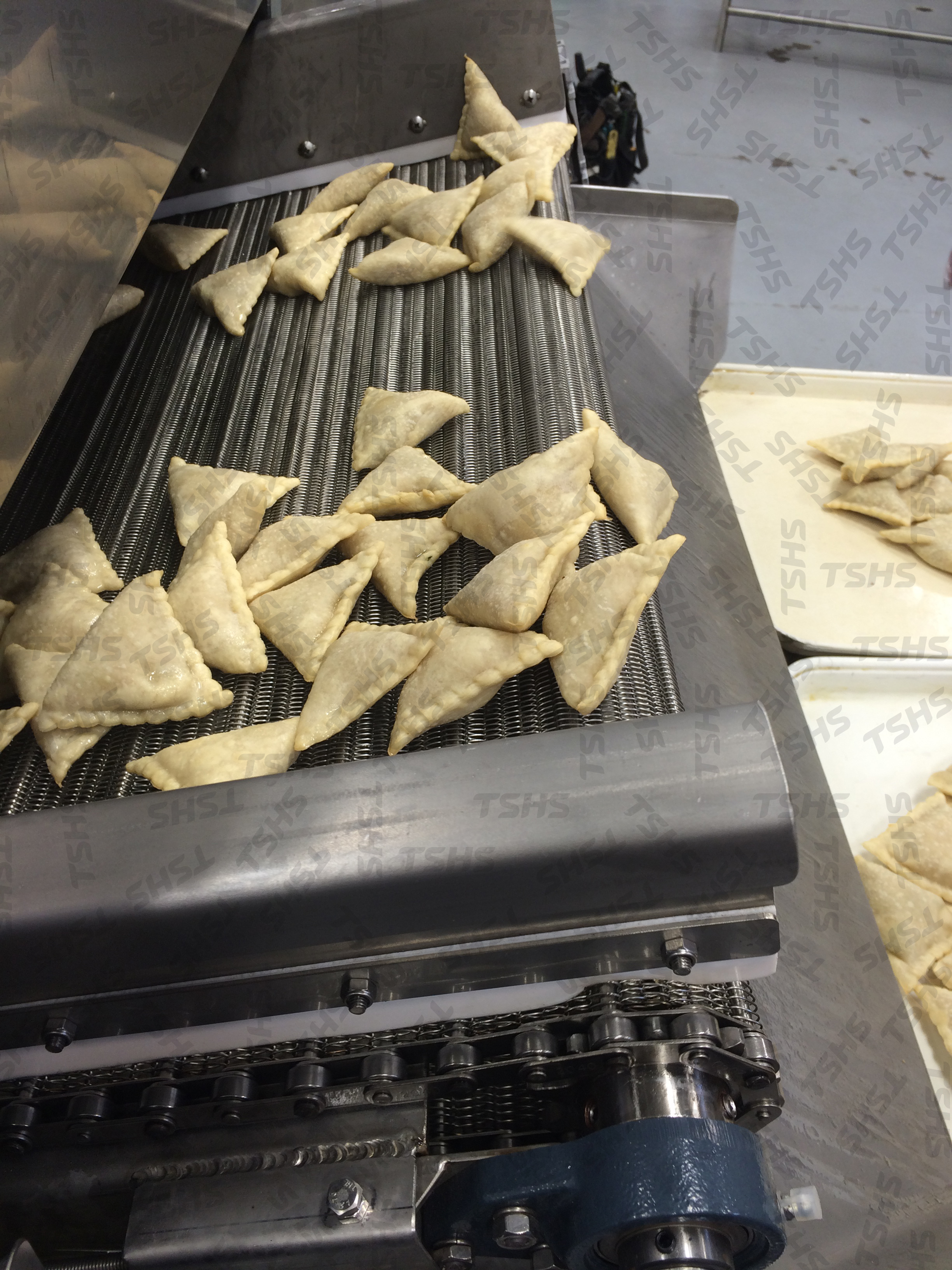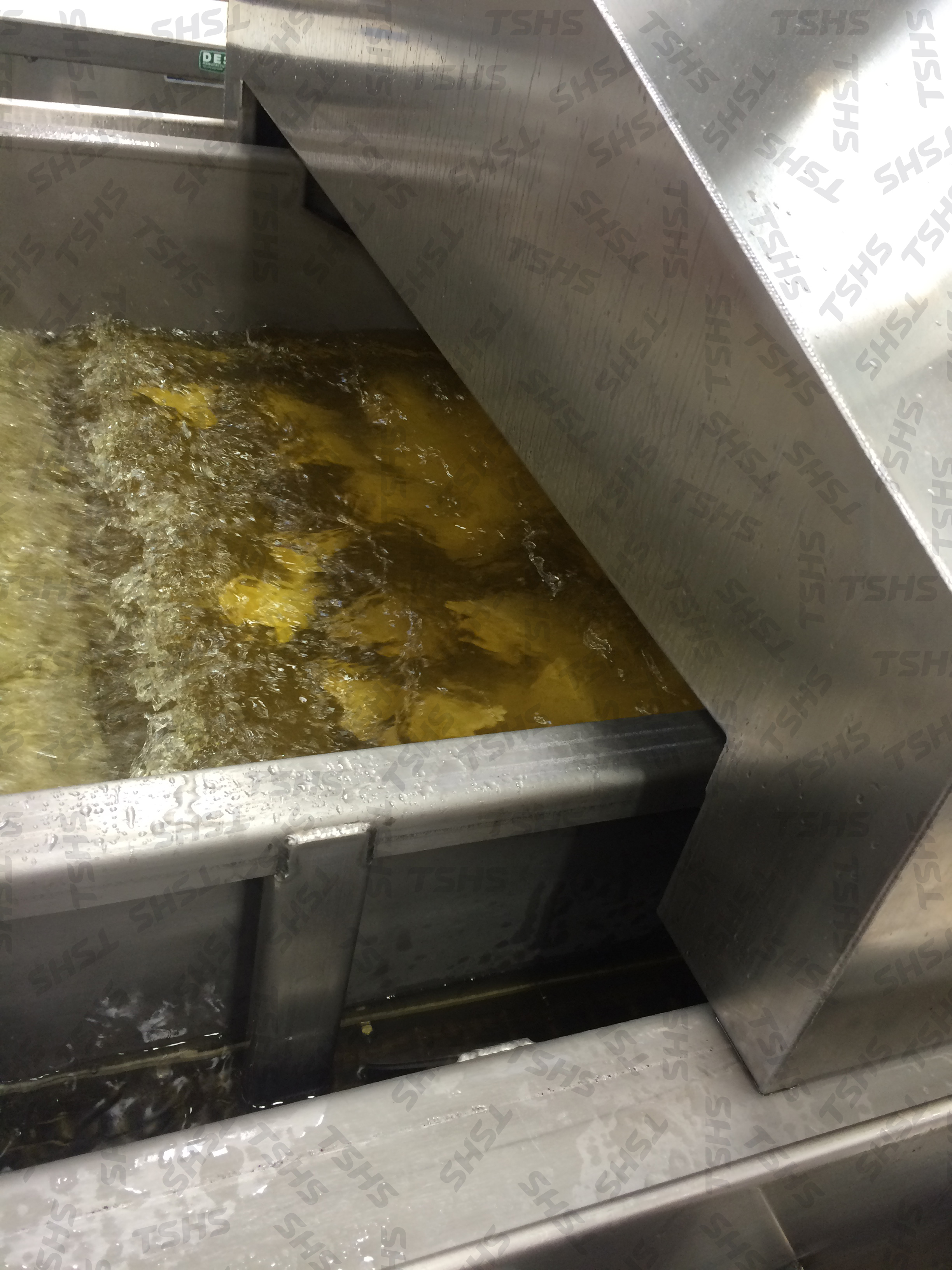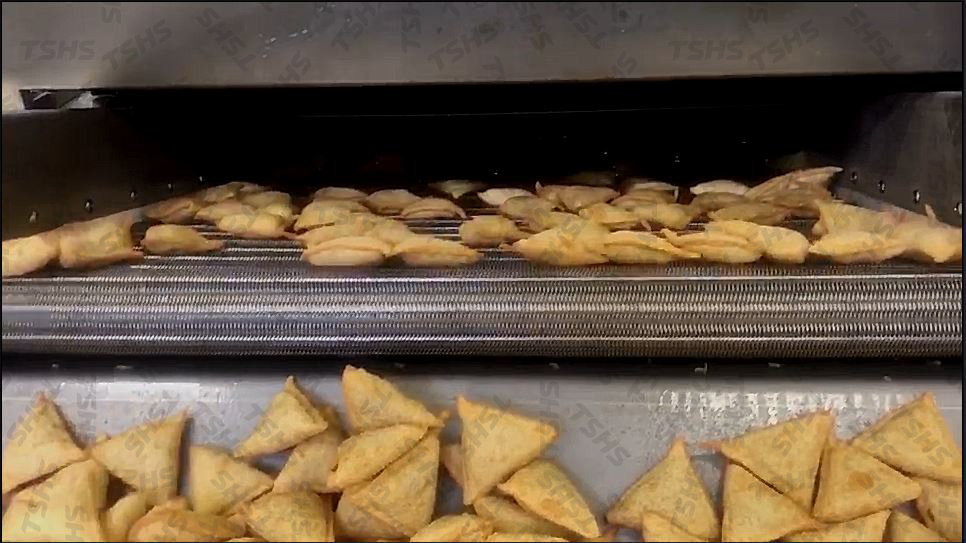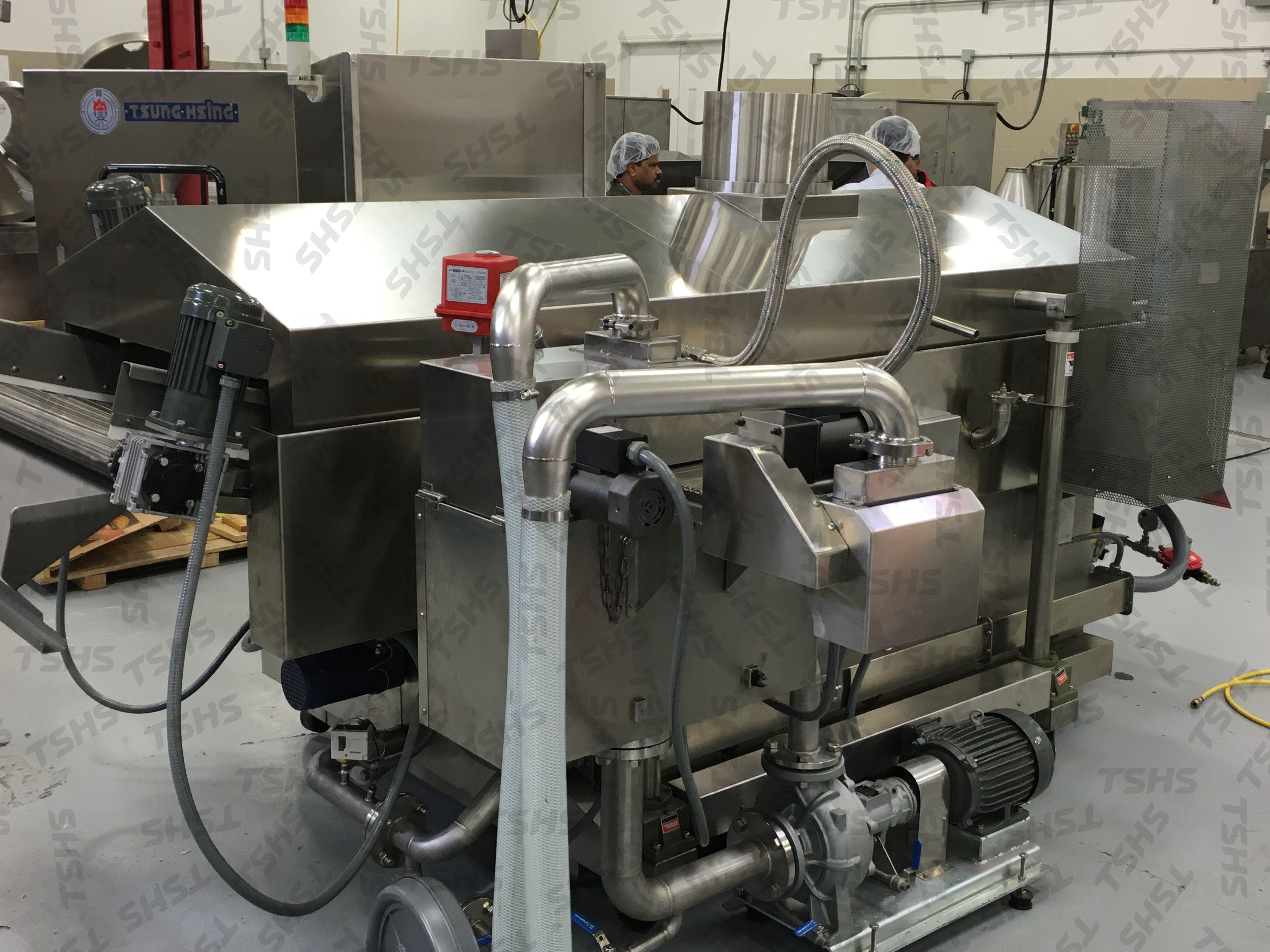 Related Products

---

TsungHsing Food Machinery is a heavy capacity continuous fryer machine manufacturer and supplier. TsungHsing Food Machinery is a food machine manufacturer and supplier. The fryin heavy duty fryer is suitable for a large number of products, such as beans, swelled snack foods, etc. TsungHsing Food Machinery has a special heating technology, and the continuous fryer is suitable for frying a variety of products to increase production; In addition, the fryin heavy duty fryer meets the requirements of food processing and production hygiene conditions, has a foolproof mechanism, uses a multimedia touch screen and integrates various current production and current monitoring design, allowing customers to take into account food hygiene and operational safety, and still retains excellent production quality at the same time.TsungHsing Food Machinery has been constantly innovating and changing. With more than 50 years of experience, the equipment is produced in various international markets and will be your best choice.

---

---

TsungHsing Food Machinery is a continuous de-fatting machine manufacturer and supplier. Centrifugal De-fatting, De-fat Machine, Centrifugal De-fat Machine TsungHsing Food Machinery (TSHS) provides manufacturing equipment for large-volume, continuous de- oiling systems. After frying, to reduce the oil content of the product, the surface and the oil inside the product can be removed by centrifugal de-fatting. The de-fatting system can be continuously connected in the front frying section to fully integrate the production line. Through the control of time, the production line can be completed without interruption. Complete de-fatting system, including automatic feeding (into the de-fatting) system, de-fatting main body, automatic discharging (outlet of the de-fatting) system. The operating principle of the de-fatting system is that the product after frying is quantitatively conveyed to the main body of the de-fatting, and the centrifugal force is generated by the rotation of the inner drum of the de-fatting, and the oil of the product itself and the surface oil are separated and pulled out. After the de-fatting is completed, the material is sent to the lower conveyor belt through the inner drum gate to advance to the next section.

---

---
Press Release
The exhibition in Thailand

Food Pack Asia 2020
Country :Thailand Bangkok
DATE:2020.02.12 ~ 2020.02.15
PLACE:Bangkok International Trade & Exhibition Centre (BITEC)

Read More

The exhibition in Singapore

In response to the new coronavirus (COVID-19) epidemic. After the careful consideration, the organizer decided to postpone the exhibition of FHA-Food & Beverage 2020.
Currently, the new exhibition...

Read More

The exhibition of India

Attention
The exhibition will be cancel.

Read More