Continuous Deep Oil Fryer for Syrup Coating Product
After Syrup Coating and Frying Machine、Continues Syrup Coating Product Fryer, Continuous Deep Oil Fryer for Syrup Coating Product
The continuous fryer for syrup products is suitable for the fried foods with sugar-coated, flour-coated, and paste-coated. Our team recommended using a heat transfer oil heating system to provide a stable heat source effectively and make the syrup food fried evenly when frying. The caramelized solids are produced by sugar and water combined. To reduce the sticky dregs attached to the equipment, Tsung Hsing developed the exclusive design that the sticky impurities are sediment to the machine bottom to maintain the machine production operated regularly, so that fulfill the needs of continuous production.
Banana Chips Testing Video
Heat Transfer Oil Heating System Advantage
1. The whole machine is made of stainless steel, which is beautiful, hygienic and durable
2. Space-saving.
3. Furnace coils are heated evenly by multiple tubes which increase both heat transfer area and efficiency.
4. With relevant safety alarms and automatic/manual stop protection.
5. Automatically continuous production
6. Special three-in-one design with optional heating systems according to customer's requirements.
7. Reducing the condensed impurities due to the mixing of sugar and oil and extending equipment life.
Banana Chips Testing Photo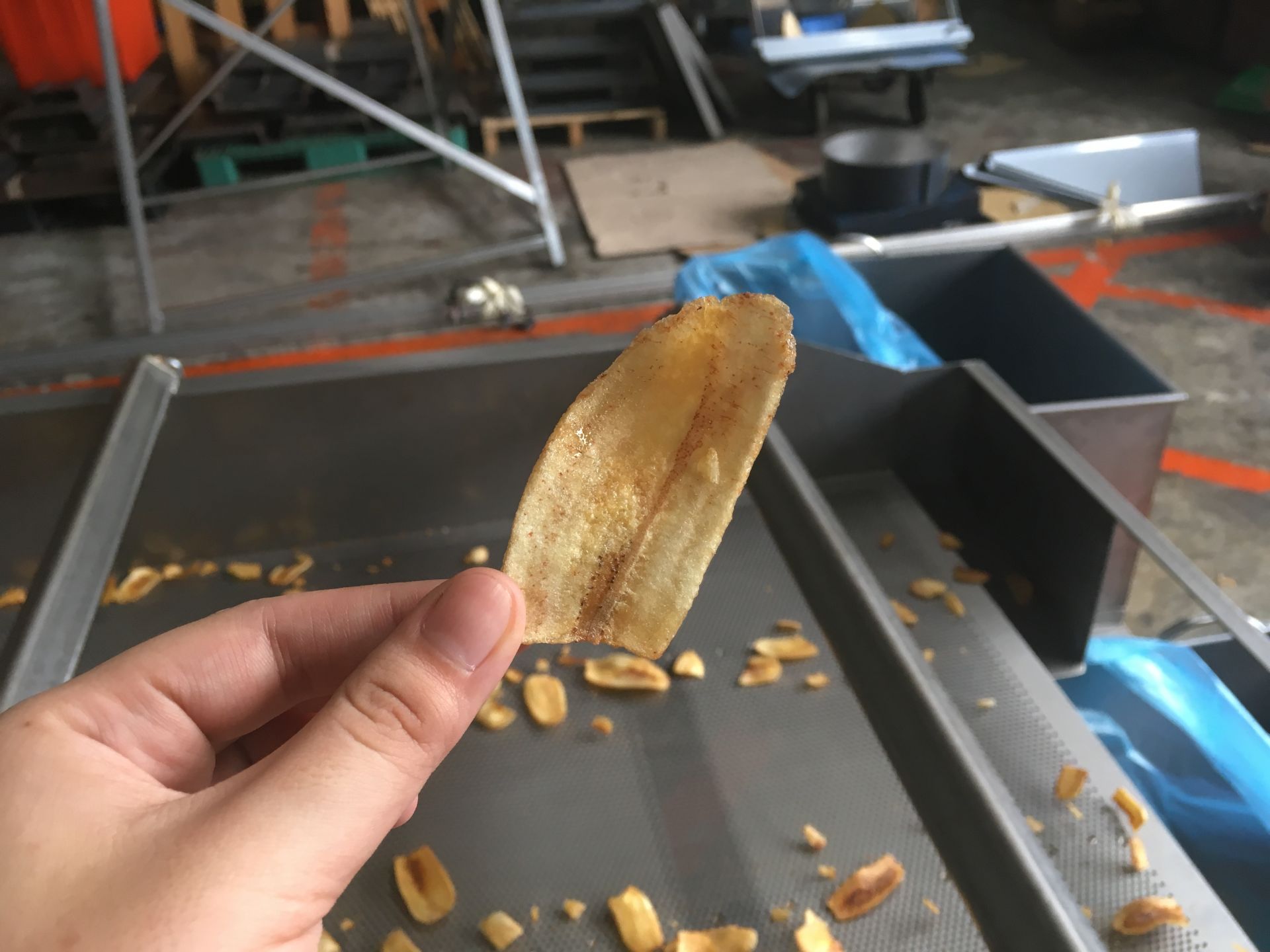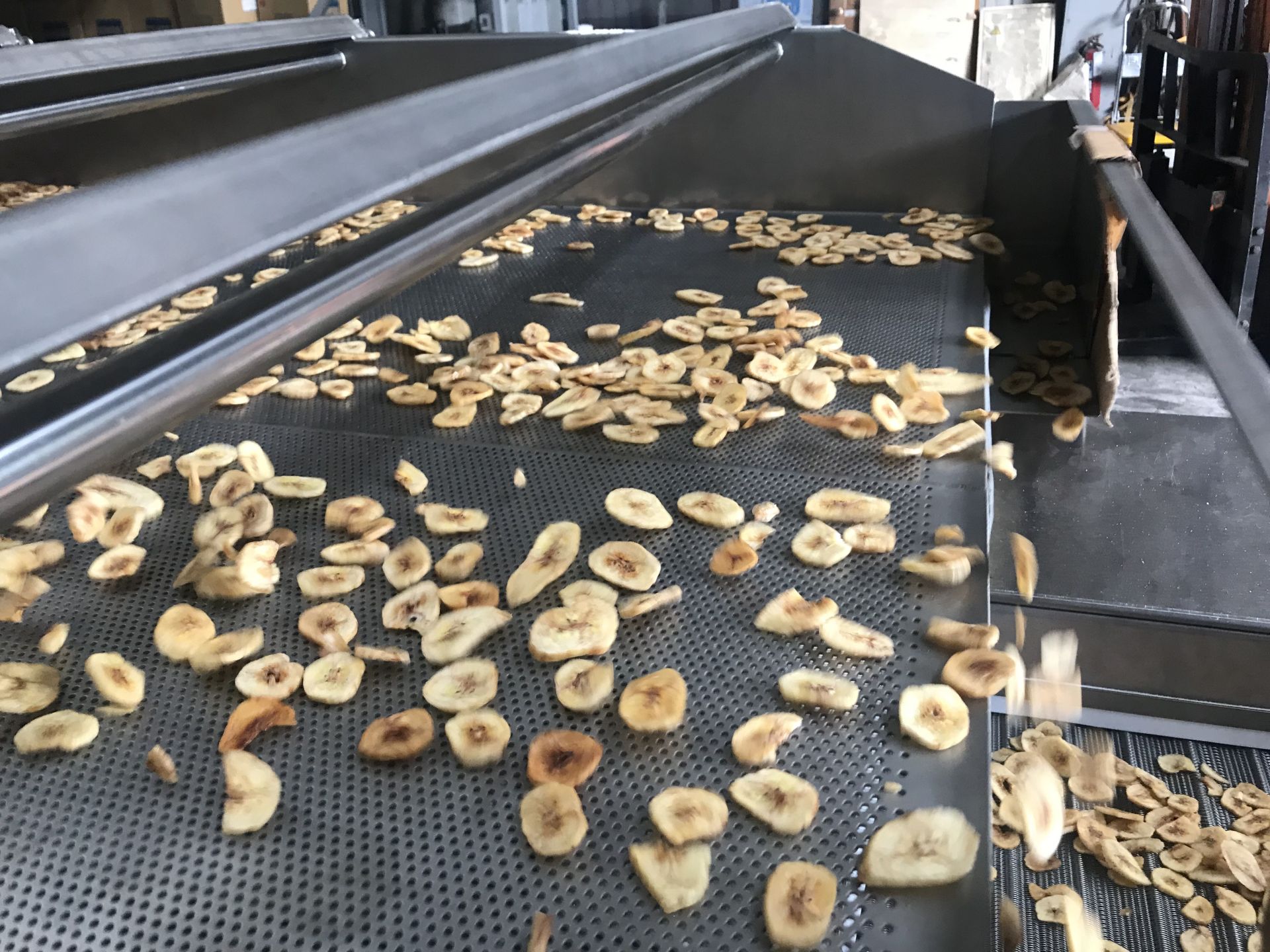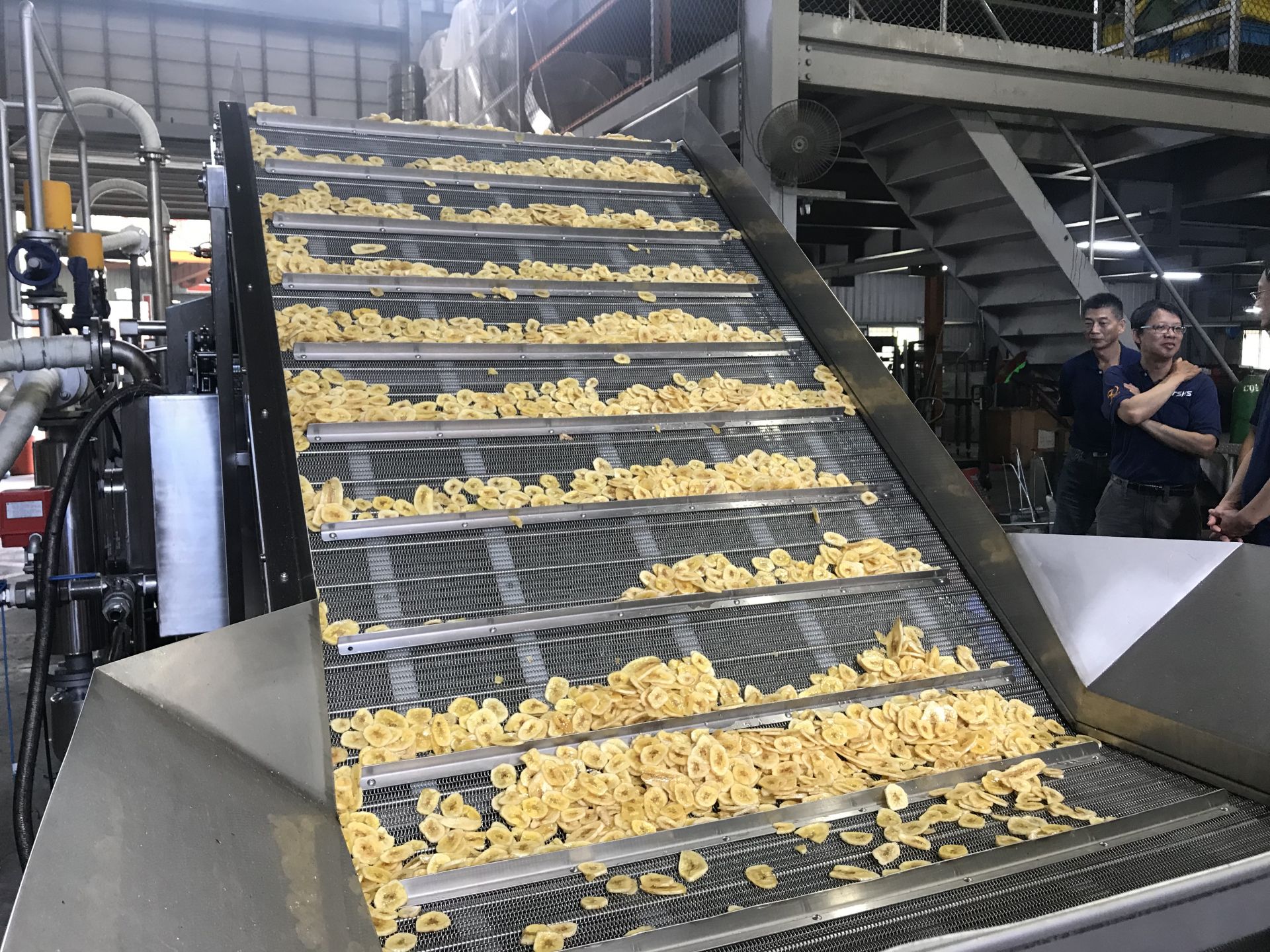 Traditional Frying Way
When the sugar water of the sugared food is fried at high temperature, it will produce the principle of carbonization; also known as caramelization, the caramelization reaction will produce a large amount of residue, which makes the rapid increase of the acid value of the oil, thereby reducing the life of the oil, and the severe caramelization will condense and adhere to the mechanical equipment, causing the conveyor chain to break or deform, which may easily cause equipment damage. In order to reduce the damage of equipment, the traditional method chooses to use the fryer and batch processing method, manual feeding and long-term frying production, and it takes time to cleaning and equipment maintenance, which is inefficient in the production process. And it takes a lot of manpower and space, and the production capacity cannot meet the continuous mass production demand.
Peripherals / Accessories
Quantitative Feeding M/C.
Vibration Oil Dripping.
Cooling Conveyor.
Syrup Pouring M/C.
Applications
TSHS provides the consultant food solutions
TSHS is a professional fryer manufacturer with 55 years of production experience. And has successfully developed a multi-functional continuous conveyor belt fryer. The whole machine is made of stainless steel and has obtained patent certifications in the United States, Germany, Thailand, Indonesia, Malaysia, China and other countries. Currently, we have been sold to over 65 countries around the world.
If you have a fryer requirement, please fill out the inquiry form below.
We will contact you as soon as possible.
Related Products

Videos

Finished Product Gallery
FRYIN-201 Small-size Continuous Fryer
Enter the continuous production market at an affordable price. The "small volume, space-saving" FRYIN-201 fryer. Suitable for small food industry, central kitchens, restaurants, food stores, schools, etc.
Download
Have Further Requirement, Contact Us
Email: machine@tsunghsing.com.tw
More Details
Over 50 Years of Continuous Deep Oil Fryer for Syrup Coating Product Supply | TSHS
Based in Taiwan, since 1965, TSUNG HSING FOOD MACHINERY CO., LTD. is a Continuous Deep Oil Fryer for Syrup Coating Product supplier in snack foods industry.
500 food processing production lines sold in 65 countries, TSHS is a food machine expert with over 54 years of experiences. CE certified, reasonably priced food processing machinery are industrial fryers, oil heating systems, seasoning tumblers, liquid mixer machines, liquid sprayer machines, etc.
TSHS has been offering customers high-quality food processing machines for green peas, nuts, potato chips, grain puffs and corn puffs, with total snack foods solutions. They represent trust, specialty, high-quality and safety specialization, which is where their name TSHS came from.