Continuous Automatic Fryer (FRYIN-302)
Automatic Continuous Frying Machine, Continuous Fryer Machine, Conveyor Frying Machine, Machine for frying
TsungHsing Food Machinery is a continuous frying machine manufacturer and supplier. We have a special heating technology, and the continuous fryer is suitable for frying a variety of products, from piece, strip, and granule to Irregularly shaped products. The automatic continuous fryer has the characteristics of two highs and three savings, and has many invention design patents in Germany, in United States and in other countries, allowing customers can still maintain excellent production quality while taking into account food hygiene and operational safety. TsungHsing Food Machinery has been constantly innovating and changing. With more than 50 years of experience, the equipment is produced in various international markets and will be your best choice.
Introduction
The automatic continuous fryer is made of stainless steel according to the requirements of food hygiene regulations to ensure hygiene and improve equipment durability. Cleaning after use is the most troublesome thing to a continuous fryer, which often requires people to use more than 2 hours to clean the equipment. In view of the customer's experience and feedback, we have added the CIP automatic cleaning system, which can reduce the time for manual cleaning, and has a automatic lifting hood make it easy to clean the dead corners of the wall during cleaning, making maintenance more convenient. The hood can also prevent the quality of the product from being affected by the falling of contaminated materials during the production process.

The continuous fryer of TsungHsing Food Machinery uses a multimedia touchscreen to integrate the instantaneous current and voltage monitoring during various productions. The curve analysis analyzes various values, including the conveyor current display and curve, pump current display, curve and voltage display curves. The touchscreen can also check the abnormal alarm history records to understand the device usage. When the buzzer sounds, the touchscreen will show the cause of the abnormality and we can know how to troubleshoot from it. The automatic continuous fryer connection network of TsungHsing Food Machinery provides remote service, which can instantly monitor, modify, repair or update the system, repair software and other services, eliminating the time to wait for the original engineering staff to overhaul.
Product Safety Mechanism
The automatic continuous fryer of TsungHsing Food Machinery is in compliance with CE safety regulations. There are many foolproof protection mechanisms in operation to avoid the risk of accidental contact caused by unskilled staff during operation. There is a set of emergency stop button on each side of the fryer. When any dangerous situation occurs during the operation of the equipment, all the actions of the equipment can be stopped immediately to avoid the deterioration of abnormal problem.

The automatic continuous fryer is equipped with circulating oil fluid pressure protection to avoid pump idling. The oil pipe is provided with a pressure protection mechanism: When there is no fluid in the oil pipe, the pump will not start; the burner is equipped with a thermal protection system to avoid the air-burning condition of the equipment; the automatic temperature control system, adjusting according to the frying temperature of different products and time to maintain the temperature of the oil.
Capacity
Please contact the company's business staff for further information in response to a difference product.
Features
The Whole machine is made of stainless steel.
Automatic lifting hood makes it easy to clean and maintain.
CIP self-cleaning system.
Foolproof design of the startup sequence can help to avoid operational errors.
The Cooking oil loop is equipped with pressure protection to avoid pump from dry running.
Standard emergency stop button can immediately stop the operation of the equipment.
Automatic temperature control can freely adjust the temperature to the product that is being fried.
The combustion chamber is equipped with thermal protection to prevent the equipment from over temperature.
Queries related to the alarm history.
Adjustable frying time according to product characteristics.
Flow Chart
Feeding→ frying→ de-oiling→ seasoning→ cooling→ packaging

Equipment Information Of Related Product
Heating energy: ①Liquefied Natural Gas (LNG)、②Liquefied Petroleum Gas (LPG)、③Diesel、④Heat Transfer Oil、⑤Steam
Circulation System: High temperature resistant pump for 24-hour hot oil circulation.
Control System: Digital frying temperature and frying time display.
Filtering System: ①The continuous coarse residue filtering system, which can filter out the fried residue to extend the life of the frying oil, ②Scraping at the bottom to remove residue which has sedimentation characteristics.
Product Features
With automatic control and system application, continuous and evenly frying all kinds of foods.
Can be used alone or in combination into a production line has been operating.
Specification
The Fryin Series Oil Fryer of TsungHsing Food Machinery has the exclusive invention design "2 highs and 3 savings". 2 Highs: High heat recovery rate and high heat exchange rate. High heat recovery rate: Tsung Hsing does not ignore any Waste of energy, and can effectively recover the exhaust heat. The effective heat recovery rate is up to 20%. High heat exchange rate: The unique heat conduction design of the" Fryin" series fryer can effectively enhance the heat exchange efficiency The exhaust temperature of the" Fryin" series fryer is about 400 degrees. Compared to other brands Whose exhaust temperatures are over 600 degrees, the" Fryin" series fryer can reduce the temperature of the exhaust emissions by about 200°C, which proves that the heat exchange efficiency is effectively improved.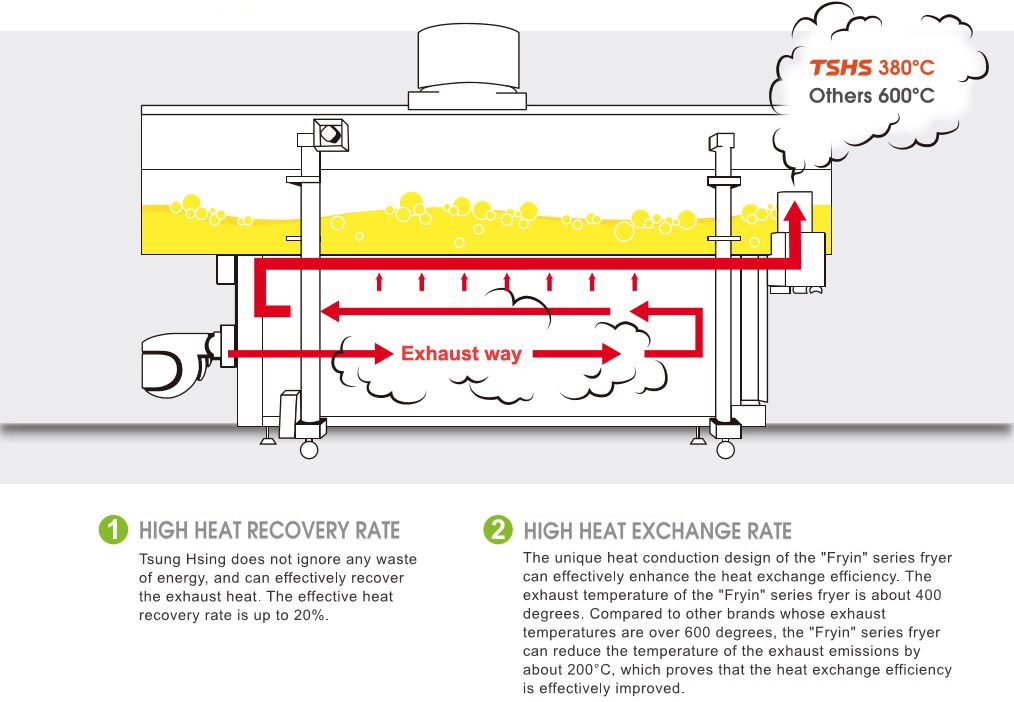 3 Savings: Space saving, oil capacity saving and energy saving. Space Saving: Tsung Hsing's original patented invention integrates the original external heating chamber into the fryer Thus the whole production line saves up to 40% of the floor space.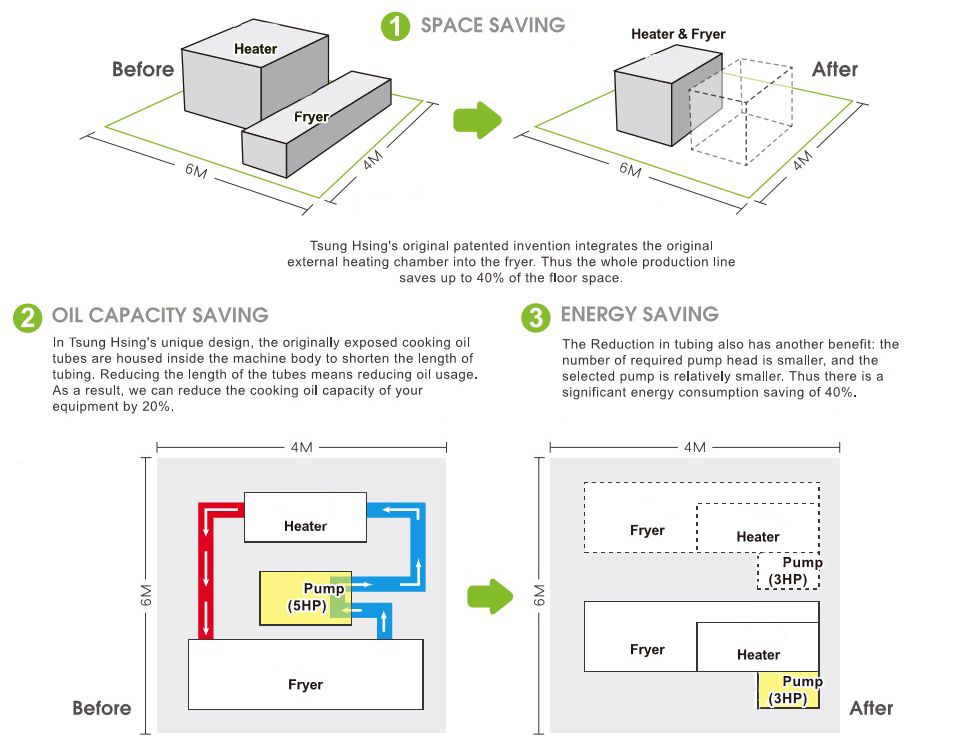 Mechanical Specifications
【Metric Units】
Model
Size: mm
Effective Frying Space
Hp.
Calories
Cap. of. Edible oil
Production capacity
L
W
H
green peas
peanuts
snacks
FRYIN-302-E
3450
2350
1950
2600*820*70
3
200000 kcal/1hr
440LT
110 kg/hr
480 kg/hr
300 kg/hr
FRYIN-402-E
4950
2350
1950
4100*820*70
5
300000 kcal/1hr
650LT
150 kg/hr
650 kg/hr
550 kg/hr
FRYIN-602-E
6450
2450
2070
5890*820*70
7.5
400000 kcal/1hr
850LT
Mechanical Specifications
【Imperial Units】
Model
Size: in
Effective Frying Space
Hp.
Calories
Cap. of. Edible oil
Production capacity
L
W
H
green peas
peanuts
snacks
FRYIN-302-E
135.8
92.5
76.8
102.4*32.3
2.25
793600 BTU
116 gal
243 Ib/hr
1058 Ib/hr
661 Ib/hr
FRYIN-402-E
194.9
92.5
76.8
161.4*32.3
3.75
1190400 BTU
171 gal
331 Ib/hr
1433 Ib/hr
1213 Ib/hr
FRYIN-602-E
235.9
96.5
81.5
231.9*32.3
5.59
1586940 BTU
225 gal
Applications
Product such as meat, those coated with paste or sticky fried, seafood, dumplings, spring rolls, vegetables, nut products, snack foods, Indian food, seasoning processing, vegetarian food processing, hot pot processing products, and widely used in general frying requirements.
TSHS is a professional fryer manufacturer with 55 years of production experience. And has successfully developed a multi-functional continuous conveyor belt fryer. The whole machine is made of stainless steel and has obtained patent certifications in the United States, Germany, Thailand, Indonesia, Malaysia, China and other countries. Currently, we have been sold to over 65 countries around the world.
If you have a fryer requirement, please fill out the inquiry form below. We will contact you as soon as possible.
Related Products

Videos

Fryin Series Oil Fryer

TSHS - Tsunghsing ◆ Oil Fryer Features (Waterproof control panel)

Finished Product Gallery

Product catalog Download
FRYIN-201 Small-size Continuous Fryer
Enter the continuous production market at an affordable price. The "small volume, space-saving" FRYIN-201 fryer. Suitable for small food industry, central kitchens, restaurants, food stores, schools, etc.

Download
Have Further Requirement, Contact Us
Email: machine@tsunghsing.com.tw
More Details
Over 50 Years of Continuous Automatic Fryer (FRYIN-302) Supply | TSHS
Based in Taiwan, since 1965, TSUNG HSING FOOD MACHINERY CO., LTD. is a Continuous Automatic Fryer (FRYIN-302) supplier in snack foods industry.
500 food processing production lines sold in 65 countries, TSHS is a food machine expert with over 54 years of experiences. CE certified, reasonably priced food processing machinery are industrial fryers, oil heating systems, seasoning tumblers, liquid mixer machines, liquid sprayer machines, etc.
TSHS has been offering customers high-quality food processing machines for green peas, nuts, potato chips, grain puffs and corn puffs, with total snack foods solutions. They represent trust, specialty, high-quality and safety specialization, which is where their name TSHS came from.