Fryin Series Oil Fryer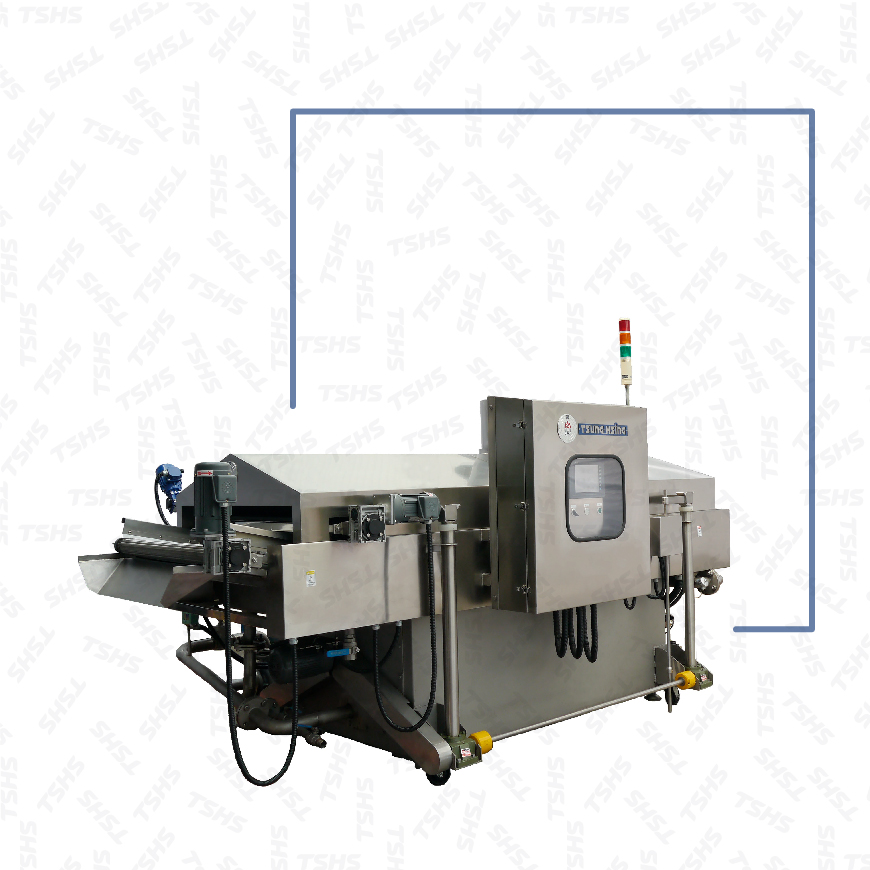 For the international market demand, Tsung Hsing developed fryin series oil fryer.
There are many advantages like, space saving, high efficiency and energy saving.
It is suitable for a variety of products such as beans, pellet, snack foods, etc.
Fryin series oil fryer will provide high-quality capacity for customers' products, including sheet, strip and shaped products.

We have multi-national invention patents, such as Taiwan, United States, China, India, Thailand, Indonesia, Malaysia and Germany.
In 2017, Tsung Hsing(TSHS) Fryin 302-E won Taiwan Excellence.
Features
The whole machine is made of stainless steel.
Automatic lifting hood makes it easy to clean and maintain.
CIP self-cleaning system.
Foolproof design of the startup sequence can help to avoid operational errors.
The cooking oil loop is equipped with pressure protection to avoid pump from dry running.
Standard emergency stop button can immediately stop the operation of the equipment.
Automatic temperature control can freely adjust the temperature to the product that is being fried.
The combustion chamber is equipped with thermal protection to prevent the equipment from air-burning.
Queries related to the alarm history.
Frying times can be adjusted to suit product characteristics.
Equipment Information Of Related Product
Heating fuel: (1) Natural gas (2) Liquefied gas (3) Diesel (4) Heat medium oil system
Circulation system: Uses the high-temperature circulation pump for 24-hour oil circulation
Control system: igital display of frying temperature and frying time
Filter system: Continuous coarse filter filtersthe frying residue and extends the oil usage cycle
In Tsung Hsing's unique design, fryin series oil fryer with function of two highs and three savings.
Two highs : High heat recovery rate and high heat exchange rate.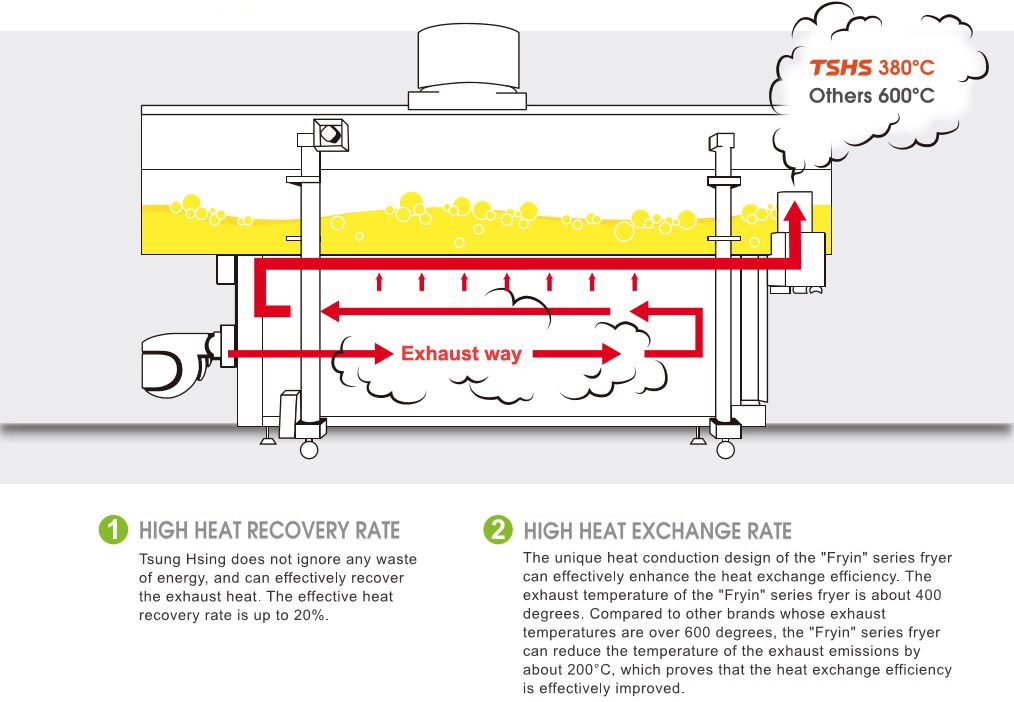 Three savings: Space saving, oil capacity saving and energy saving.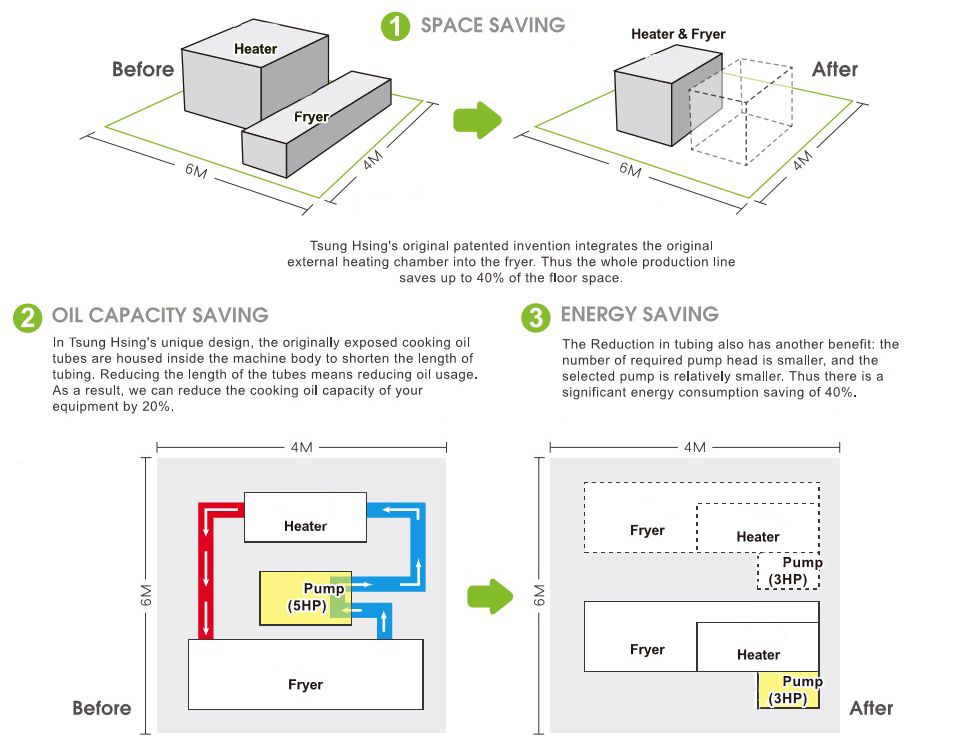 Mechanical Specifications
【Metric Units】
Model
Size: mm
Effective Frying Space
Hp.
Calories
Cap. of. Edible oil
Production capacity
L
W
H
green peas
peanuts
sancks
FRYIN-302-E
3450
2350
1950
2600*820*70
3
200000 kcal/1hr
440LT
110 kg/hr
480 kg/hr
300 kg/hr
FRYIN-402-E
4950
2350
1950
4100*820*70
5
300000 kcal/1hr
650LT
150 kg/hr
650 kg/hr
550 kg/hr
FRYIN-602-E
6450
2450
2070
5890*820*70
7.5
400000 kcal/1hr
850LT
Mechanical Specifications
【Imperial Units】
Model
Size: in
Effective Frying Space
Hp.
Calories
Cap. of. Edible oil
Production capacity
L
W
H
green peas
peanuts
sancks
FRYIN-302-E
135.8
92.5
76.8
102.4*32.3
2.25
793600 BTU
116 gal
243 Ib/hr
1058 Ib/hr
661 Ib/hr
FRYIN-402-E
194.9
92.5
76.8
161.4*32.3
3.75
1190400 BTU
171 gal
331 Ib/hr
1433 Ib/hr
1213 Ib/hr
FRYIN-602-E
235.9
96.5
81.5
231.9*32.3
5.59
1586940 BTU
225 gal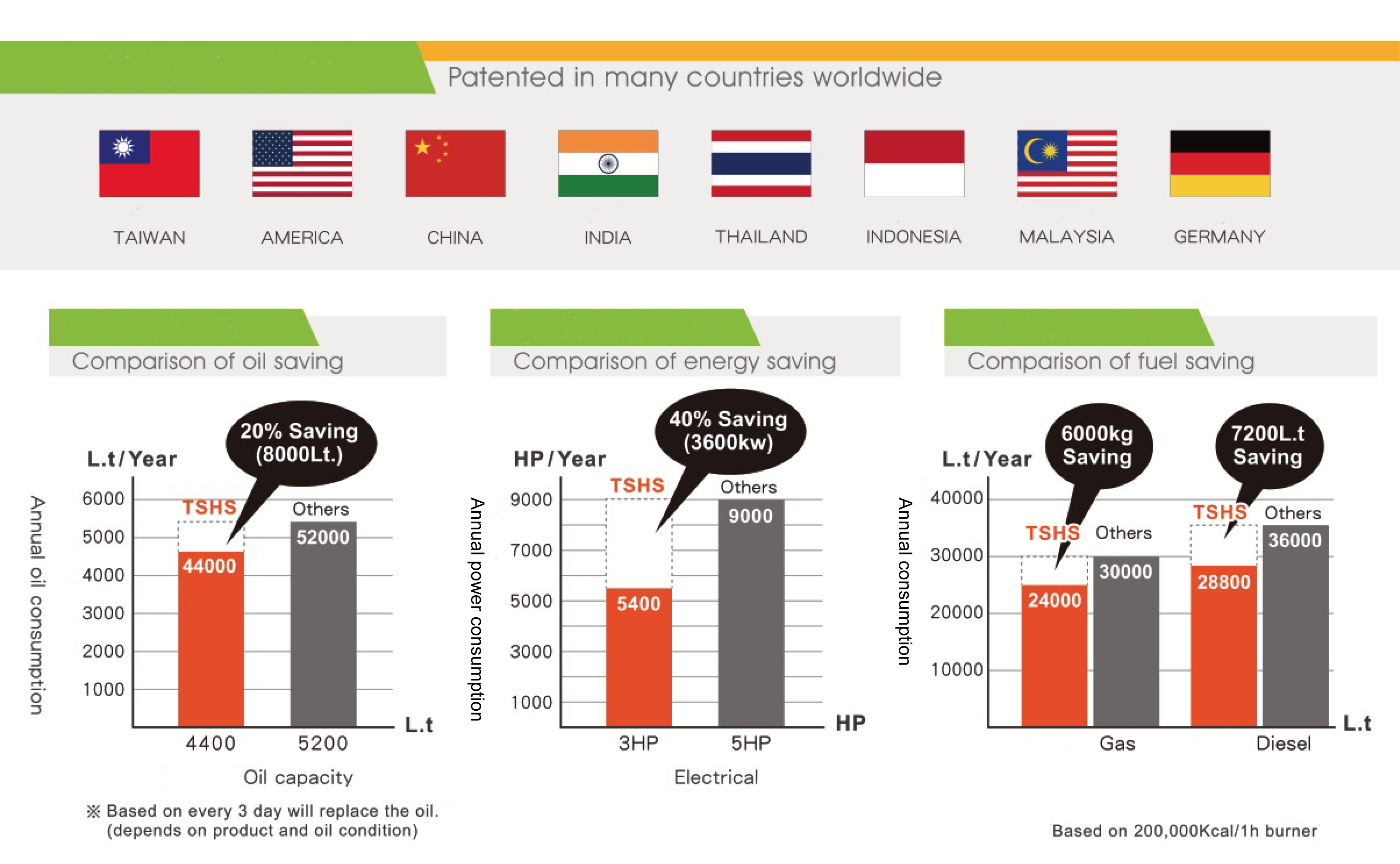 Finished Product Gallery

Videos

Fryin Series Oil Fryer

TSHS - Tsunghsing ◆ Oil Fryer Features ( Waterproof control panel )

Related Products

---

Product catalog Download

---
Press Release
Exhibition ◆ ALLPACK Indonesia 2018

Date:2018-10-17 (Wed.) ~ 2018-10-20 (Sat.)
Venue:JAKARTA INTERNATIONAL EXPO
Booth:B1 B024

Read More

Exhibition ◆ ANUTEC International FoodTec India 2018

Date:2018-09-27 (Thu.) ~ 2018-09-28 (Fri.) 09:00 am ~ 05:00 pm , 2018-09-29 (Sat.) 09:00 am ~ 04:00 pm
Venue:Bombay Convention & Exhibition Centre (BCEC)
Booth:Hall1 E52

Read More

Anti-Fraud

We received our customer's reflection recently. There are some scammer counterfeit account information by mail in the name of TsungHsing company.
We remind our customer that our remittance...

Read More