Continuous Deep Oil Fryer for Syrup Coating Product
After Syrup Coating and Frying Machine、Continues Syrup Coating Product Fryer, Continuous Deep Oil Fryer for Syrup Coating Product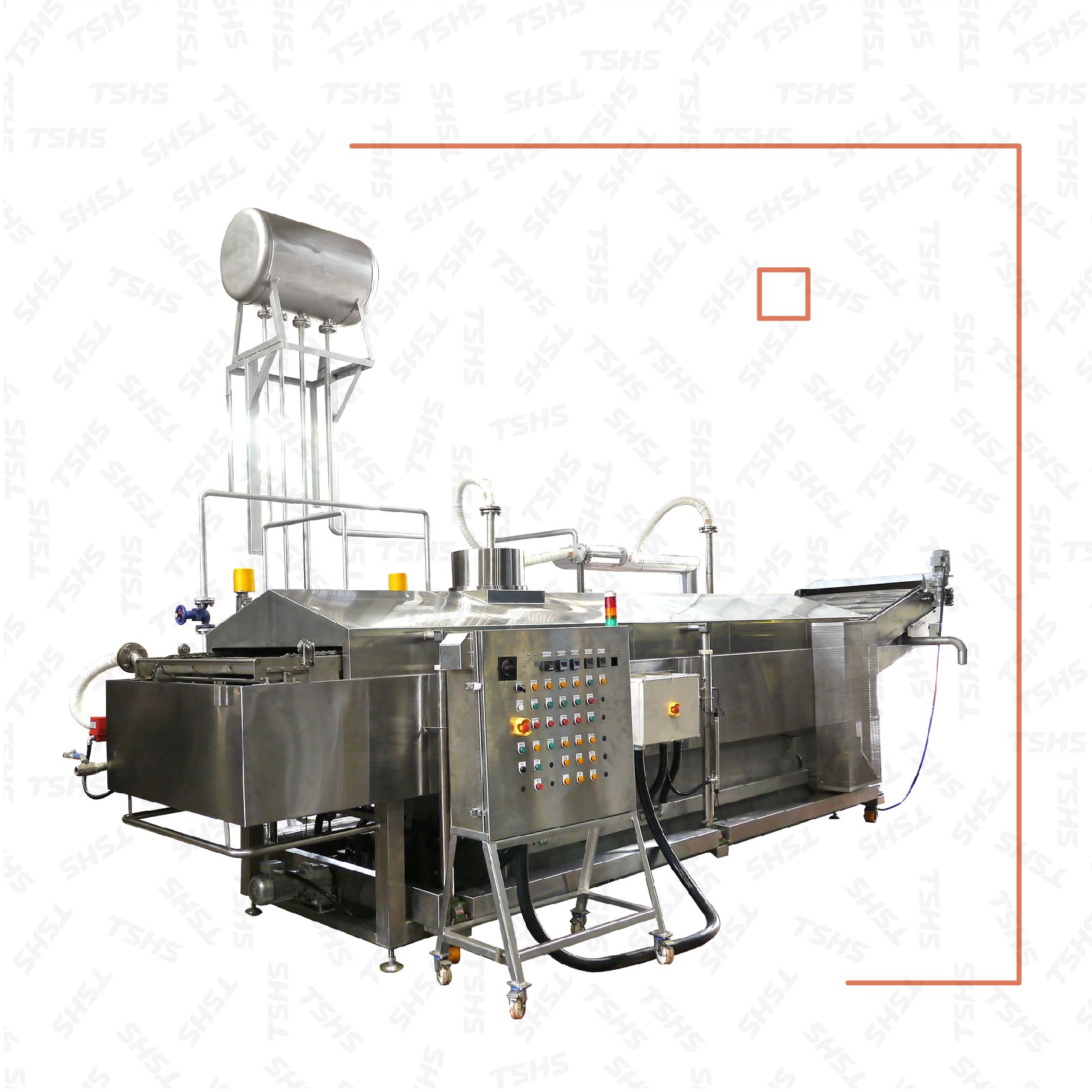 TsungHsing Food Machinery is a continuous deep oil fryer manufacturer and supplier. TsungHsing Food Machinery is a food machine manufacturer and supplier. Fried sugared snack foods are popular in the Southeast Asian market and are the primary choice for many snack food manufacturers trying to develop new products, but sugared products are both loved and hated by producers because of the condensed impurities due to the mixing of sugar and oil. There are many problems in the production process.
Traditional Frying Way
When the sugar water of the sugared food is fried at high temperature, it will produce the principle of carbonization; also known as caramelization, the caramelization reaction will produce a large amount of residue, which makes the rapid increase of the acid value of the oil, thereby reducing the life of the oil, and the severe caramelization will condense and adhere to the mechanical equipment, causing the conveyor chain to break or deform, which may easily cause equipment damage. In order to reduce the damage of equipment, the traditional method chooses to use the fryer and batch processing method, manual feeding and long-term frying production, and it takes time to cleaning and equipment maintenance, which is inefficient in the production process. And it takes a lot of manpower and space, and the production capacity cannot meet the continuous mass production demand.
Large amount of residue. Reduce oil life
Because of Caramelization Equipment get damaged easily.
Introduction
How to provide customers with continuous and uninterrupted frying of sugared products for a long time, so as to achieve the highest production capacity, has become the primary research and development direction and problem-solving goal of TSHS. Based on market demand and overcoming the problems caused by traditional frying, TSHS has introduced the new machine product of 2019, the continuous sugared fryer, with the latest technology.
The continuous sugared fryer is suitable for a large amount of sugared snack foods. It uses a heat medium heating system to provide a stable heat source, effectively and evenly fry the sugared products. Through the exclusive design principle, caramelized impurities produced by the sugar water and oil are precipitated to the bottom and no longer interfere with the operation of the equipment, thereby achieving the requirements of continuous and mass production.
Capacity
Please contact the company's business staff for further information in response to a difference product.
Features
The whole machine is made of stainless steel, which is beautiful, hygienic and durable
Space-saving.
Furnace coils are heated evenly by multiple tubes which increase both heat transfer area and efficiency.
With relevant safety alarms and automatic/manual stop protection.
Automatically continuous production
Special three-in-one design with optional heating systems according to customer's requirements.
Reducing the condensed impurities due to the mixing of sugar and oil and extending equipment life.
Flow Chart
Feeding→ Syrup Pouring→ Quantitative Feeding→ Frying→ Vibrating→ Cooling→ Syrup Packaging

Peripherals / Accessories
1.Quantitative Feeding M/C
2.Vibration Oil Dripping
3.Cooling Conveyor
4.Syrup Pouring M/C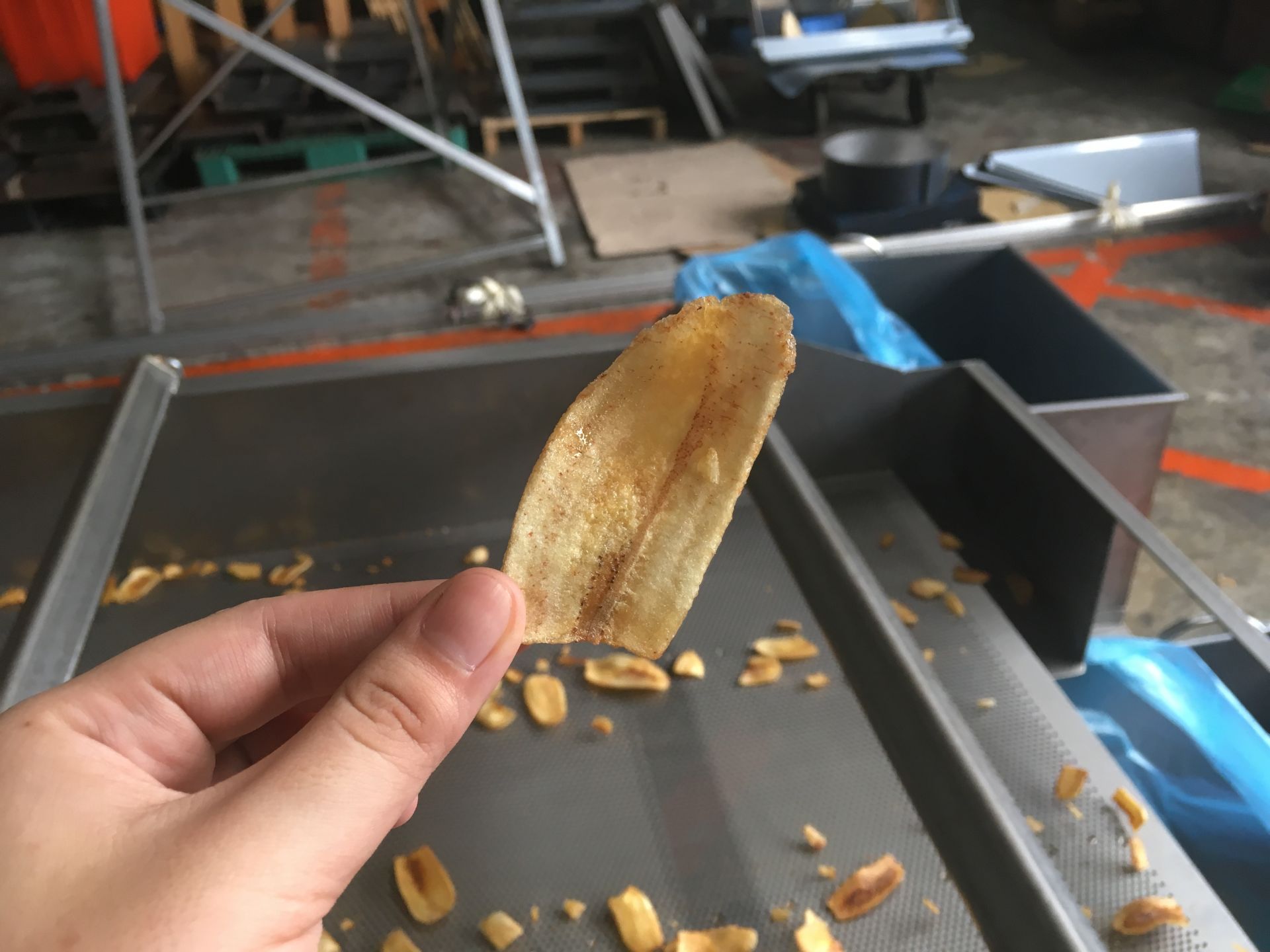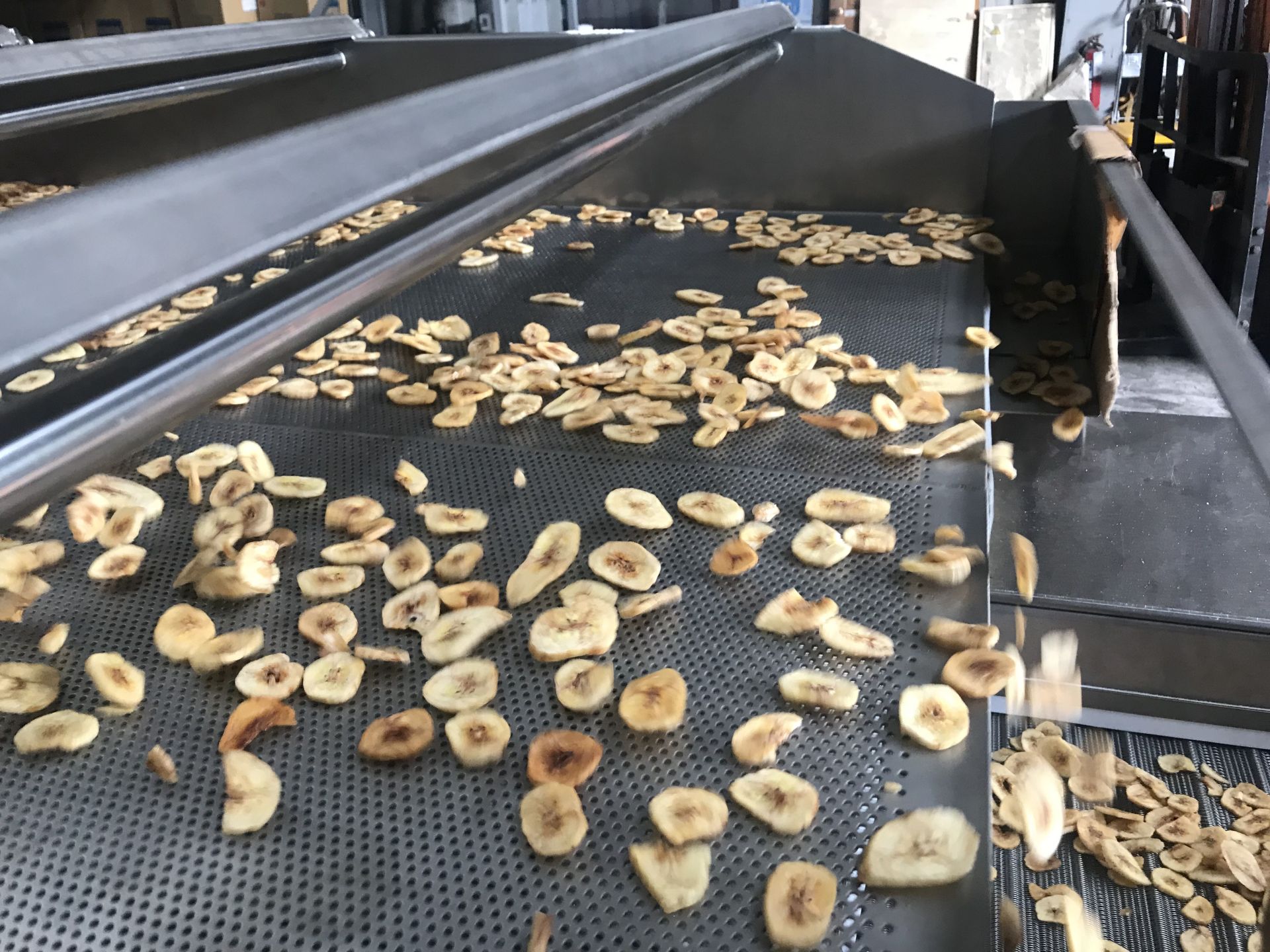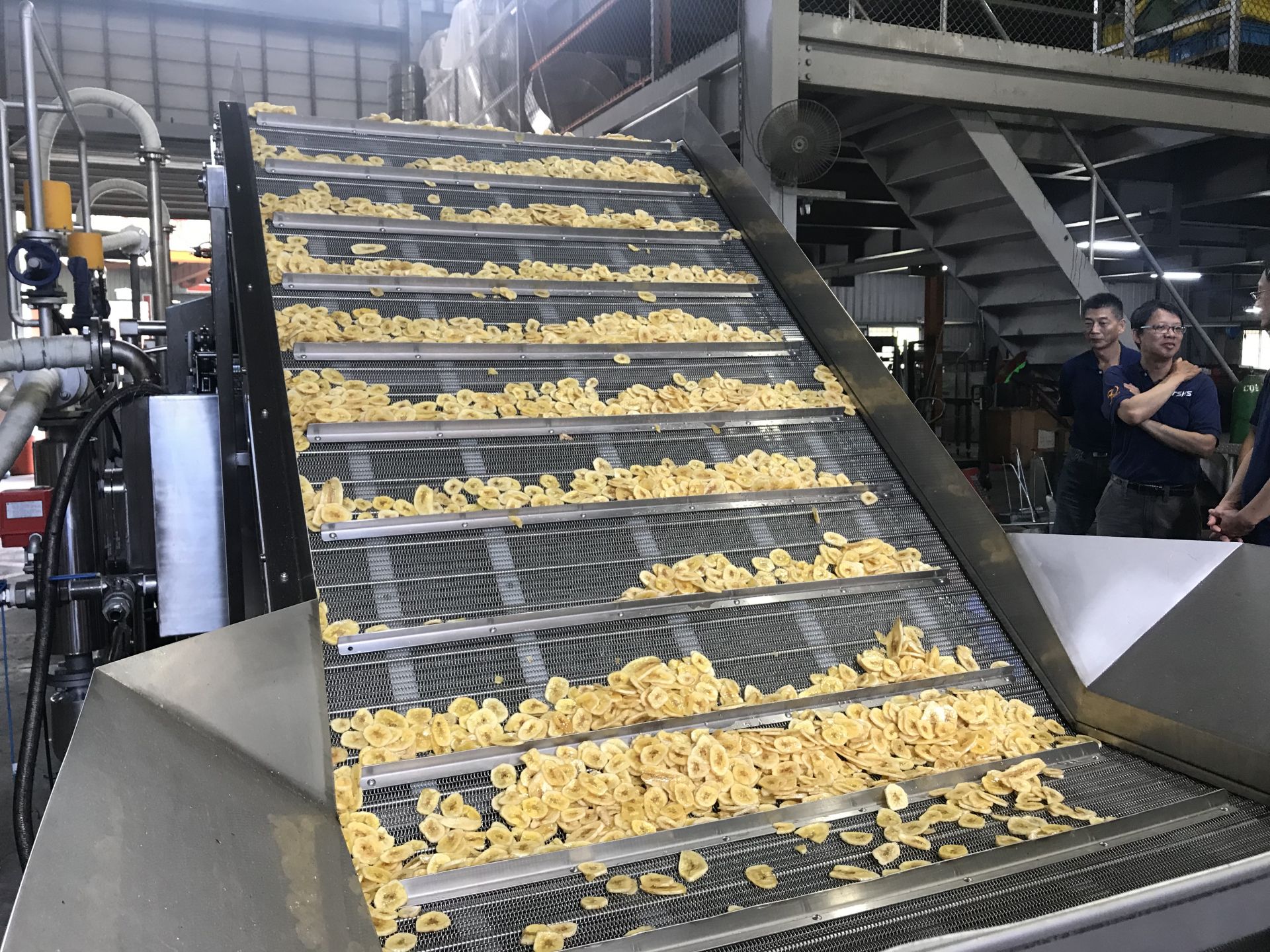 Applications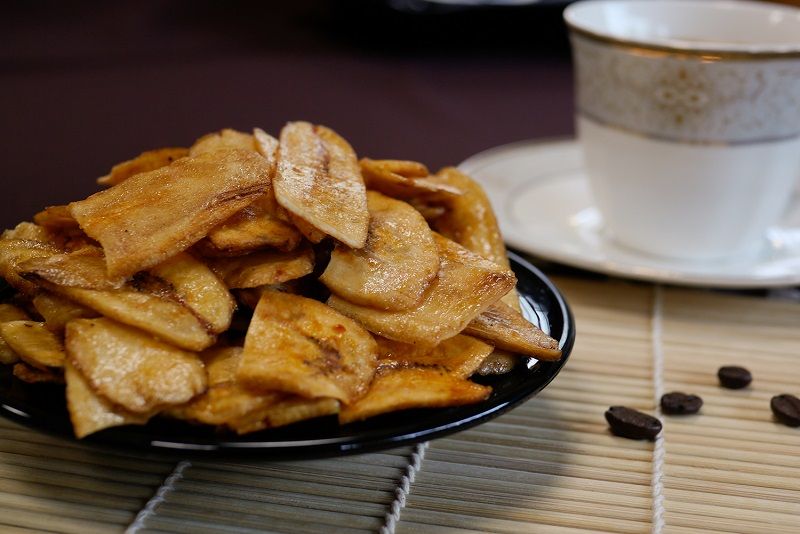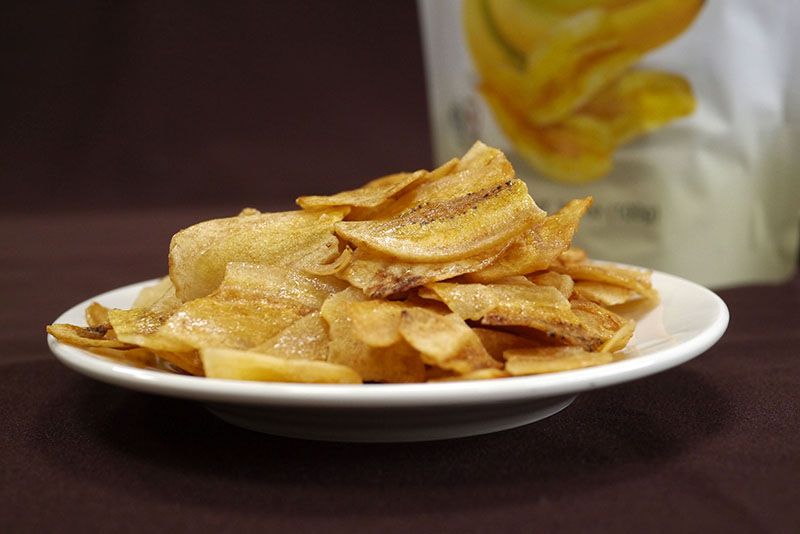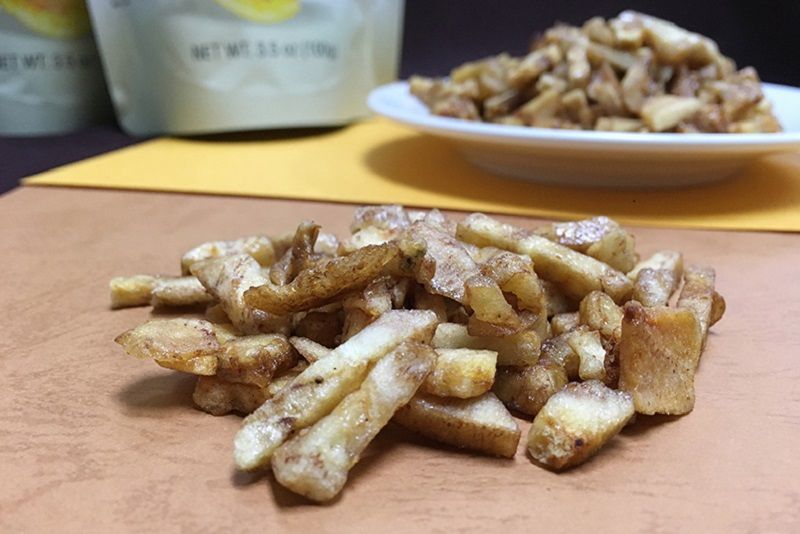 Related Products

---

TsungHsing Food Machinery is a heavy capacity continuous fryer machine manufacturer and supplier. TsungHsing Food Machinery is a food machine manufacturer and supplier. The fryin heavy duty fryer is suitable for a large number of products, such as beans, swelled snack foods, etc. TsungHsing Food Machinery has a special heating technology, and the continuous fryer is suitable for frying a variety of products to increase production; In addition, the fryin heavy duty fryer meets the requirements of food processing and production hygiene conditions, has a foolproof mechanism, uses a multimedia touch screen and integrates various current production and current monitoring design, allowing customers to take into account food hygiene and operational safety, and still retains excellent production quality at the same time.TsungHsing Food Machinery has been constantly innovating and changing. With more than 50 years of experience, the equipment is produced in various international markets and will be your best choice.

---

---

TsungHsing Food Machinery is a continuous microwave hybrid fryer machine manufacturer and supplier. TsungHsing Food Machinery is a food machine manufacturer and supplier. The continuous microwave hybrid fryer developed by TsungHsing Food Machinery (THSH) is suitable for frying a variety of products. It can overcome the products that traditionally require long-term frying, such as meat products, products with thicker product sizes. Do both internal and external heating. The equipment meets food hygiene, and with simple operation, safe equipment, improved innovation, and more sophisticated equipment. Microwave frying, in the application of food heating, is a new type of application. In addition to its own frying oil heat energy, it can heat the fry from the outside to the inside and use the microwave second energy to quickly heat the fry from the inside out ripening.

---

---

TsungHsing Food Machinery is a the heat transfer oil heating system fryer manufacturer and supplier. TsungHsing Food Machinery is a food machine manufacturer and supplier. Using heat transfer oil as a medium, indirectly heat the edible oil, gently and evenly fry various products such as meat, seafood, nuts, potato chips, shrimp strips, etc., the heat transfer oil heating fryer can extend the reservation period of the edible oil and the product. With more than 50 years of specializing in heating technology and experience, TsungHsing Food Machinery have the expertise, high-quality equipment and excellent after-sales service of automatic continuous fryer. Our sales footprint covers all international markets and is your best choice.

---

---

Videos

Continues Deep Oil Fryer for Syrup Coating Product

Syrup Peanuts Production Line

Coated Peanuts Production Line

Finished Product Gallery
Press Release
The exhibition in Thailand

Food Pack Asia 2020
Country :Thailand Bangkok
DATE:2020.02.12 ~ 2020.02.15
PLACE:Bangkok International Trade & Exhibition Centre (BITEC)

Read More

The exhibition in Singapore

In response to the new coronavirus (COVID-19) epidemic. After the careful consideration, the organizer decided to postpone the exhibition of FHA-Food & Beverage 2020.
Currently, the new exhibition...

Read More

The exhibition of India

Attention
The exhibition will be cancel.

Read More