Organization
Organizational division
The departments and work content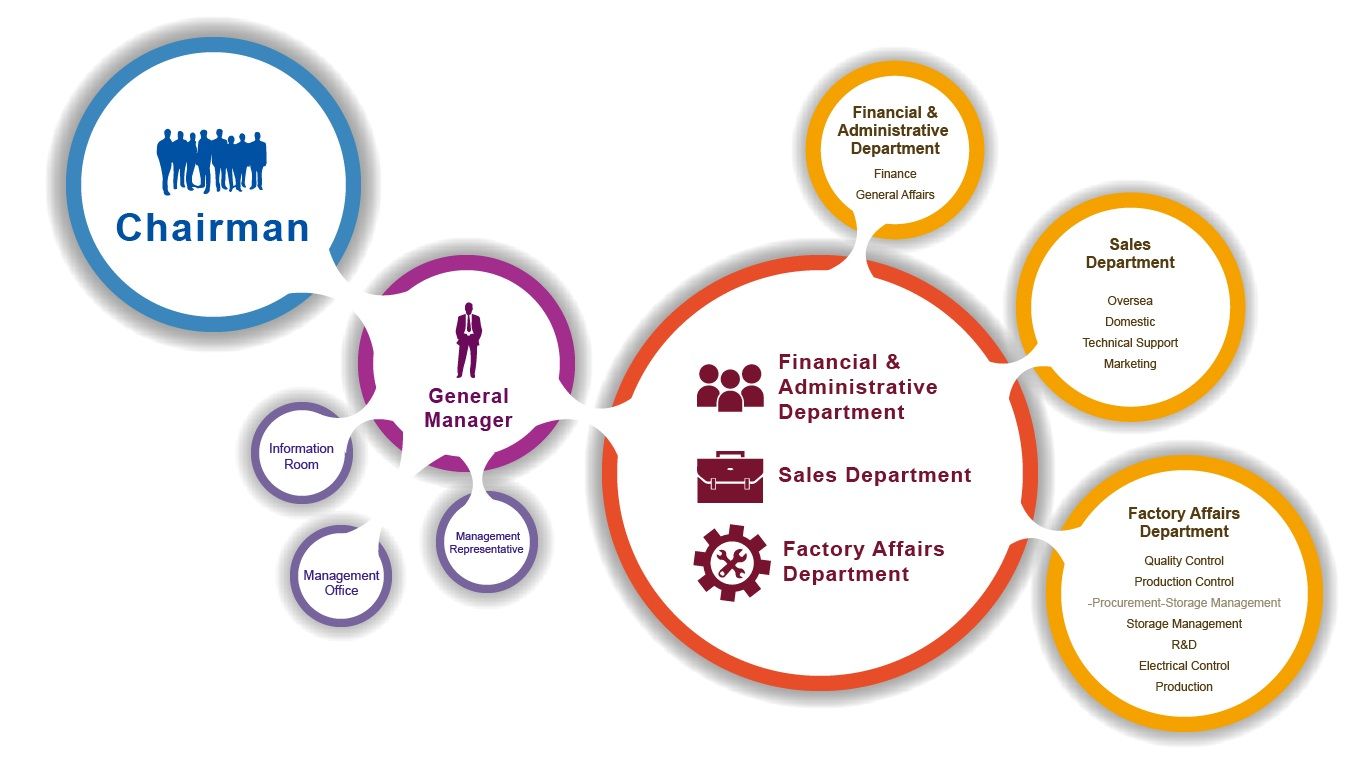 Chairman
General Manager's Office:Information Room, Management Office, Management Representative
˙Supervise the operation of units at all levels and plan the operation direction and development.
Sales Department:
International Group
˙Responsible for development, marketing, business planning, execution and management, and actively sell all mechanical equipment products of TSHS to Taiwan, China, Thailand, Bangladesh, India, Indonesia, Middle East, Europe, Arabia, America, Japan , South Korea, Malaysia, Vietnam, Myanmar, the Philippines, Singapore, Oceania, the Middle East, Africa... and other regions.
Customer Service Group
˙Assist customers in equipment installation, maintenance, improvement, on-site testing, after-sales service, and tutorial.
Marketing Group:
˙Responsible for brand marketing, official website management, big data analysis, audio-visual platform management, community tool management, Taiwan economic and trade network management, textbook design planning management, and online inquiry order tracking.
Financial & Administrative Department:
Finance Group
˙Responsible for accounting business, financial auditing, budget management, fund management, financial planning and bank transactions.
General Affairs Group
˙Responsible for personnel policy, human resource development, education and training, labor relations, implementation and review.
Factory Affairs Department:
Quality Control Group
˙Set material quality specifications and management, master product quality and test analysis.
Production Control Group
˙Production Control: production deployment, master order delivery.
˙Procurement: Responsible for purchasing operations and stabilizing supplier delivery quality.
˙Storage Management: Material management and shipment management.
R&D Group
˙Machine planning, R&D and production engineering planning and design.
Electrical Control Group
˙Intelligent R&D and development, control process planning, professional distribution planning, and proper storage of electrical components.
Production Group
˙Assembly equipment, control the quality of production, and stabilize production efficiency.
Press Release
The exhibition in Thailand

Food Pack Asia 2020
Country :Thailand Bangkok
DATE:2020.02.12 ~ 2020.02.15
PLACE:Bangkok International Trade & Exhibition Centre (BITEC)

Read More

The exhibition in Singapore

In response to the new coronavirus (COVID-19) epidemic. After the careful consideration, the organizer decided to postpone the exhibition of FHA-Food & Beverage 2020.
Currently, the new exhibition...

Read More

The exhibition of India

Attention
The exhibition will be cancel.

Read More