Banana Chips Machine And Equipment Supplier
Banana Chips Production Line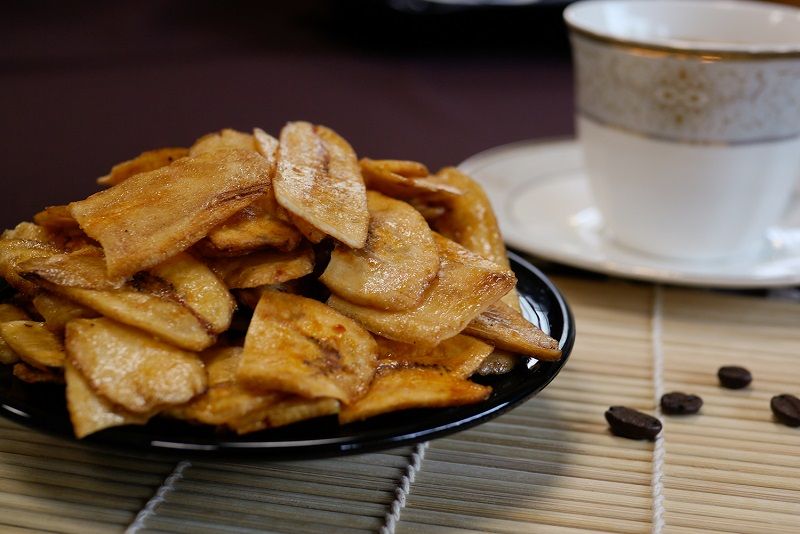 The first method of banana chips production needs to cut two hard, unripe raw bananas into thin slices. Then spread the bananas and apply the granulated sugar and lemon juice on the surface, then fry them until the banana slices are browned on both sides. After the pan is cooled, the banana slices are crisp when completely cooled. Banana chips are a common snack in supermarkets with attractive golden yellow, crisp and sweet taste, which make everyone can't stop munching at the it. You can put it in a crisper and store it once you can't finish it. It's convenient to take.
Features
The raw materials are easy to obtain; green bananas are more suitable for production, and the production conditions will vary according to different varieties in different regions.
No complicated procedures are required; after peeling, cleaning, cutting, frying, seasoning, it can be packaged and sold.
Automatic production, easy control, can save labor.
Consistent operation and production, the quality of the finished banana chips is stable and in line with food hygiene.
Related Products

---

TsungHsing Food Machinery is a Continuous Fine Filter machine manufacturer and supplier. TsungHsing Food Machinery (TSHS) provides the filtering system and equipment for continuous cleaning the residues produced during the frying process. Tsung Hing continuous fryer itself contains a coarse filter system, which can easily filter out a small amount of impurities to maintain the oil quality and extend oil life. But if your products are coated with paste, powder or syrup. A large amount of residue will be produced, which is easy to cause oil damage and high oil acid. At this time, we would recommend using the continuous fine filter to more effectively reduce the frequency of oil damage. And maintain environmental hygiene and product clean in production. Tsung Hsing Company provides a continuous fine filter system and equipment for filtering and removing oil residues, which can effectively filter out the oil residues in the frying. It is an essential frying peripheral equipment for frying products with coated paste, slurry and powder products. ※ The continuous fine filter is suitable for products coated with paste, powder and syrup.

---

---

Videos

:Banana Chips Production Line
Press Release
The exhibition in Thailand

Food Pack Asia 2020
Country :Thailand Bangkok
DATE:2020.02.12 ~ 2020.02.15
PLACE:Bangkok International Trade & Exhibition Centre (BITEC)

Read More

The exhibition in Singapore

In response to the new coronavirus (COVID-19) epidemic. After the careful consideration, the organizer decided to postpone the exhibition of FHA-Food & Beverage 2020.
Currently, the new exhibition...

Read More

The exhibition of India

Attention
The exhibition will be cancel.

Read More