Corn Puff Machine And Equipment Supplier
Corn Puff Production Line
Puff corn, Corn Cracker,Cheese ball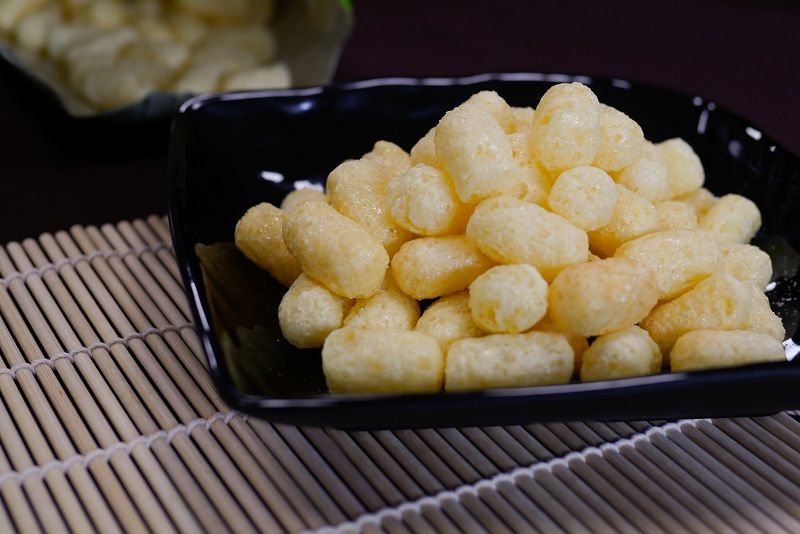 The whole production uses crushed corn or rice as raw materials. And this raw material is easy to obtain and low-cost. The production process:Put the crushed corn in Grain Puff Extruder. After that, the finished product from the extruder, then send to the Cutting Machine. The cutting machine provided byTSHS , it can adjust cutting and the feeding speed according to the product demand to control the length of the product. The other hand the mold can be changed in the same production line. It can produce a variety of products. More effectively saving equipment investment costs. In addition, it can match Filler Machine to produce the products which need to filled stuffing to increase product taste and product line abundance. The production process belong drying and according to customer needs to select seasoning.
About Grain puffs
Grain puffs are non-fried foods and therefore low in calories, making them the best choice for many health-conscious customers. It's no burden but makes people feel full, and it tastes crispy and has a rice scent. The sweet stuffing inside is very complementary to a cup of coffee. The production process is to put the finely divided corn into the dried grains to puff, and then add the seasoning filling. After the finished product is cut out, the desired size is cut out, and the grain puff product is freshly baked.
TSHS provides comprehensive Grain Puff equipment solutions. Please feel free to contact us via the form below. We will happy to answer any questions you may have regarding our products, services, and turnkey projects.
Related Products

---

TsungHsing Food Machinery is a grain puff production line mahcine manufacturer and supplier. TsungHsing Food Machinery (TSHS) provides a machinery manufacturing, making the raw materials (grains like corn and rice) processing instantly into required shape, then baked and flavor added to be tasty snacks. The Grain Puff Production Line of TSHS is easy to control and economize manpower by automatic production line, and the equipment is made of stainless steel which is easy to clean and accord to the requirements of food hygiene regulations. The whole production cycle uses rice or corn mash or other grains as raw materials, producing delicious products through the steps of mixing and humidification, grain bursting, cutting, drying or baking, and seasoning. By changing the mold, different shapes of products can be made on the same production line. With the injection machine, it can produce products with fillings, increase the taste of the products, suitable for all ages, and is one of the most popular snacks in the world.

---

---

TsungHsing Food Machinery is a Flavor Liquid Mixer machine manufacturer and supplier. TsungHsing Food Machinery (TSHS) provides continuous seasoning equipment production. The flavor liquid mixer is mainly designed through the special design of the double seasoning drums, and the two kinds of seasoning liquid can be fully mixed before seasoning. It can completely spray the seasoning liquid on the product, and then evenly wrap the seasoning liquid on the product through the turning of the seasoning drum, which is suitable for the fully automatic production line. Since the seasoning state of the seasoning liquid must be maintained, we designed the jacket insulation of the seasoning process to ensure the quality and taste of the seasoning liquid and can flexibly adjust the functions of the equipment according to the time and requirements of the customer. Common products are mainly used as follows: Spray seasoning: According to the customer's product requirements, adjust the speed and range of the seasoning spray to achieve the seasoning effect, such as Kuai-Kuai food products.

---

---

TsungHsing Food Machinery is a Continuous Fine Filter machine manufacturer and supplier. TsungHsing Food Machinery (TSHS) provides the filtering system and equipment for continuous cleaning the residues produced during the frying process. Tsung Hing continuous fryer itself contains a coarse filter system, which can easily filter out a small amount of impurities to maintain the oil quality and extend oil life. But if your products are coated with paste, powder or syrup. A large amount of residue will be produced, which is easy to cause oil damage and high oil acid. At this time, we would recommend using the continuous fine filter to more effectively reduce the frequency of oil damage. And maintain environmental hygiene and product clean in production. Tsung Hsing Company provides a continuous fine filter system and equipment for filtering and removing oil residues, which can effectively filter out the oil residues in the frying. It is an essential frying peripheral equipment for frying products with coated paste, slurry and powder products. ※ The continuous fine filter is suitable for products coated with paste, powder and syrup.

---

---
Press Release
The exhibition in Thailand

Food Pack Asia 2020
Country :Thailand Bangkok
DATE:2020.02.12 ~ 2020.02.15
PLACE:Bangkok International Trade & Exhibition Centre (BITEC)

Read More

The exhibition in Singapore

In response to the new coronavirus (COVID-19) epidemic. After the careful consideration, the organizer decided to postpone the exhibition of FHA-Food & Beverage 2020.
Currently, the new exhibition...

Read More

The exhibition of India

Attention
The exhibition will be cancel.

Read More