Corn Curl Machine And Equipment Supplier
Corn Curl Production Line
Cheese curls, Cheese Puff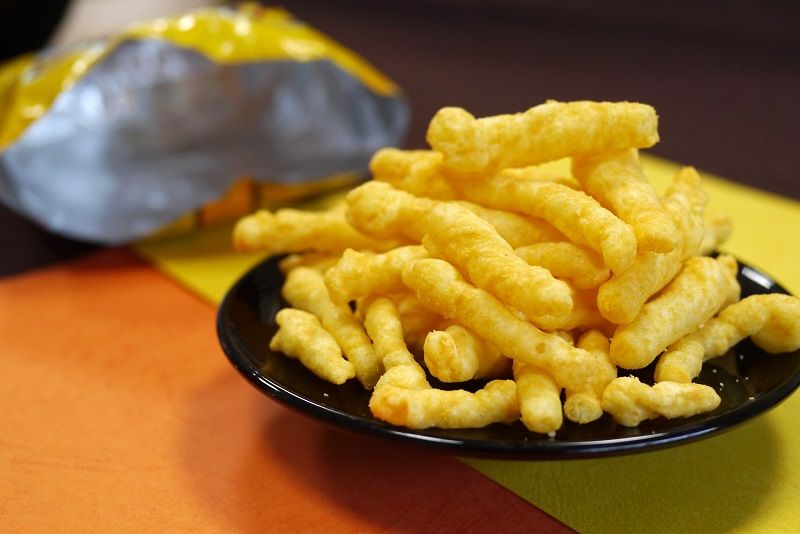 Equipment of TSHS corn curl production line is quite a simple entrance for into the snacks food industry. The raw materials of corn are easy to obtain, and it is a fully automated production line, so do not need the complex procedures. First, mix corn flour with water. And next, inflate to the specific shape. Match the classic frying machine of TSHS, so that the corn curl fragrant is more intense after frying, and the taste is more crispy. The oil temperature and frying time can be adjusted according to the needs of customers, and finally seasoned with peripheral equipment-"rotary seasoning drum". After seasoning, it can be packaged and sold immediately. The corn curl production line is suitable for the production of "Cheetos", "KurKure"...etc. which are extruded from corn flour and then need to be fried.
About Corn Curl
Corn curl is one of the popular snacks. It is most widely known as the big brand ''Cheetos''. The corn flour and starch are being fried at a high temperature and inflated, and the appearance thus shows a pleasing of inflated long strip. Finally, the seasoning step, such as adding cheese, tomato flavor, etc., were the favorite snacks rankings for children. At present, many brands on the market regard corn curl as the main product line, such as Koike-ya(Japan), Cheetos(U.S.A), Hwa.Yuan(Taiwan), Calbee(Japan) and Kurkure(India).
TSHS provides comprehensive Corn Curl equipment solutions::Please feel free to contact us via the form below. We will happy to answer any questions you may have regarding our products, services, and turnkey projects.
Related Products

---

TsungHsing Food Machinery is a corn curl production line machine manufacturer and supplier. TsungHsing Food Machinery (TSHS) provides a complete Corn Curl Production Line, from the processing of the raw material shape by extruding and inflating to be fried and seasoned. The Corn Curl Production Line of TSHS uses the corn, which is the simplest raw material and easy to obtain around the world. Shape by extruding and inflating, and then put into the continuous fryer and season it. It becomes the tasty snack and suitable for all ages. Corn grit, the raw material of the Corn Curl Production Line, having a special characteristic after mixed with water: It will become thick and hard by quick hit, but not by slow collision. Therefore, the Corn Curl Production Line uses this characteristic to mix and heat the corn grit and water, and then extrudes them by mold. Because of the steam inside contacts with air that increases the volume of the Corn Curl and to be extruded. At last, the striped tasty snack comes out and suitable for all ages. This product is widely used all over the world, and the well-known names are Twisty、Cheetos、KuKure、CornCurl. Most corn curls in the market are fried food. First, mixing corn and water, and then heating. Second, shaping and extruding by mold. Because the steam inside contacts with air that increases the volume. At last, the striped snack comes out.

---

---

TsungHsing Food Machinery is a Flavor Liquid Mixer machine manufacturer and supplier. TsungHsing Food Machinery (TSHS) provides continuous seasoning equipment production. The flavor liquid mixer is mainly designed through the special design of the double seasoning drums, and the two kinds of seasoning liquid can be fully mixed before seasoning. It can completely spray the seasoning liquid on the product, and then evenly wrap the seasoning liquid on the product through the turning of the seasoning drum, which is suitable for the fully automatic production line. Since the seasoning state of the seasoning liquid must be maintained, we designed the jacket insulation of the seasoning process to ensure the quality and taste of the seasoning liquid and can flexibly adjust the functions of the equipment according to the time and requirements of the customer. Common products are mainly used as follows: Spray seasoning: According to the customer's product requirements, adjust the speed and range of the seasoning spray to achieve the seasoning effect, such as Kuai-Kuai food products.

---

---
Press Release
The exhibition in Thailand

Food Pack Asia 2020
Country :Thailand Bangkok
DATE:2020.02.12 ~ 2020.02.15
PLACE:Bangkok International Trade & Exhibition Centre (BITEC)

Read More

The exhibition in Singapore

In response to the new coronavirus (COVID-19) epidemic. After the careful consideration, the organizer decided to postpone the exhibition of FHA-Food & Beverage 2020.
Currently, the new exhibition...

Read More

The exhibition of India

Attention
The exhibition will be cancel.

Read More