Flavor Powder Sprinkler Machine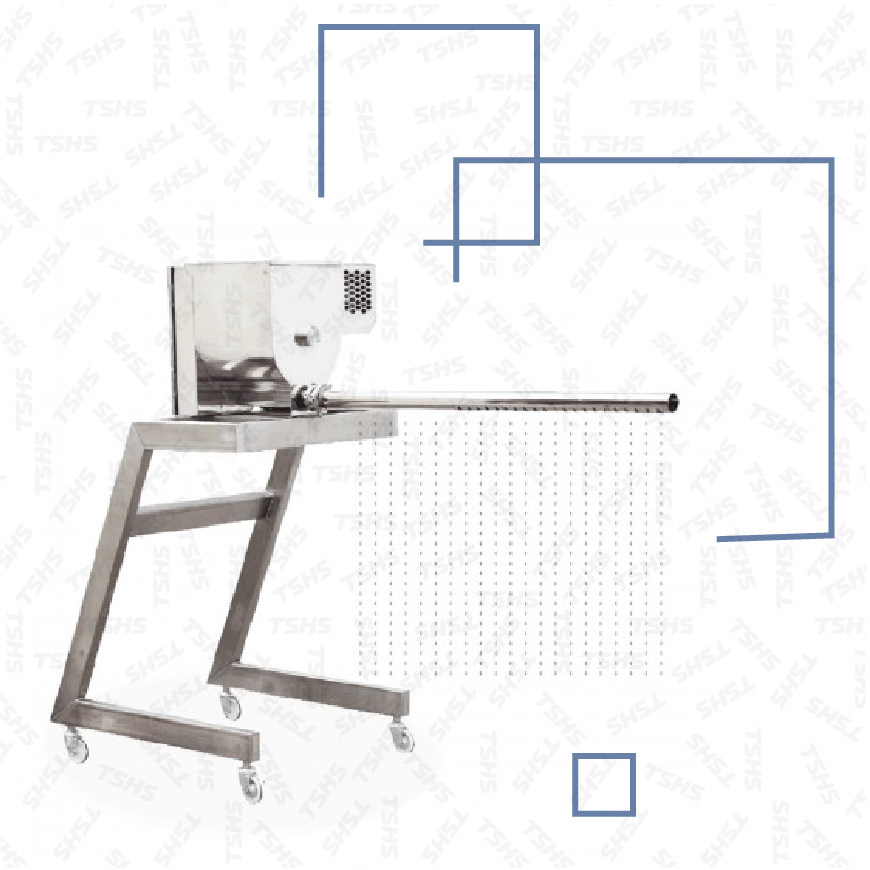 TsungHsing Food Machinery is a flavor powder sprinkler machine manufacturer and supplier. Products needs to be seasoned or coated.
TsungHsing Food Machinery (TSHS) provides seasoning equipment production.
An exclusive screw is provided to sprinkle powder evenly on the conveyor belt or seasoning drum. It is suitable for powdered seasoning powder. It is seasoned on the surface of the product to ensure the quality and taste of the product. It can flexibly adjust the functions of the equipment according to the time and customer's requirements. In addition, in the storage hopper of the seasoning powder, we have the design of the agitation device to avoid the bridge formation of the seasoning powder in the storage drum due to environmental factors, so that the seasoning quality is improved.
Common products are mainly used as follows:
Spray seasoning: Adjusting the range and time of the seasoning spray according to the customer's product requirements, such as snack food seasoning.
The flavor powder sprinkler of TSHS can be divided into a feeding system and a powdering system, which are operated in two parts:

A. Feeding System:

The mechanical equipment adopts the storage drum design with the stirring rod, so that the seasoning powder can have the basic stirring before the feeding, ensure the uniformity of the seasoning powder, and prevent the bridge formation. The better seasoning can be obtained as the seasoning powder enters the powdering tube. Quality and controllability allow the product to achieve the highest quality seasoning progress.

B. Powdering System:

The powdering system of TSHS adopts a detachable powder-sprinkling tube design. By adjusting the spacing between the inner and outer tubes, the amount of powder can be effectively adjusted, and the detachable design makes it easy for the operator to perform daily maintenance and cleaning. Let each batch of seasoning get high quality and average yield, reducing the cost of customers. In addition, the rollers attached to the bottom of the powder machine have mobile design provides a more flexible way to reduce the adjustment time of the production line.
Features
An exclusive screw is provided to sprinkle powder evenly on the product to have the perfect blending.
Adjustable sprinkling flow.
Adjustable powder feeding speed.
Even sprinkling.
Special design and easy to clean.
Flow Chart
Sprinkling → Seasoning → Discharging
(In case of different kinds of product, please contact us for other special processes.)

Equipment Information Of Related Product
Power: Yield varies depending on the seasoning time.
Horsepower Requirements: 5HP.
Product Features
The sprinkling equipment of TSHS has the feature of adjustable sprinkling flow, and can sprinkle the seasoning powder on the surface of the product effectively and evenly. In addition, the whole set of equipment is detachable, which is convenient for personnel to clean equipment and maintenance, which can effectively save production costs.
Related Products

---

Product catalog Download

---
Press Release
The exhibition in Thailand

Food Pack Asia 2020
Country :Thailand Bangkok
DATE:2020.02.12 ~ 2020.02.15
PLACE:Bangkok International Trade & Exhibition Centre (BITEC)

Read More

The exhibition in Singapore

In response to the new coronavirus (COVID-19) epidemic. After the careful consideration, the organizer decided to postpone the exhibition of FHA-Food & Beverage 2020.
Currently, the new exhibition...

Read More

The exhibition of India

Attention
The exhibition will be cancel.

Read More