Cabinet Type Dryer
Dryer, Dewater M/C, Hot Wind Drying M/C, Low Temperature Cool Wind Dryer, Electric Heater Type Dryer, Gas Type Dryer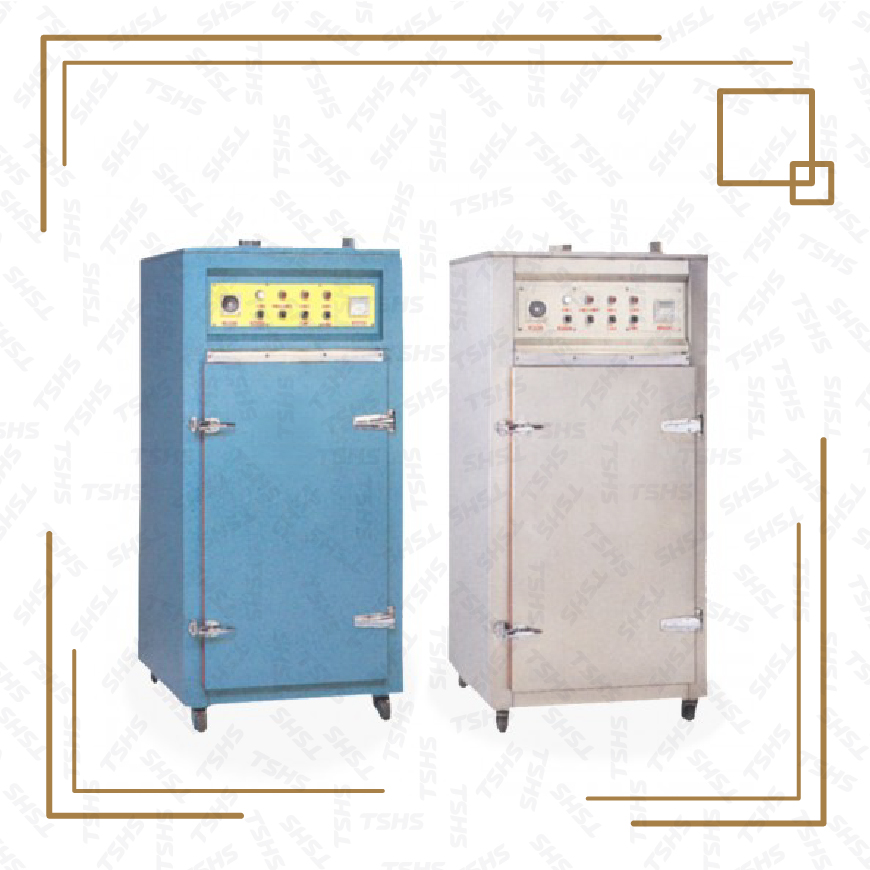 TsungHsing Food Machinery is a cabinet type dryer machine manufacturer and supplier. TsungHsing Food Machinery (TSHS) provides dryers of various sizes and energy sources to allow customers to make choices. Different types can be provided according to local energy requirements, so that you can save energy costs in addition to production. Movable rack provides the convenience of loading, making it easy for users to work. Our products offer an alternative to food storage for a variety of processing of agricultural products, aquatic processing, Chinese medicine, chemistry, etc., as well as additional economic value.
DESCRIPTION
The whole machine provides two different materials to the customer, making choices based on the usage environment or budget considerations. We offer all-white iron models with general iron paint finish on the outside. The part exposed to the food and inside the cabinet is made of SUS304 to ensure its hygiene, cleanliness and durability. The exterior is made of general iron paint.
Each dryer is equipped with a temperature controller and an over temperature alarm. The dryers are equipped with constant temperature adjustment and time controller. It can be adjusted for the drying time and temperature required for each product and display the current operating temperature and heating. Automatic controlling can avoid product abnormalities or poor drying effect due to human operation. Hot air circulation avoids uneven drying.
SAVETY DEVICES
In addition to the over-temperature automatic alarm, the safety device has a warning function such as power off, motor overload, and automatic turn off. Any faults or abnormalities on the machine can be clearly determined and easily eliminated. The movable rack provides work convenience, which is convenient for loading the product and then pushing it to the dryer for drying. The entire rack is also made of SUS304, which is more hygienic. Each set of dryers can be used with different trays depending on product features. We offer three different specifications: flat plate, perforated and net plate. The customer can select the appropriate type of tray according to the type of the application. The tray is also made of SUS304, which is easy to clean and wash after use.
Capacity
In case of different products, please contact our business department and our staffs will be serving you.
Features
The whole machine is made of stainless steel, which is beautiful, hygienic and durable.
No safety concerns by automatic ignition of gas.
The standard emergency stop button can immediately turn off the operation of the equipment.
Automatic constant temperature control system, and the temperature can be adjusted freely according to the product.
With heating indication displaying and warning to avoid over temperature abnormality of the equipment.
Adjustable time control based on product drying time.
Flow Chart
Containing → Drying → Cooling → Package

Equipment Information Of Related Product
Device dimensions may be divided into numbers of plates following: 8, 10, 40, 80.
Product Features
ACESSORIES
1. Humidity controller can be added.
2. Additional rack can be purchased.
3. Different trays can be purchased to for producing different products.
Applications
Food Products: Meat, Sausage, Preserved Fruit, Jerky
Agriculture and Marine Products: Longan, Mushroom, Dried Fish, Lily Flower.
Chemical, Medicine and Herb.
Cabinet Dryer Model:
Tray Type :
| | | | | | |
| --- | --- | --- | --- | --- | --- |
| | Flat Plate | | Perforated | | Net Plate |
TYPE
PLATE
BAKING TRAY SPECIFICATIONS


(MATERIAL : STAINLESS STEEL)

MECHANICAL SPECIFICATIONS
HEATING METHOD
ENERGY CONSUMPTION
CAPACITY
MOTO
PROPER TEMPERATURE
SAUSAGE
JERKY
LONGAN
WS-340
10
56x56x4 cm

Outside diameter: 76X70X152

Inside diameter:58X61X98

3KW
1 Phase 15 A
30kg
10plate
150kg
1/4HP
30-100

℃

WS-310
40
72x72x4cm
Outside diameter:120x160x197
Inside diameter:114x154x191
12KW
1 Phase 60A
3 Phase 40A
150kg
40plate
600kg
1P/1HP
3P/1HP
30-100℃
WS-310-G
(Gas)
40
72x72x4cm
Outside diameter:120x160x197
Inside diameter:114x154x191
LPG
NG
1.04kg/hr
150kg
40plate
600kg
1P/1HP
3P/1HP
30-100℃
WS-311
80
72x72x4cm
Outside diameter:

233x160x197x217


Inside diameter:227x154x191
21KW
1 Phase 100A
3 Phase 66A
300kg
80plate
1200kg
1P/1HP
3P/2HP
30-100℃
WS-311-G
(Gas)
80
72x72x4cm
Outside diameter:

233x160x197x217


Inside diameter:227x154x191
LPG
NG
1.56kg/hr
300kg
80plate
1200kg
1P/1HP
3P/2HP
30-100℃
Related Products

---

TsungHsing Food Machinery is a continuous fluidized dryer and roaster machine manufacturer and supplier. TsungHsing Food Machinery (TSHS) provides continuous, large-volume, baking, heating, and drying equipment for manufacturing. The continuous fluidized bed dryer/ roaster has the principle of operation is using floating hot air and being heated by float hot air to achieve uniform drying and roasting effect. First, the air is heated by the heating system, and the hot air is blown to the product by the blower. At the same time, the hot air is circulated through the filter system through the circulation system, and the temperature is controlled, the heat exchange rate is increased, and achieves the energy saving effect.APPLICATIONS: Drying: Flakes or granules such as rice, wheat, breadcrumbs (raw materials used in pork coating process). Roasting: Rice, peanuts, coffee, nuts and snack foods (e.g. Shrimp Strips) puffing.

---

---

TsungHsing Food Machinery is a conveyor type auto dryer machine manufacturer and supplier. TsungHsing Food Machinery (TSHS) provides continuous, large-volume, water-reducing drying equipment manufacturing. Can be applied to food, pharmaceutical, industrial and other drying requirements. The used energies of conveyor type auto dryer of TSHS are: Natural gas (LNG), Liquified Petroleum Gas (LPG), steam, electric energy and other energy sources. Automatic temperature control after temperature setting. It is meet the requirements of food hygiene regulations and easy to repair. It is suitable for the drying of snack foods: for example, grain and soy protein products (commonly known as vegetarian meat), kuai kuai, corn curl, fish shred, nuts, dried fruit and so on. Agricultural and fishery products: such as dried fish, dried sea shrimp, orange daylilies, mushrooms and other products, such as drying, can be based on product features, planning, operation. The temperature can be set and the mesh belt speed drying time can be adjusted to dry the product evenly. Now used in various major food factories.

---

---

Tsung Hsing's module dryers can provide customized adjustment services according to customers' plant space limit and capacity requirements. The module-type design does not need to purchase the new equipment when customers need to increase capacity, technical changes, or function adjustments. It's just expanded the drying section in the original dryer and adjusted the structure that could be satisfied the customer needs. Effectively save the cost and time of purchasing new equipment for customers, and also reduce the production problem that is probably to be encountered when purchasing the new equipment. In addition, the module-type equipment adopts quantitative production. And it is easy to installation. Which not only shortened the delivery time but also successfully solved the problem of unstable quality by the module design.

---

---

Finished Product Gallery

Product catalog Download

---
Press Release
The exhibition in Thailand

Food Pack Asia 2020
Country :Thailand Bangkok
DATE:2020.02.12 ~ 2020.02.15
PLACE:Bangkok International Trade & Exhibition Centre (BITEC)

Read More

The exhibition in Singapore

In response to the new coronavirus (COVID-19) epidemic. After the careful consideration, the organizer decided to postpone the exhibition of FHA-Food & Beverage 2020.
Currently, the new exhibition...

Read More

The exhibition of India

Attention
The exhibition will be cancel.

Read More