2019 Best Wishes For The Happy New Year
2019/01/1
TSHS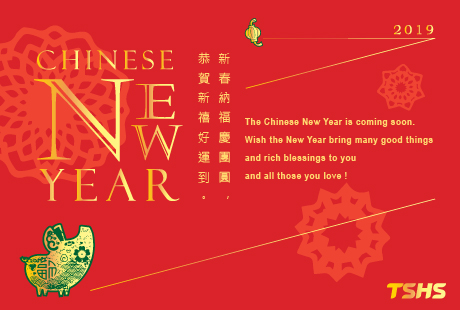 Best wishes for the happy new year
we will work harder to create a higher quality, better professional service and provide exclusive customized research and development.

The product from Tsung Hsing is the 100% MIT ( Made In Taiwan) product totally.
From Research and Development→Design→Production→Manufacturing→Customer-come-to-check, the whole process was completed in our factory in Taiwan.
Fully develop the "TSHS" brand to do our best. According to 「create the wealth for you from Tsung Hsing」(Tsung Hsing Golden Choice). To growth with our customers.
Press Release
The exhibition in Thailand

Food Pack Asia 2020
Country :Thailand Bangkok
DATE:2020.02.12 ~ 2020.02.15
PLACE:Bangkok International Trade & Exhibition Centre (BITEC)

Read More

The exhibition in Singapore

In response to the new coronavirus (COVID-19) epidemic. After the careful consideration, the organizer decided to postpone the exhibition of FHA-Food & Beverage 2020.
Currently, the new exhibition...

Read More

The exhibition of India

Attention
The exhibition will be cancel.

Read More