28th Taipei Int'l Food Processing & Pharm. Machinery Show 2018
2018/06/27
TSHS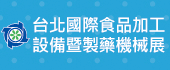 Exhibition Details
Date:2018-06-27 (Wed.) ~ 2018-06-30 (Sat.) 09:00 am ~ 05:00 pm
Venue:Taipei Nangang Exhibition Center, Hall 1
Booth:L0417
◉ 28th Taipei Int'l Food Processing & Pharm. Machinery Show 2018

Introduction
:
This exhibition continues to focus on two industrial categories: food processing equipment and pharmaceutical machinery, along with international industry seminars, one-on-one procurement and new products launch that is bound to attract the attention of domestic and foreign stakeholders, to stimulate more creative and collaborative opportunities to create another wave of peaks.
Taiwan's food machinery is mainly exported to China, the United States, India, Indonesia, Vietnam, Malaysia, Thailand and other ASEAN countries, showing the international competitiveness of food machinery exhibition and the vast space for growth.
Best quality good price has always been the main reason of Taiwan's international reputation for food machinery, the future trend of the industry towards energy saving, high efficiency and special processing needs of the development, targeting emerging markets and the vast number of potential markets in mainland China.
◉
28th Taipei Int'l Food Processing & Pharm. Machinery Show 2018

Display Content
:
Food and beverage processing machinery

Baking machinery and parts

Food packaging machinery

Pharmaceutical processing machinery and packaging equipment

Food Biotechnology

Food conditioning equipment

Waste treatment and disinfection equipment

CAD & CAM



Analysis and measuring instruments

Fresh and cold storage equipment

Food and beverage trafficking machines

Food processing additives

Other food processing technology, related components and so on.
◉
28th Taipei Int'l Food Processing & Pharm. Machinery Show 2018
Further Information
:
  www.foodtech.com.tw

Press Release
Exhibition ◆ ALLPACK Indonesia 2018

Date:2018-10-17 (Wed.) ~ 2018-10-20 (Sat.)
Venue:JAKARTA INTERNATIONAL EXPO
Booth:B1 B024

Read More

Exhibition ◆ ANUTEC International FoodTec India 2018

Date:2018-09-27 (Thu.) ~ 2018-09-28 (Fri.) 09:00 am ~ 05:00 pm , 2018-09-29 (Sat.) 09:00 am ~ 04:00 pm
Venue:Bombay Convention & Exhibition Centre (BCEC)
Booth:Hall1 E52

Read More

Anti-Fraud

We received our customer's reflection recently. There are some scammer counterfeit account information by mail in the name of TsungHsing company.
We remind our customer that our remittance...

Read More