Continuous Fryer
Conveyor Fryer, Industrial Fryer, Deep Fryer, Tofu Fryer, Meat Fryer, Chips Fryer, Pellet Fryer
Tsung Hsing (TSHS) is a manufacturer specialized in frying equipment. It has 55 years of rich experience, from electric table fryer, batch fryer, to now successfully developed multi-functional automatic continuous fryer. The whole machine is made of stainless steel and has received the patent certification in United States, Germany, China, and other countries.
---
The continuous fryer of Tsung Hsing adopts exclusive heating technology that can reduce oil consumption effectively. And collocation with a humanized operation interface and multiple safety device alarms to protect the operator safe and extend machine life. In addition, the fryer adopts two-layers conveyor belt design, which allows food to be fully immersed in the oil and cook evenly to make product color uniform. The design of TSHS Frying Machine not only saves space and energy, but also has a CIP self-cleaning system. Which can maintain the hygiene environment that produce the high-quality food product.

Our continuous automatic frying equipment is suitable for: potato chips, banana chips, powdered green beans, corn strips, rice crackers, fish shreds, dim sum noodles, fried chicken legs, cutlets, fried tofu, fried dumplings,... and other related Fried food production equipment. Tsung Hsing can provide some customized services according to customer needs. Please provide the required temperature, output capacity and product picture. Our team will recommend the suitable frying machine to you.
Continuous Conveyor Fryer Introduction Video
Advantage
Adopt internal furnace heat exchanger.
Setting multiple safety devices and alarms.
Collocation with a humanized operation interface.
CIP self-cleaning system.
Whole machine is made of stainless steel. Hygienic and durable.
Designed to save energy, space and oil consumption as the aim.
Precision maintain temperature and timing control.
Food Application
● Meat
Chicken, Fried Chicken Steak, Chicken Wings, Chicken Skin, Fried Pork Chop, Crispy Fried Spareribs, Fried Fish, Fried Pork Knuckle...and others fried meats.
● Vegetarian
Tofu, Tofu Skin, Fried Bread Sticks, Vegetarian Meat, Plant Meat, Wheat Wheel, Noodle Gluten, Fried Tempura…etc fried vegetarian food.
● Frozen food and semi-product frying
Hot Pot Ingredients, Chicken Nuggets, French Fries, Fried Cuttlefish Ball, Spring Rolls, Croquette, Dumplings, Seafood Cake...and others frozen semi-products.
● Snacks
Banana Chips, Potato Chips, Taro Chips, Shrimp Crackers, Puffed Snacks Food, Green Beans, Corn Curl, Cheetos, Sachima, Noodle Snacks...etc others fried snack food.
● Indian fried food
Vada, Chanachur, Namkeen, Samosa, Kurkure, Gulab Jamun…and many other Indian fried foods

If you want to see more details funtion and videos, please click the below machine.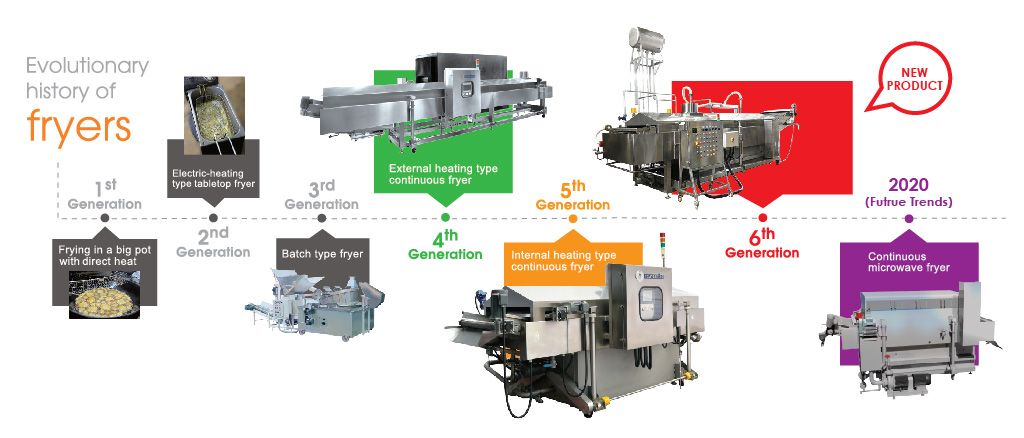 Videos
FRYIN-201 Small-size Continuous Fryer
Enter the continuous production market at an affordable price. The "small volume, space-saving" FRYIN-201 fryer. Suitable for small food industry, central kitchens, restaurants, food stores, schools, etc.
Download
Have Further Requirement, Contact Us
Email: machine@tsunghsing.com.tw
More Details
Over 50 Years of Continuous Fryer Supply | TSHS
Based in Taiwan, since 1965, TSUNG HSING FOOD MACHINERY CO., LTD. is a Continuous Fryer supplier in snack foods industry.
500 food processing production lines sold in 65 countries, TSHS is a food machine expert with over 54 years of experiences. CE certified, reasonably priced food processing machinery are industrial fryers, oil heating systems, seasoning tumblers, liquid mixer machines, liquid sprayer machines, etc.
TSHS has been offering customers high-quality food processing machines for green peas, nuts, potato chips, grain puffs and corn puffs, with total snack foods solutions. They represent trust, specialty, high-quality and safety specialization, which is where their name TSHS came from.