Solution Provider: successful case in Thailand for coated nuts processing
There is no doubt that coated peanut is the top choice to buy as gift when travelling in Thailand, it is a great honor for TSHS to work with this top company for coated nuts making and become his equipment supplier in regular basis.
TSHS acquainted this prestigious company in 1998 during Thaifex Exhibition in Bangkok.
Since then we did lots of efforts to keep good relationship with the customer by continuous visit to present TSHS products as well as TSHS experience in food processing even customer had no demand to buy machine from us at that time.
Harvest came after endless efforts, customer knew us and trust us gradually and now TSHS always comes to customer's mind whenever there is new demand of food machine.
When working on the case of machine replacement for customer, TSHS is not only a machine provider but also a food processing consultant. We will treat ourselves as a food maker who is facing annoyance of existing machine's intensive breakdown, high cost and long waiting parts, less capacity, insufficient expansion of product, poor mouth feeling product, non-efficient heating leading in fuel waste …etc. to give best solution both for machine and process flow.
In view of above, TSHS's Roaster with unique design can get solution.
Up & down fire burners installed, infra-red burner used as up-fire media to get fast and even heat transfer via infra-red's radiation function, direct flame tube used as down fire media to get uniform roasting via flame tube's conduction. Added features are bigger dia. of tray oscilating along with multi cones mounted on tray to make products rolling completely without damage. Bucket feeder and products fed out control included, can maintain product quality and save man power.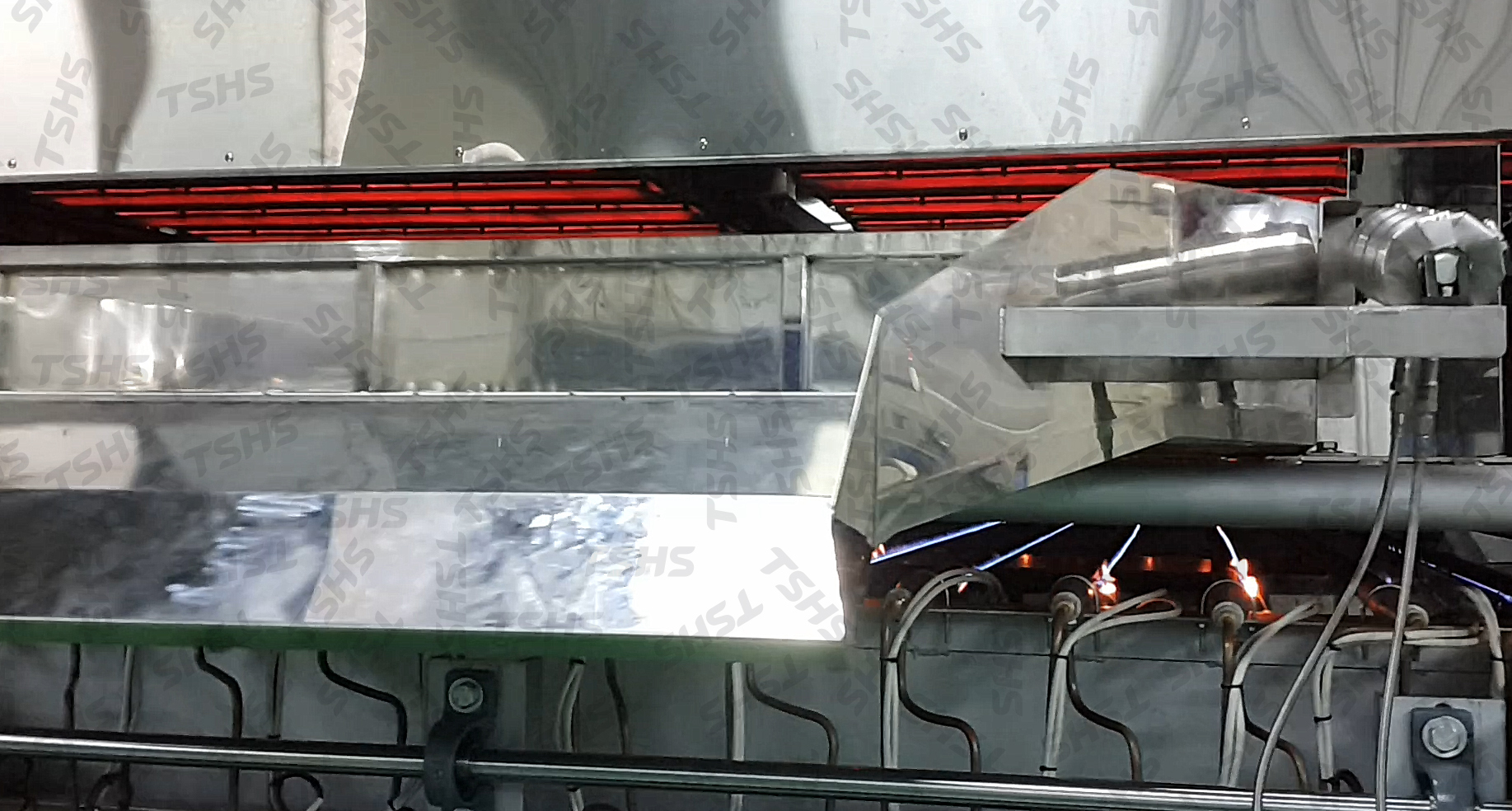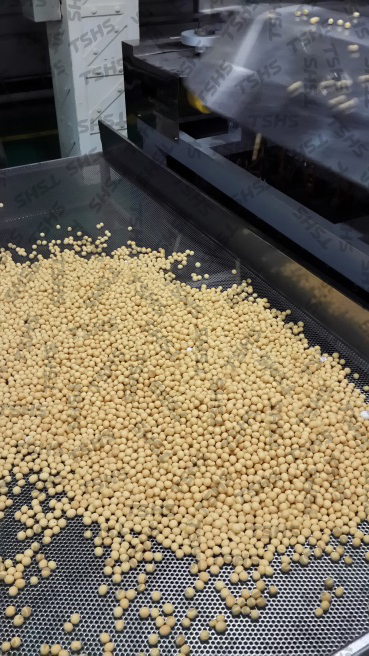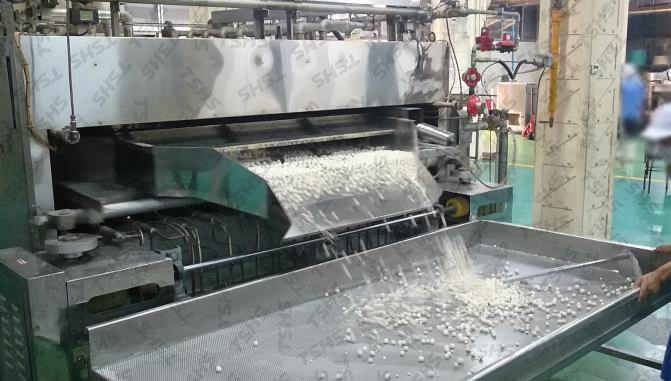 Irregular size of coated peanut happen often as customer's knowledge for coating process was not yet sophisticated at the beginning.
During our consultancy, we helped customer to adjust coating formulation and processes to get well expansion and crispy products.
Patience for back and forth communication, open mind experience sharing, machine performance, in time service, long term relationship built and last owing to all efforts we gave.
Within in the same year, customer placed another 3 orders, which was a big success and accomplishment for us.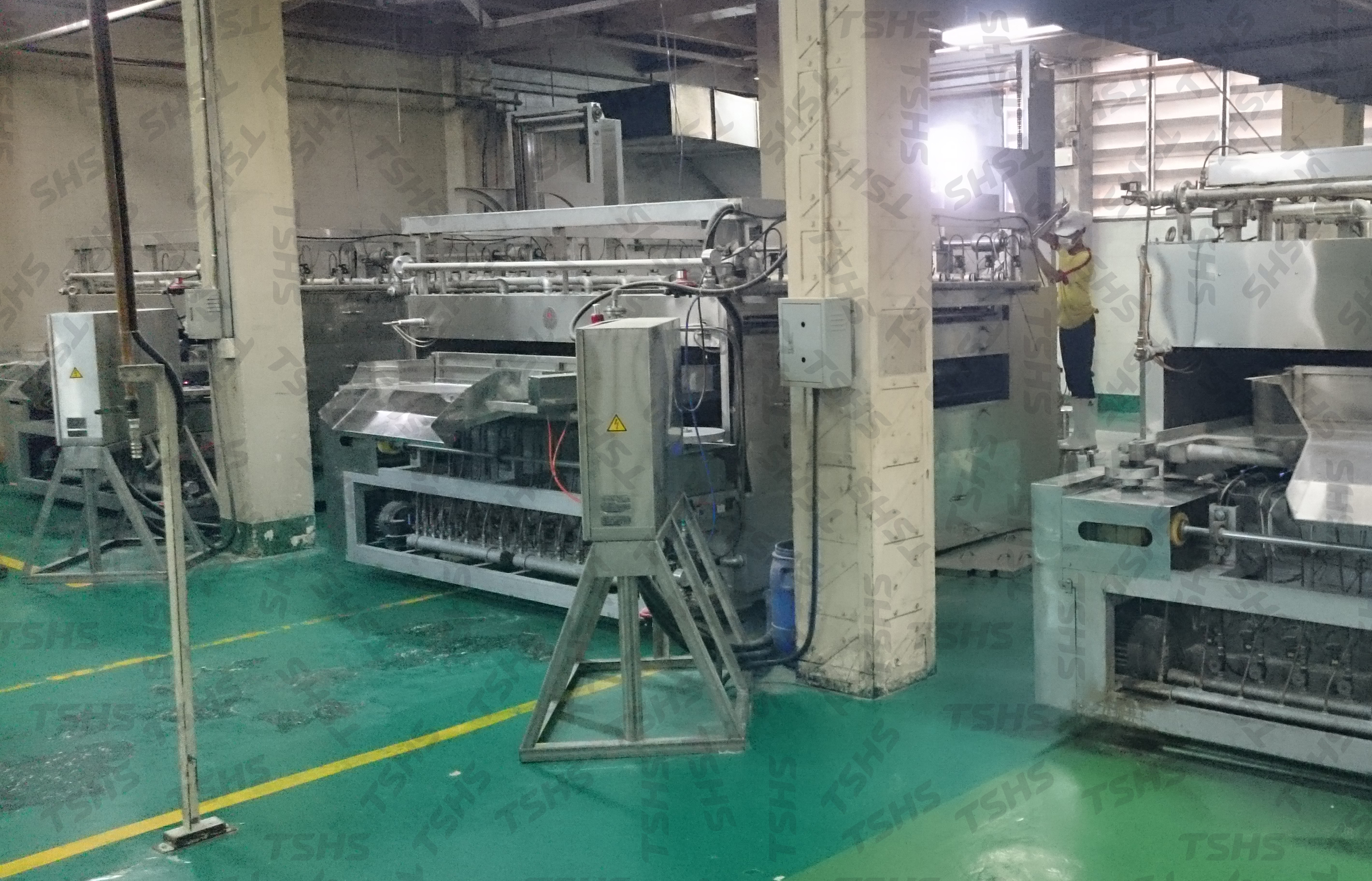 Related Products

---

TsungHsing Food Machinery is a nuts processing production machine manufacturer and supplier. TsungHsing Food Machinery (TSHS) provides manufacturing equipment for processing raw materials such as nut processing, frying, baking, roasting, seasoning and coating. Nut snack foods are widely accepted and popular products all over the world. Both the Western and Eastern culture, and even different food cultures are accepted. Commonly used in processing methods are frying, roasting, drying, baking…etc. It is also divided into coating and non-coating. Nut products are widely accepted by the people in the world's snack food culture, regardless of Western or Eastern culture, and the nut processed products are considered the most original item for snack foods. From the baking and frying of the nut products to the later derivatives such as coating with powder or liquid, garlic peanuts. Agricultural products such as peanuts, green beans, cashews, and almonds…as the raw materials, which are widely used and easily obtained all over the world, are fried or baked and then seasoned to produce snack foods that are suitable for all ages and delicious. The finished-products of nuts on the current market could be classified by product category into coating with powder or liquid and without coating with anything; classified by ripening process into frying and roasting. According to the different processes and seasonings, the processing methods of nuts are kaleidoscopic and easy to develop new products. It is a product which could be worthy invested enormous time and effort in term of the industries of leisure food.

---

---

TsungHsing Food Machinery is a conveyor type auto dryer machine manufacturer and supplier. TsungHsing Food Machinery (TSHS) provides continuous, large-volume, water-reducing drying equipment manufacturing. Can be applied to food, pharmaceutical, industrial and other drying requirements. The used energies of conveyor type auto dryer of TSHS are: Natural gas (LNG), Liquified Petroleum Gas (LPG), steam, electric energy and other energy sources. Automatic temperature control after temperature setting. It is meet the requirements of food hygiene regulations and easy to repair. It is suitable for the drying of snack foods: for example, grain and soy protein products (commonly known as vegetarian meat), kuai kuai, corn curl, fish shred, nuts, dried fruit and so on. Agricultural and fishery products: such as dried fish, dried sea shrimp, orange daylilies, mushrooms and other products, such as drying, can be based on product features, planning, operation. The temperature can be set and the mesh belt speed drying time can be adjusted to dry the product evenly. Now used in various major food factories.

---

---
Press Release
The exhibition in Thailand

Food Pack Asia 2020
Country :Thailand Bangkok
DATE:2020.02.12 ~ 2020.02.15
PLACE:Bangkok International Trade & Exhibition Centre (BITEC)

Read More

The exhibition in Singapore

In response to the new coronavirus (COVID-19) epidemic. After the careful consideration, the organizer decided to postpone the exhibition of FHA-Food & Beverage 2020.
Currently, the new exhibition...

Read More

The exhibition of India

Attention
The exhibition will be cancel.

Read More