Nigeria-Drying Cassava Chip Production Line-Super Premium Dryer (customized product )
Customized Super Large Premium Dryer Equipment-Nigeria case study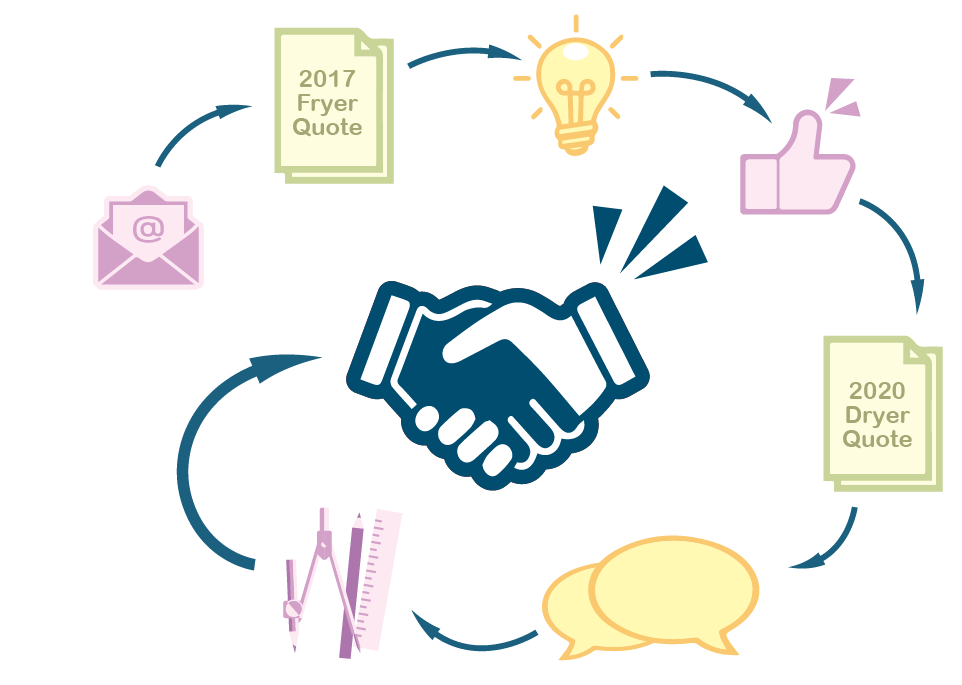 The first step of partnership, let's start on Internet
The first contact with customer delivered message through the internet. TSHS actively proposed a plan to visit the customer company, thus starting a source of cooperation. The sales who is responsible for Middle Eastern country, is visiting customer for bussines trip period of twenty-one days. At that times sales recieved the message by Nigiria. which invited us to visit their company in Africa.
TSHS provide the counseling service such as equipment match, production line plan and space configuration.
After the flight from Middle East to Africa Nigeria. The business person came to customer's factory immediately. While visiting the factory, the customer explained that they used the instant noodles production line to fry biscuits, and found the final output and quality could not satisfied the customer's expectations and requirements. Therefore customer asked TSHS the related problem and solutions about product. TSHS provides the professional suggestion and reminds customer which situation they would be encounter and the places need to notice on equipment. Customer quite trust the professional knowledge of TSHS business. So they please the TSHS provide quotation to reference. After that, customer come to Taiwan to look around our environment and entity equipment. Finally customer made an order for two fryer machines for producing biscuit in 2017.
According to customer needs to provide customized solutions
Since purchased two sets of frying machines from TSHS in the past few years, customer have established trust in the quality of TSHS's equipment. Two years later, they contact us again through E-mail in 2019. Customer sent a dryer inquiry to us and tell that hope we can produce customized equipment according to their needs by R&D group. The equipment have multi-section temperature control for stable temperature in premium dryer. Through revise hundreds of layout and adjust draft several times. as result we spent almost one year to find way to produce dryer that is suitable for the customer.
Demand List Of Customized Dryer
1. Produce more than 2 tons of dried products in one hour.
2. Combine the special process that proposed by customer R&D group.
3. Professional heat convection design to speed up the moisture removal of product.
4. Set multi-stage control for tempeture adjustment according to product needs.
5. twenty-four hours continuous producing, increase capciaty.
6. Match CIP clean system, It clean easily for equipment.
Simple list the difficult problems when producing customized premium dryer machinery as below:
Item
Difficulty
Solution
Difficulty Customize
Communication with the customer needs and set acceptance standards.
Producing process combine with client know-how.
1. Design more than one hundred layout.
2. Communication with customer more than one year.
3. Revise hundreds of draft.
4. Propose and discuss with customer several times.
Difficulty Produce
Large size of equipment, increase the error amount of size.
Precision laser cutting of large objects.
Fan noise problem.
Adjust the wind deflector angle.
Difficulty Design
Develop forty meters large dryer equipment.
1. Strengthen sheet metal structure
2. Recalculate the load capacity and increase the axis diameter.
Difficulty Shipping
A total of 11 containers, shipping schedule and loading size issues.
Reduce the thickness of the wooden box, increase the support of other places and strengthen the impact protection.
Difficulty After-sales Service
After-sales installation service for large projects.
Send engineers to the area for more than 2 months.
Advantage TSHS Have…
1. Customized and R&D capability.
2. Provide whole plant plan capability.
3. Provide diverse international financing services.
4. Equipment produce space has 2,000 square meters.
5. Have fifty-five experience of design and manufacture.
6. Quality Certification in Taiwan: Quality Award, Little Giant Award.
7. Use the burner made by Japan.
8. To ensure the equipment keep intact during shipping.
55 Years Research and Develop Experience. TSHS's Dryer Is Reliable Always
The first product line in TSHS is main for roast and dryer device. So far, TSHS already have fifty-five years research and design (R&D) experience. This case of customized premium dryer with length for forty meters that have made by TSHS at the first times. Thanks for the trust of customer withTSHS. Through overcoming the difficult problems. Finally completed the testing and delivery. TSHS leads of dryer technology in food machine industry. And in 2020, TSHS complete a milestone of super huge premium dryer. Regarding to the quality and requirements of customers, we always stand on front line to check. Having high-quality food equipment, start from TSHS.
TSHS Provides Comprehensive Snacks Equipment Solutions
Welcome to fill out the inquiry form below. No matter what the information of equipment you need, maintenance services, customized equipment or solution of whole plant planning. There will be someone to provide answers to your needs.
Related Products

---

TsungHsing Food Machinery is a continuous fluidized dryer and roaster machine manufacturer and supplier. TsungHsing Food Machinery (TSHS) provides continuous, large-volume, baking, heating, and drying equipment for manufacturing. The continuous fluidized bed dryer/ roaster has the principle of operation is using floating hot air and being heated by float hot air to achieve uniform drying and roasting effect. First, the air is heated by the heating system, and the hot air is blown to the product by the blower. At the same time, the hot air is circulated through the filter system through the circulation system, and the temperature is controlled, the heat exchange rate is increased, and achieves the energy saving effect.APPLICATIONS: Drying: Flakes or granules such as rice, wheat, breadcrumbs (raw materials used in pork coating process). Roasting: Rice, peanuts, coffee, nuts and snack foods (e.g. Shrimp Strips) puffing.

---

---

Tsung Hsing's module dryers can provide customized adjustment services according to customers' plant space limit and capacity requirements. The module-type design does not need to purchase the new equipment when customers need to increase capacity, technical changes, or function adjustments. It's just expanded the drying section in the original dryer and adjusted the structure that could be satisfied the customer needs. Effectively save the cost and time of purchasing new equipment for customers, and also reduce the production problem that is probably to be encountered when purchasing the new equipment. In addition, the module-type equipment adopts quantitative production. And it is easy to installation. Which not only shortened the delivery time but also successfully solved the problem of unstable quality by the module design.

---

---

Tsung Hsing and Industrial Technology Research Institute cooperate in research and develop a "multi-function microwave experimental machine", which has been successfully adopted by some industries in Taiwan. Microwave function is a new heating technology currently. It is converted into heat energy through the high-speed vibration and friction of water molecules. That could accelerate the heating speed of water steaming, dehydration and drying. The heat conduction of the hot air dryer to the product is from the outside to the inside. However, the microwave technology can make the water molecules friction and vibration inside and outside at the same time of the product. Which can generate heat energy evenly. so that the heating speed becomes faster. So mixed microwave function is compared to general hot air drying. The drying time would be shortened by about half.The advantages of microwave function have improved heat efficiency, energy saving, promote production efficiency, rapid heating, uniform heating, and upgrade product quality...etc. Microwave drying technology is widely used in food industry now. For example agricultural products processing, chemical materials, medical materials and biotechnology industry, cloth textile industry, ceramic industry, natural rubber processing, laboratory analysis... etc. Moreover, the microwave function is suitable for applications that increase the added value of finished products or products with high economic value.

---

---

Videos

Customized Continuous Dryer
Press Release
The exhibition in Thailand

Food Pack Asia 2020
Country :Thailand Bangkok
DATE:2020.02.12 ~ 2020.02.15
PLACE:Bangkok International Trade & Exhibition Centre (BITEC)

Read More

The exhibition in Singapore

In response to the new coronavirus (COVID-19) epidemic. After the careful consideration, the organizer decided to postpone the exhibition of FHA-Food & Beverage 2020.
Currently, the new exhibition...

Read More

The exhibition of India

Attention
The exhibition will be cancel.

Read More