Multi-layers Module Type Dryer
Module Combined Multi-layers Dryer, Module Combined Dryer, Combined Dryer, Module Dryer, Fluidized Bed Dryer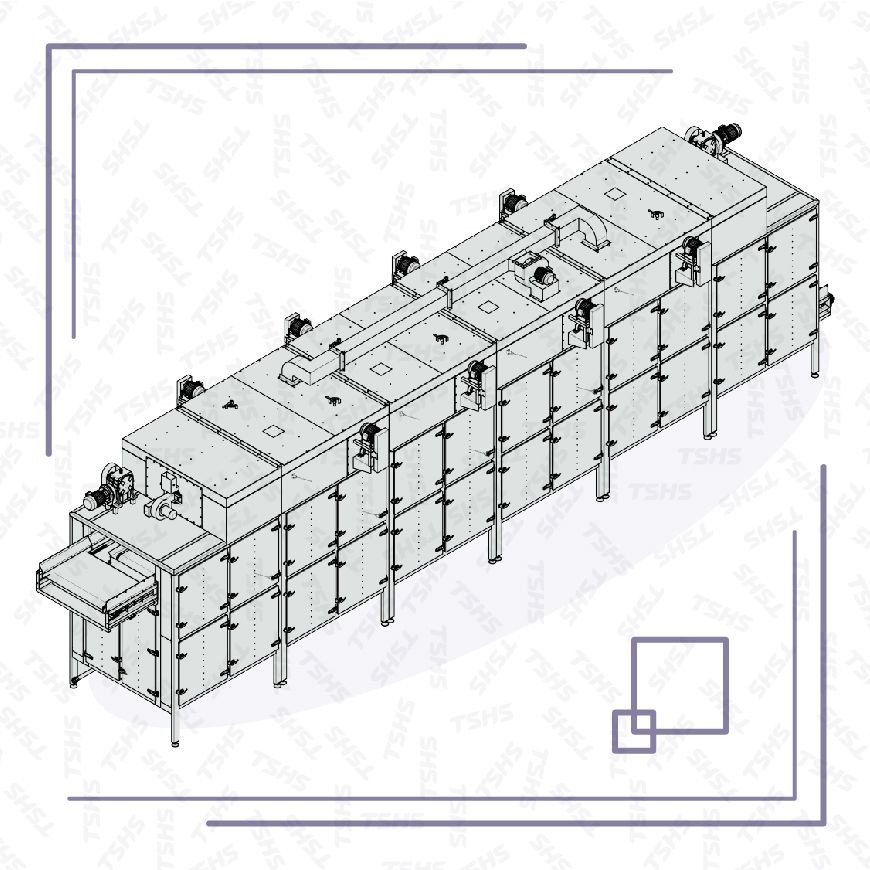 Module Combined Multi-layers Dryer can achieve the purpose of drying, baking, and dehydrating the product.
The Module Combined Dryer includes a three-stage combination of feeding input section, middle section and discharging section.

●Types of food to be dried: processing of agricultural and fishery products, rice cakes, konjac, rice crackers, corn on the cob, meat, tea, fruit, powder, wheat, flowers, Chinese herbal medicines, pharmaceutical pills...etc

●Drying of raw materials in the chemical industry: plastic particles, textile industry use, high temperature refractory materials, soil sterilization, fertilizers, lithium battery materials, rubber products, paper products drying, glass fiberboard, ceramic shaping, wood, pigments, cloth products...etc
The solution of How can I do When I need more final capacity?
Using the module combined dryer, when the production line output capacity needs to be increased, there is no need to repurchase the new continuous dryer machine. The middle drying section of module combined dryer can be expanded with the original machine to increase production capacity and save more new equipment purchase costs.
The module combined dryer can according to customer expect capacity to be adjustable. If you have further question, please feel free to contact us.
Related Products

---

TsungHsing Food Machinery is a continuous fluidized dryer and roaster machine manufacturer and supplier. TsungHsing Food Machinery (TSHS) provides continuous, large-volume, baking, heating, and drying equipment for manufacturing. The continuous fluidized bed dryer/ roaster has the principle of operation is using floating hot air and being heated by float hot air to achieve uniform drying and roasting effect. First, the air is heated by the heating system, and the hot air is blown to the product by the blower. At the same time, the hot air is circulated through the filter system through the circulation system, and the temperature is controlled, the heat exchange rate is increased, and achieves the energy saving effect.APPLICATIONS: Drying: Flakes or granules such as rice, wheat, breadcrumbs (raw materials used in pork coating process). Roasting: Rice, peanuts, coffee, nuts and snack foods (e.g. Shrimp Strips) puffing.

---

---

TsungHsing Food Machinery is a conveyor type auto dryer machine manufacturer and supplier. TsungHsing Food Machinery (TSHS) provides continuous, large-volume, water-reducing drying equipment manufacturing. Can be applied to food, pharmaceutical, industrial and other drying requirements. The used energies of conveyor type auto dryer of TSHS are: Natural gas (LNG), Liquified Petroleum Gas (LPG), steam, electric energy and other energy sources. Automatic temperature control after temperature setting. It is meet the requirements of food hygiene regulations and easy to repair. It is suitable for the drying of snack foods: for example, grain and soy protein products (commonly known as vegetarian meat), kuai kuai, corn curl, fish shred, nuts, dried fruit and so on. Agricultural and fishery products: such as dried fish, dried sea shrimp, orange daylilies, mushrooms and other products, such as drying, can be based on product features, planning, operation. The temperature can be set and the mesh belt speed drying time can be adjusted to dry the product evenly. Now used in various major food factories.

---

---

TsungHsing Food Machinery is a cabinet type dryer machine manufacturer and supplier. TsungHsing Food Machinery (TSHS) provides dryers of various sizes and energy sources to allow customers to make choices. Different types can be provided according to local energy requirements, so that you can save energy costs in addition to production. Movable rack provides the convenience of loading, making it easy for users to work. Our products offer an alternative to food storage for a variety of processing of agricultural products, aquatic processing, Chinese medicine, chemistry, etc., as well as additional economic value.

---

---
Press Release
The exhibition in Thailand

Food Pack Asia 2020
Country :Thailand Bangkok
DATE:2020.02.12 ~ 2020.02.15
PLACE:Bangkok International Trade & Exhibition Centre (BITEC)

Read More

The exhibition in Singapore

In response to the new coronavirus (COVID-19) epidemic. After the careful consideration, the organizer decided to postpone the exhibition of FHA-Food & Beverage 2020.
Currently, the new exhibition...

Read More

The exhibition of India

Attention
The exhibition will be cancel.

Read More