China- Sachima(ขนมข้าวพอง)-Continuous Fine Filter Machine
The manufactures in China had been created by brothers from Taiwan. Focus on the production of snacks such as sweets, pastries, sachima, chocolate and jelly pudding. The sales and market share have always ranked first in China.
Then, Tsung Hsing was the role of the subcontractor. Assisted in equipment maintenance and planning about the factory. It attracted purchasing agent's attention of our production department by accident. So we came to Tsung Hsing for discussing the equipment about sachima(ขนมข้าวพอง)'s problem. We needed a large number of powder when making sachima(ขนมข้าวพอง). Therefore, it would pile up the extra grease in frying. And we care about the equipment of filter and the food quality seriously. The original equipment would stop working until in one stage, because we had to clean the equipment every four hours later. The situation hadn't been fixed for a long time and also wasted lots of manpower and time.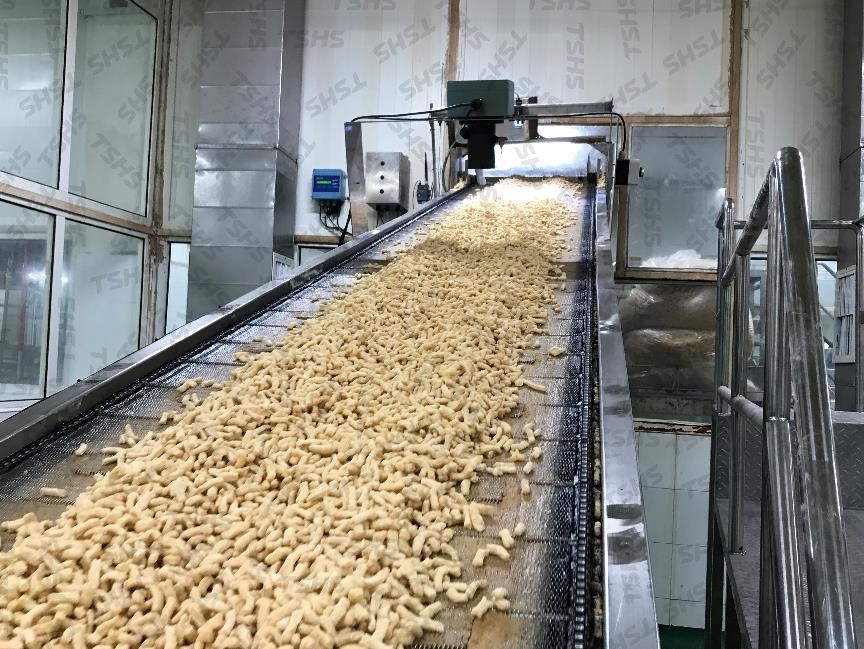 Especially, we arranged an interview with Tsung Hsing in Taiwan for discussing the technical problems about equipment. In order to have an opportunity for improving the both issues that included amount pile of grease and the equipment had been cleaned every four hours later.
Tsung Hsing is good at continuous frying machine several years. It has been improved continuously according to their years' experience and they have unique research of technology. Using with continuous fine filter made from Tsung Hsing that automatically excludes pile of grease effectively. As a result we can make sachima twenty-four hours. On the other hand, we didn't need to clean equipment every four hours later anymore. The volume of equipment made by Tsung Hsing is smaller about thirty percent than original equipment. Besides, there are more empty space we can use. Such as buying more equipment to raise productivity up. To sum up, we totally satisfied with cooperation with Tsung Hsing. Afterwards, we bought three production lines of sachima. And expressed the willingness for cooperation continually in the future.
Tsung Hsing is grateful to cooperate with the famous leisure food factory in China. Then, we communicated to each other and shared the experience or impression about the equipment. However, it would make us create full of different possibly.
Finally, the company of Tsung Hsing is willing growth with you.
Introduction
Pile of grease
After add continuous fine filter
Reduce the impurity obviously
Photo
Related Products

---

TsungHsing Food Machinery is a heavy capacity continuous fryer machine manufacturer and supplier. TsungHsing Food Machinery is a food machine manufacturer and supplier. The fryin heavy duty fryer is suitable for a large number of products, such as beans, swelled snack foods, etc. TsungHsing Food Machinery has a special heating technology, and the continuous fryer is suitable for frying a variety of products to increase production; In addition, the fryin heavy duty fryer meets the requirements of food processing and production hygiene conditions, has a foolproof mechanism, uses a multimedia touch screen and integrates various current production and current monitoring design, allowing customers to take into account food hygiene and operational safety, and still retains excellent production quality at the same time.TsungHsing Food Machinery has been constantly innovating and changing. With more than 50 years of experience, the equipment is produced in various international markets and will be your best choice.

---

---

TsungHsing Food Machinery is a continuous de-fatting machine manufacturer and supplier. Centrifugal De-fatting, De-fat Machine, Centrifugal De-fat Machine TsungHsing Food Machinery (TSHS) provides manufacturing equipment for large-volume, continuous de- oiling systems. After frying, to reduce the oil content of the product, the surface and the oil inside the product can be removed by centrifugal de-fatting. The de-fatting system can be continuously connected in the front frying section to fully integrate the production line. Through the control of time, the production line can be completed without interruption. Complete de-fatting system, including automatic feeding (into the de-fatting) system, de-fatting main body, automatic discharging (outlet of the de-fatting) system. The operating principle of the de-fatting system is that the product after frying is quantitatively conveyed to the main body of the de-fatting, and the centrifugal force is generated by the rotation of the inner drum of the de-fatting, and the oil of the product itself and the surface oil are separated and pulled out. After the de-fatting is completed, the material is sent to the lower conveyor belt through the inner drum gate to advance to the next section.

---

---
Press Release
The exhibition in Thailand

Food Pack Asia 2020
Country :Thailand Bangkok
DATE:2020.02.12 ~ 2020.02.15
PLACE:Bangkok International Trade & Exhibition Centre (BITEC)

Read More

The exhibition in Singapore

In response to the new coronavirus (COVID-19) epidemic. After the careful consideration, the organizer decided to postpone the exhibition of FHA-Food & Beverage 2020.
Currently, the new exhibition...

Read More

The exhibition of India

Attention
The exhibition will be cancel.

Read More