Cabinet Type Dryer with Rack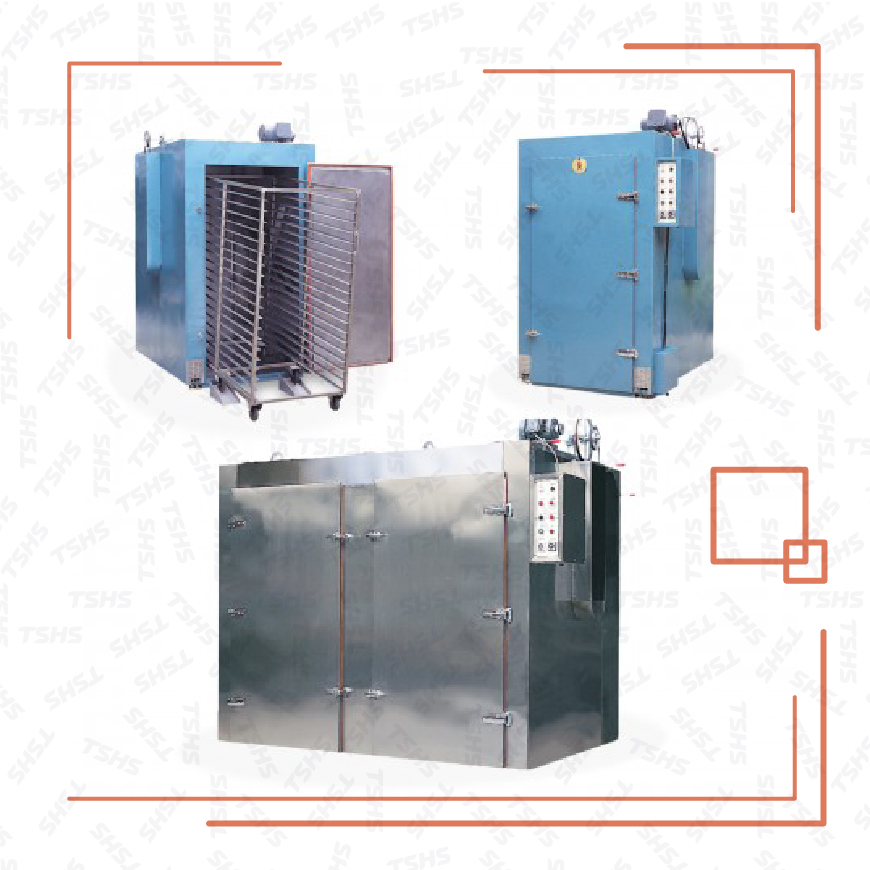 TsungHsing Food Machinery is a cabinet type dryer with rack machine manufacturer and supplier.
Capacity
In case of different products, please contact our business department and our staffs will be serving you.
Features
Modular stainless steel cabinet, independent of space and floor.
Save fuel with 1 horsepower, and the gas liquefaction, natural gas, and piping …etc. are used together.
Mobile trolley for easy operation.
Install humidity controller.
Flameout: Automatic alarm and power-off device.
Motor abnormality: Automatic alarm and stop device.
Accepted for special specifications and higher temperature requirements
Equipment Information Of Related Product
Rotary dryer is offered too. (more uniform drying result)
Additional humidity controller, trolleys and different types of trays can be purchased to produce different products.
Tray Type:
| | | | | | |
| --- | --- | --- | --- | --- | --- |
| | Flat Plate | | Perforated | | Net Plate |
Type
Plate
Baking Tray Specifications


(Material: stainless steel)

Mechanical Specifications
Heating Method
Energy Consumption
Capacity
Motor
Proper Temperature
Sausage
Jerky
Longan
WS-310
40
72x72x4cm
Outside diameter:120x160x197
Inside diameter:114x154x191
12KW
1 Phase 60A
3 Phase 40A
150kg
40plate
600kg
1P/1HP
3P/1HP
30-100℃
WS-310-G
(Gas)
40
72x72x4cm
Outside diameter:120x160x197
Inside diameter:114x154x191
LPG
NG
1.04kg/hr
150kg
40plate
600kg
1P/1HP
3P/1HP
30-100℃
WS-311
80
72x72x4cm
Outside diameter:

233x160x197x217


Inside diameter:227x154x191
21KW
1 Phase 100A
3 Phase 66A
300kg
80plate
1200kg
1P/1HP
3P/2HP
30-100℃
WS-311-G
(Gas)
80
72x72x4cm
Outside diameter:

233x160x197x217


Inside diameter: 227x154x191
LPG
NG
1.56kg/hr
300kg
80plate
1200kg
1P/1HP
3P/2HP
30-100℃
Related Products

---

Finished Product Gallery

Product catalog Download

---
Press Release
The exhibition in Thailand

Food Pack Asia 2020
Country :Thailand Bangkok
DATE:2020.02.12 ~ 2020.02.15
PLACE:Bangkok International Trade & Exhibition Centre (BITEC)

Read More

The exhibition in Singapore

In response to the new coronavirus (COVID-19) epidemic. After the careful consideration, the organizer decided to postpone the exhibition of FHA-Food & Beverage 2020.
Currently, the new exhibition...

Read More

The exhibition of India

Attention
The exhibition will be cancel.

Read More