Tarih
Company Profile
TSUNG HSING is known for its brand TSHS which represent trust, specialty, high-quality and safety. It provides professional services, high quality products, safe and hygiene equipment that customers trust and establish a good brand image. With the concept of frying machine expert and world first brand, we have multi-national patent and quality certification, continue to innovative R&D and design, optimize food automatic production line plan, pursue higher intelligent machine equipment, and reach customers and International market demand.
Company history process
TSHS was established in 1965. Main products are drying machine and deck oven for domestic customer. In the early stage, Chairman Xie Wanxing developed the first deck oven in Taiwan under the name of Wan Hsing Food Machinery, and extended the single machine equipment such as gas bread oven, dryer and chemical machinery, oven...etc.
In order to pursue more environmentally friendly and low-pollution efficiency, the first infrared oven in Taiwan was developed in 1973, at present, the market share of infrared ovens in Taiwan has reached 90%. Due to the rapid growth of business volume, it was renamed as "Tsung Hsing Food Machinery " in 1979, and a new factory was established in Nanzi, Taiwan in the following year.
In 1982, Mr. Hsieh Mu-lin, the general manager of TSHS, officially took over the team of the company, and led the team to develop automatic drying equipment, continuous ovens and continuous frying machines. The food processing industry in Taiwan quickly moved to a fully automatic production line, and the continuous fryer was developed in 1990 which had been certified by the ISO, CE, Taiwan Excellence Awards and the public by the newspaper media.
TSHS continued to develop food equipment every year, and in 2001, it began to cooperate with Taiwan Industrial Research Institute and Taiwan Food Research Institute to study Taiwan's first industrial microwave equipment, and continuously optimize equipment functions and professional production. Our company successfully launched the fryer expert series and obtained multi-national patents in 2010. Nowadays, our company has successfully entered the 50th anniversary. The source of the customer's countries have reached 65 countries. In the future, it will continue to go global and become a milestone in the Asian brand.
Company history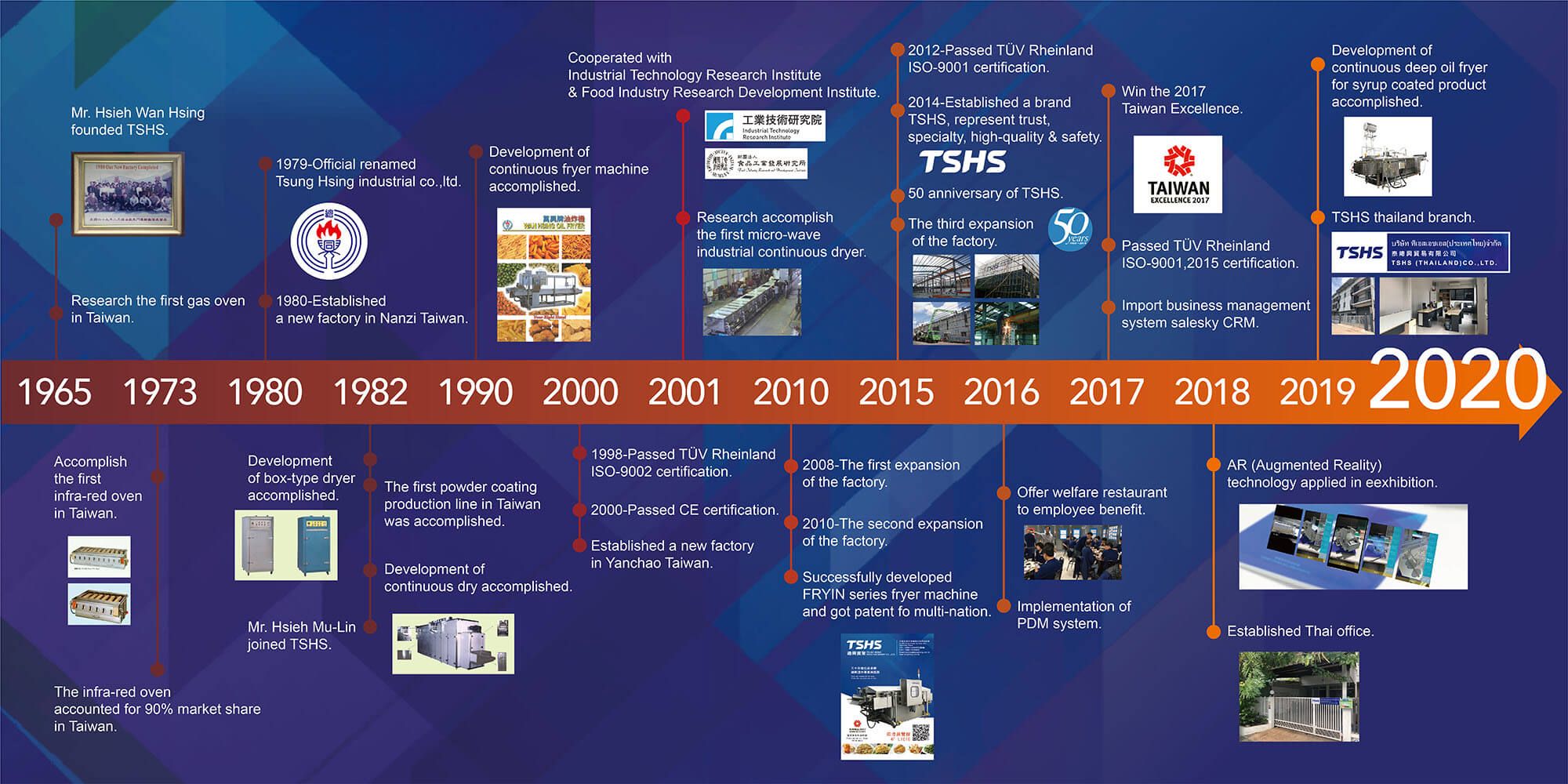 | | | | |
| --- | --- | --- | --- |
| 1965 | Mr. Hsieh Wan Hsing founded TSHS.、Developed the first deck oven in Taiwan. | 2008 | The first expansion of the factory. |
| 1973 | Successfully developed Taiwan's first infrared heating technology oven. The infra-red oven accounted for 90% market share in Taiwan. | 2010 | The second expansion of the factory.  Successfully developed the expert series of fryers, and obtained many patents from the United  States, Germany, etc. |
| 1979 | Official renamed Tsung Hsing industrial co.,ltd. | 2012 | Passed TUV Rheinland ISO-9001 certification. |
| 1980 | Established a new factory in Nanzi Taiwan. | 2014 | Established a brand TSHS, represent trust, specialty, high-quality & safety. |
| 1982 | The first powder coating production line, box-type dryer, continuous dry in Taiwan was accomplished.  Mr. Hsieh Mu-Lin joined TSHS.  | 2015 | The third expansion of the factory.  The 50th anniversary of the establishment of TSHS |
| 1990 | Development of continuous fryer  | 2016 | Offer welfare restaurant to employee benefit.  Using PDM to manage product data and process-related information in a single, central  system. |
| 1998 | ISO9002 certification | 2017 | Won the Taiwan Excellence Award with the national quality.  Passed TUV Rheinland ISO-9001,2015 certification.  Import business management system salesky CRM. |
| 2000 | CE certification 、Established a new factory in Yanchao Taiwan. | 2018 | Augmented Reality Science and Technology Exhibition completed 、Established first Thai office. |
| 2001 | Cooperating with Taiwan Industrial Research Institute and Taiwan Food Research Institute to develop continuous industrial microwave                             equipment | 2019 | Development of continuous deep oil fryer for syrup coated product accomplished.、TSHS thailand branch. |
Videolar

總興50週年 我的夢想 她的理想

總興實業 公司簡介

總興實業 裝釘箱及出貨流程
Basın bülteni
Tayland'daki sergi

Gıda Paketi Asya 2020
Ülke : Tayland Bangkok
TARİH:2020.02.12 ~ 2020.02.15
YER:Bangkok Uluslararası Ticaret ve Sergi Merkezi (BITEC)

Devamını Oku

Singapur'daki sergi

Yeni koronavirüs (COVID-19) salgınına yanıt olarak. Dikkatli bir değerlendirmenin ardından organizatör, FHA-Food & Beverage 2020 sergisini ertelemeye karar verdi.
Şu anda, yeni sergi...

Devamını Oku