Quality Control
Quality Maintenance:
TSHS is focused on R&D and design. In addition to increasing the stability of the equipment, it will continuously improve its quality and safety, and only provide more humanized mechanical design. In the production of high-quality equipment, it is necessary to carry out preliminary checks from the procurement of materials. In the process of equipment manufacturing, the quality inspection of assembly is very important too. Repeated inspections and tests at each step are expected to meet the expectations of customers.
Acceptance Flow Chart
Step 1: Material Inspection
Step 2: Quality Maintenance of the Production Process
Step 3: Semi-finished Product Inspection
Step 4: Finished Product Inspection
Step 5: Re-examination of Technical Components
Final Inspection: Customer Acceptance
Certified Patent
TSHS is constantly innovating and researching and developing new products, and actively strives for patents from various countries, pursues quality assurance, provides one-on-one service consultation for customers, provides professional services trusted by customers, high-quality products and safe equipment, and sets up excellent brand image and brand value.
CE: Compliance with EU standards for safety certification.
ISO: Pursuit of certification with high quality and perfect customer service.
Multi-national patents: It has multi-national patents, including national certification patents such as the United States, Germany, etc.
Taiwan Excellence Awards: Based on the four major professional projects of "R&D", "Design", "Quality" and "Marketing", we also consider the "Taiwan Production System" conditions, comprehensively select products with "Innovative Value" and award Taiwan Excellence Awards.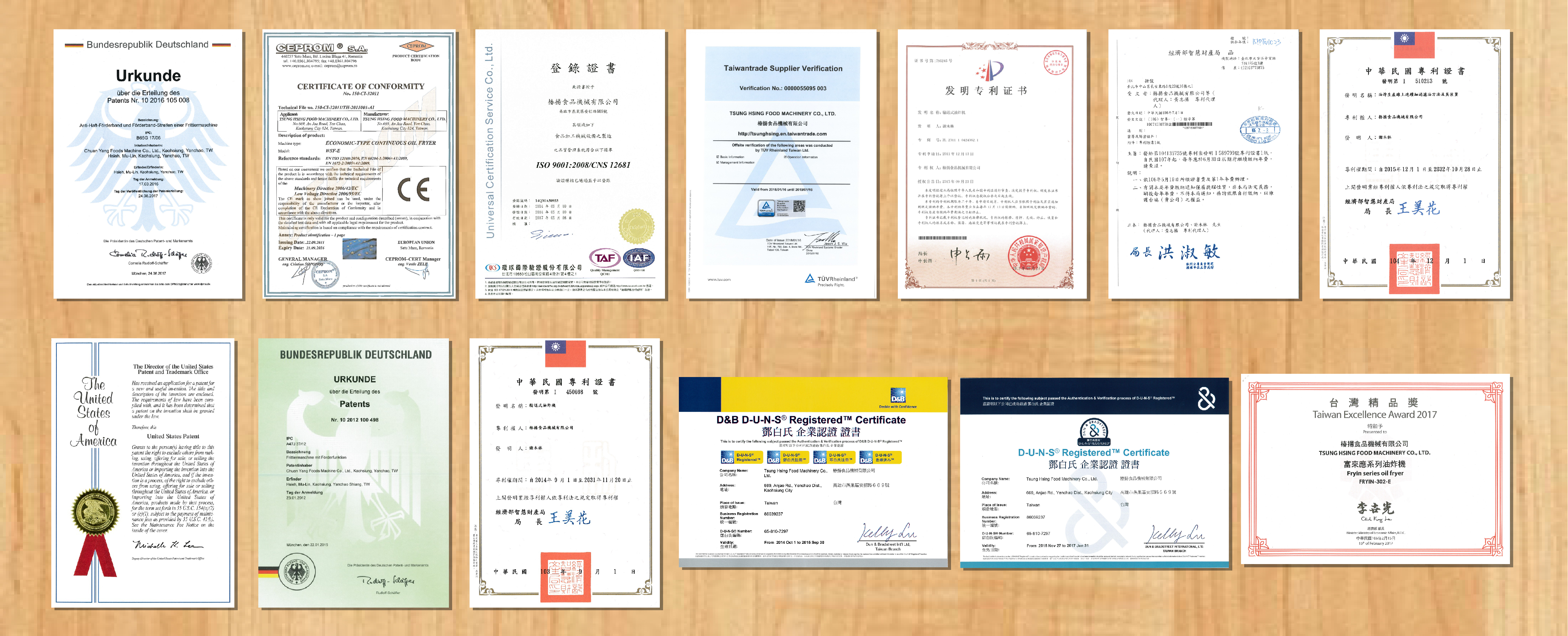 Press Release
The exhibition in Thailand

Food Pack Asia 2020
Country :Thailand Bangkok
DATE:2020.02.12 ~ 2020.02.15
PLACE:Bangkok International Trade & Exhibition Centre (BITEC)

Read More

The exhibition in Singapore

In response to the new coronavirus (COVID-19) epidemic. After the careful consideration, the organizer decided to postpone the exhibition of FHA-Food & Beverage 2020.
Currently, the new exhibition...

Read More

The exhibition of India

Attention
The exhibition will be cancel.

Read More