AAHAR - International Food & Hospitality Fair 2018
2018/03/13
TSHS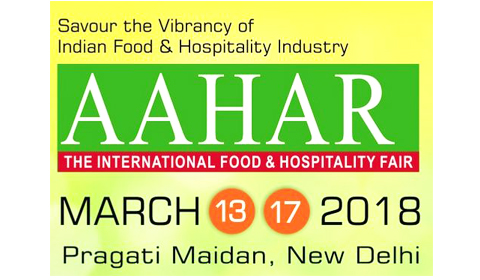 Exhibition Details
Date:2018- 03-13 (Tue.) ~ 2018-03-17 (Sat.) 09:00 am-06:00 pm
Venue:Pragati Maidan, New Delhi, India
Booth Number:7E-03C
◉ AAHAR - International Food & Hospitality Fair 2018 Introduction :
AAHAR - International Food & Hospitality Fair is a 5 day event being held from 13th March to 17th March 2018 at the Pragati Maidan in New Delhi, India. 
This event showcases products like Fresh Produce & Dairy Products, Confectionery/ Chocolate/ Desserts, Bakery Products & Ingredients Organic & Health Products, Frozen , Canned & Processed Products, Meat, Poultry & Sea Foods, Cheese & Fine Specialty Food, Snacks & Convenience Food, Food Ingredients, Additives and Preservatives Coffee & Tea, Syrups, Juices & Energy Drinks etc.
"AAHAR – The International Food & Hospitality Fair", New Delhi, India is in its 32nd year. Organised by India Trade Promotion Organisation (the premier trade promotion body of the Government of India), AAHAR is one of Asia's best known brands in Food & Hospitality shows.




The show has grown by leaps & bounds in recent years and is today the well known destination for global vendors and sourcing professionals.



◉ AAHAR - International Food & Hospitality Fair 2018
further information
:
   http://indiatradefair.com/aahardelhi/
















Gallerys
Press Release
Exhibition ◆ ALLPACK Indonesia 2018

Date:2018-10-17 (Wed.) ~ 2018-10-20 (Sat.)
Venue:JAKARTA INTERNATIONAL EXPO
Booth:B1 B024

Read More

Exhibition ◆ ANUTEC International FoodTec India 2018

Date:2018-09-27 (Thu.) ~ 2018-09-28 (Fri.) 09:00 am ~ 05:00 pm , 2018-09-29 (Sat.) 09:00 am ~ 04:00 pm
Venue:Bombay Convention & Exhibition Centre (BCEC)
Booth:Hall1 E52

Read More

Anti-Fraud

We received our customer's reflection recently. There are some scammer counterfeit account information by mail in the name of TsungHsing company.
We remind our customer that our remittance...

Read More