What is the acid value?
Acid value means required the number of milligrams of potassium hydroxide (KOH) that neutralization the free fatty acids in 1 g fat.

Because oil is easily to oxidized, and hydrolysis of the oil is usually accompanying at same time. With the frying temperature goes higher, the oil is faster to rancidity. Usually ,we can't determine the oil rancidity or not by color or taste, so we use the index "acid value (AV )" to determine.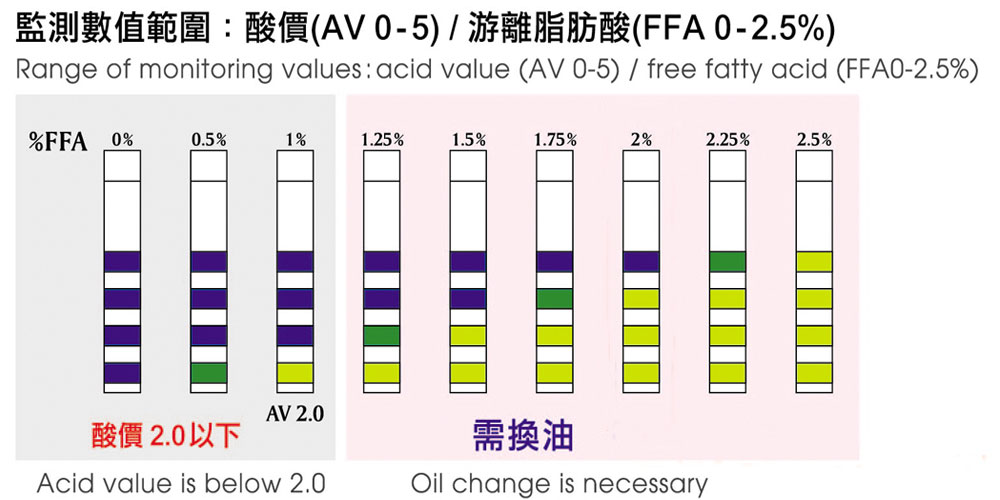 Press Release
The exhibition of Thailand

THAIFEX
Country :Thailand Bangkok
DATE:2019.05.28 ~ 2019.06.01
PLACE:Impact Exhibition Center (IEC) Hall 2

Read More

The exhibition of China and Taipei

Propak China
Country : China Shanghai
DATE:2019.06.19 ~ 2019.06.21
PLACE:National Exhibition and Convention Center

FOODTECH
Country :Taiwan Taipei
DATE:2019.06.19 ~ 2019.06.22
PLACE:Taipei...

Read More

The exhibition of Japan

FOOMA
Country :Japan Tokyo
DATE:2019.07.09 ~ 2019.07.12
PLACE:Tokyo Big Sight

Read More