The Heat Transfer Oil Heating System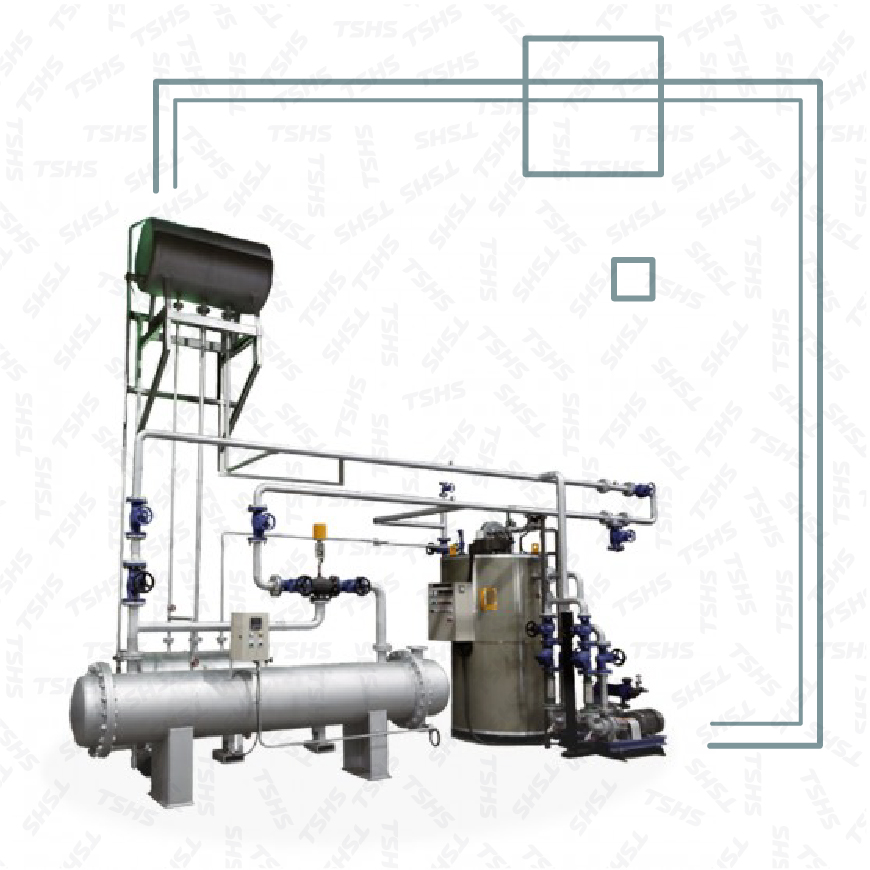 The heat transfer oil boiler adopts the high temperature, low pressure heating system with forced circulation, and uses diesel, natural gas, gas, electricity or biofuel as energy to heat the liquid heat transfer oil. Heat transfer oil has good anti-oxidation and anti-cracking properties and precipitation rarely occurs at high temperatures; it also has a long service life.

The circulation pump delivers the heat transfer oil to the heat exchanger for heat supply and then sends it back to the boiler for heating. With characteristics of high specific heat, high thermal conductivity and uniform heat transfer, the heat transfer oil can effectively save energy. Compared to a steam system, the heat transfer oil system can not only provide a frying temperature of up to 300 ℃, but also avoid the dangers and inconvenience of using high-pressure steam.
Features
For the combustion chamber, vertical (saving space) and horizontal (convenient for maintenance and inspection) designs are available, with high heat absorption efficiency.
The velocity and flow of heat transfer oil are precisely calculated to prevent thermal cracking.
Furnace coils are heated evenly by multiple tubes which increase both heat transfer area and efficiency.
The special thermal efficiency design can effectively absorb combustion radiation and convective heat resulting in low temperature exhaust gas.
The boiler is equipped with safety alarms for oil output temperature, oil return overheating, exhaust gas temperature, abnormal differential flow pressure, and insufficient heat transfer oil level controls, and with automatic shutdown protection.
Product catalog Download

---
Press Release
Exhibition ◆ THAIFEX–World of Food ASIA 2018

Date:2018 / 05 / 29 ( Tue. ) ~ 2018 / 06 / 01 ( Fri. ) 10:00 am to 06:00 pm , 2018 / 06 / 02 ( Sat. ) 10:00 am to 10:00 pm
Venue:IMPACT Exhibition Center Bangkok, Thailand
Booth:1TT-15

Read More

Exhibition ◆ TAIPEI INT'L FOOD PROCESSING & PHARM. MACHINERY SHOE 2018

Date:2018 / 06 / 27 ~ 2018 / 06 / 30 09:00 am - 05:00 pm
Venue:Taipei Nangang Exhibition Center, Hall 1
Booth:L0417

Read More

TSHS - Tsunghsing ◆ Introduction

TsungHsing is your golden choice.

If you like this video, please subscribe to our channel.

Read More