Food&Hotel Asia 2018 【FHA2018】
2018/04/24
TSHS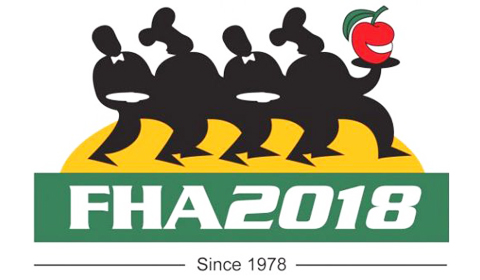 Exhibition Details
Date:2018- 04-24 (Tue.) ~ 2018-04-27 (Fri.) 09:00 am-06:00 pm
Venue:Suntec Singapore International Convention and Exhibition Center
Booth:4M4-01
◉ Food&Hotel Asia2018 【FHA2018】 Introduction :
From innovative food ingredients, Halal food and beverages, speciality coffee equipment and accessories, unique tea blends, the latest bakery equipment, the most stylish of tableware and furnishing, to disruptive technology for backend foodservice or for frontend guest experiences and many more, FHA caters to your every business needs !


To be kept updated with the latest information on FHA, return to this website frequently or stay tuned to the FHA E-Newsletters, Facebook page, LinkedIn group, Instagram account or YouTube channel.


In addition to the plethora of exhibits, a dynamic show floor awaits. FHA organises and hosts a series of world-class culinary competitions, top-notch workshops and courses, as well as a comprehensive range of conferences, seminars and masterclasses, to complete your show experience.
◉ Food&Hotel Asia2018 【FHA2018】
at a glance
119,500sqm of exhibition area

4,000 international exhibitors from over 70 countries/regions

68 international group pavilions

78,000 trade attendees from over 100 countries/regions

Tens of thousands of product offerings

6 specialised sector's

World-class competitions and fringe activities

Top-notch conferences, seminars and masterclasses

Held alongside ProWine ASIA 2018
◉ Food&Hotel Asia2018 【FHA2018】 Profile Of Exhibits

:
Catering Equipment : Commercial Kitchen Equipment, Refrigeration Equipment, Tableware, Kitchenware, Disposable Tableware, Tableware




Hotel Technology Hotel Supplies : hotel furniture, decoration materials, hotel equipment supplies, room textiles, uniforms, disposable commodities, electronic security, liquidation, entertainment systems and equipment, etc.


Food and Beverage Exhibition : Processed foods, candy sweets, food additives, organic food, alcohol


Coffee and tea : coffee, tea, beverages, coffee machines, beverage making machine, supporting materials



Baking noodles : commercial baking equipment, raw materials, supplies



◉
Food&Hotel Asia2018 【FHA2018】
further information
:
   www.foodnhotelasia.com










Gallerys
Press Release
Exhibition ◆ THAIFEX–World of Food ASIA 2018

Date:2018 / 05 / 29 ( Tue. ) ~ 2018 / 06 / 01 ( Fri. ) 10:00 am to 06:00 pm , 2018 / 06 / 02 ( Sat. ) 10:00 am to 10:00 pm
Venue:IMPACT Exhibition Center Bangkok, Thailand
Booth:1TT-15

Read More

Exhibition ◆ TAIPEI INT'L FOOD PROCESSING & PHARM. MACHINERY SHOE 2018

Date:2018 / 06 / 27 ~ 2018 / 06 / 30 09:00 am - 05:00 pm
Venue:Taipei Nangang Exhibition Center, Hall 1
Booth:L0417

Read More

TSHS - Tsunghsing ◆ Introduction

TsungHsing is your golden choice.

If you like this video, please subscribe to our channel.

Read More